The Best Canned Soup Brand According To 43% Of People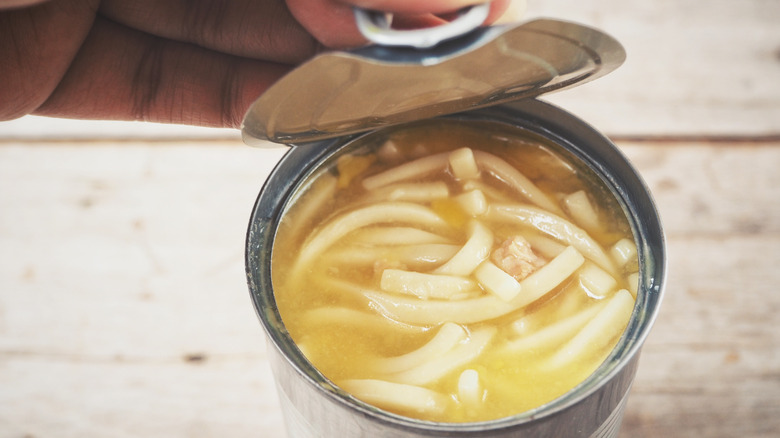 successo images/Shutterstock
Soup is one of those foods that can work for almost any time and any occasion. When you're craving comfort food, you might dunk a grilled cheese sandwich into a piping hot cup of tomato soup. When you're trying to warm up on a chilly New England day, you heat up a bowl of clam chowder. And when you're feeling under the weather, the only thing that seems to make you feel better is some good old-fashioned chicken noodle soup. While you can always whip up a batch of homemade soup, you can also save yourself a lot of time and effort by opting for canned soup instead. Campbell's first invented canned soup in 1897, and since then, it's become a staple in most household pantries across the United States.
Along with the familiar red Campbell's cans, you'll find a large variety of brands, flavors, and styles in the soup aisle at the grocery store. But which brand is the best? To find out, Mashed polled more than 600 Americans on their favorite canned soup. Here's which canned soup brand nearly half of people say is number one.
Americans love Campbell's soup the most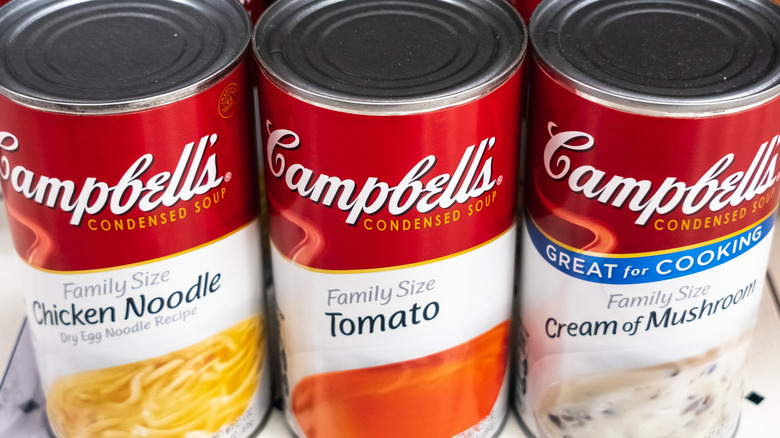 Sundry Photography/Shutterstock
If you're feeling overwhelmed the next time you're shopping for soup, you can't go wrong with Campbell's, according to Mashed's poll results. More than 43% of respondents dubbed the iconic red-labeled cans as the best canned soup brand you can buy. The brand is the inventor of canned soup as we know it, existing since the late 1800s. Since then, Campbell's has sold billions and billions of cans of soup — in 1990, it made its 20 billionth can of condensed tomato soup, for instance (via Campbell's). Today, it has hundreds of flavors of soup, from cream of mushroom to chicken noodle to beef and vegetable. You can also shop unsalted, fat-free, MSG-free, and other healthier varieties of Campbell's soup. "It's classic, it's timeless, it feeds the soul," one person wrote in a review on Influenster.
How did the other popular canned soup brands compare to Campbell's? Progresso, with its blue cans of "vegetable classics" and "rich and hearty" lines, took second place, earning 34% of respondents' votes. The other brands weren't even close in popularity to the top two. Trader Joe's received 10% of votes, followed by Amy's (which you may know for its organic soups) with 6%. Last place went to Wolfgang Puck, whose soup label only garnered 1% of votes for being the best soup.