Shake Shack Stirs Up 2023 With 2 Bold New Shake Flavors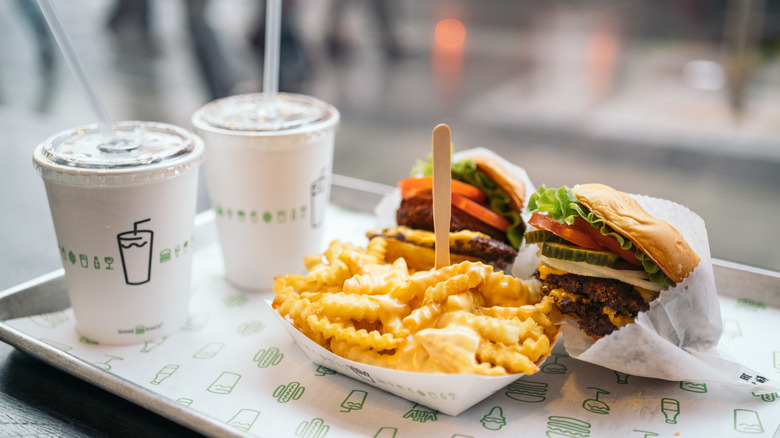 Manu Padilla/Shutterstock
Ever wondered why some people have such unwavering support for Shake Shack? After all, most customers drop about $30 on a two-person check at the restaurant, according to Reuters, which is about two or three times more than they'd spend at burger chains like In-N-Out or McDonald's. It turns out that the New York-based company's popularity is connected to the same reason why Shake Shack is so expensive: high-quality ingredients. Many menu items are made with antibiotic-free, non-GMO, premium ingredients that appeal to discerning diners. These consumers, who are generally young and affluent, are "willing to pay a bit more for fresher and higher quality food," Reuters explains.
This ingredient philosophy extends to the chain's hand-mixed, custard-based milkshakes, which Shake Shack says are made with real sugar, cage-free eggs, and "milk from dairy farmers who pledge not to use artificial growth hormones." While customers can always order classic shakes like chocolate and vanilla, Shake Shack is known to introduce new flavors on a seasonal basis. Following its annually anticipated 2022 holiday shakes, Shake Shack is kicking off the new year with two limited-time flavors, according to a statement shared with Mashed.
These shakes aim to brighten up your winter blues
Shake Shack's new shake duo consists of tiramisu and dreamsicle treats. The tiramisu shake features mascarpone and coffee mixed with Shake Shack's signature vanilla custard, topped with a ladyfinger cookie and cocoa powder. The dreamsicle shake is a citrusy mix of vanilla and blood orange frozen custard with whipped cream and orange candy bits on top. "Shakes in winter? Don't mind if we do," the chain posted on Twitter to a few excited comments from fans.
Shake Shack has served up a wintertime tiramisu shake before, running for a limited time in January of 2019, per Delish. A review from the time says it did "justice" to the classic Italian dessert, containing a balanced blend of sweetness and bitter coffee flavors (via TheRecipe). The dreamsicle shake, meanwhile, appears to be new — and perhaps inspired by the fandom behind the Shake Shack creamsicle float. The burger joint typically rolls out new shakes every season, so fans can likely expect another round in the spring.