The Hysterical Way Jacques Pépin Was First Introduced To Julia Child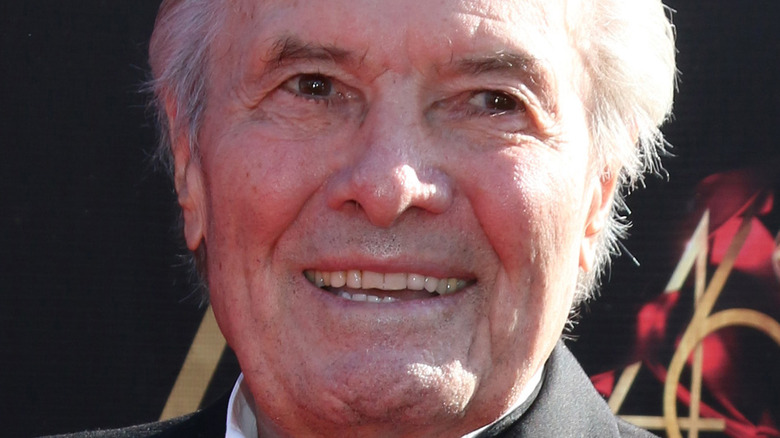 Kathy Hutchins/Shutterstock
The world of haute cuisine can be cutthroat. Just look at how Padma Lakshmi called out restaurant owners after the sudden closure of Noma or the many restaurant rivalries that exist. From kitchen to keyboard, it's an intense business that includes some intense and passionate people, which means there's often drama brewing. But that same intensity and shared passion for food can also work in the opposite way, creating legendary friendships (the bond between Anthony Bourdain and Eric Ripert springs to mind) that last a lifetime.
But no modern chef friendship can hold a candle to one of the most legendary duos of all time: French chef Jacques Pépin and American (but French food-obsessed) chef Julia Child. Julia Child's life has been extensively covered by the media, both in dramatized film form ("Julie and Julia") and even in a documentary. And some, including Michael Symon, say that Jacques Pépin is the world's top chef. The two eventually collaborated on the show "Julia and Jacques Cooking at Home," which ran for 22 episodes, via IMDb, and won both an Emmy Award and a James Beard Foundation award. So when they first met, one would be forgiven for thinking it was a moment of profundity, an elegant encounter, and something treated with gravitas. But in an interview with Pépin for NPR, he shared a hilarious anecdote about the real way he was introduced to Child, and it's actually quite silly.
The woman with the terrible voice
Imagine what you would say if you were to introduce someone to the legendary Julia Child. Now throw it all out. In reality, Jacques Pépin met Julia Child by way of a friend, food editor Helen McCullough. He recalled McCullough describing Child as a "woman from Boston" who was "very tall" and "[had] a terrible voice" (via NPR). Pépin has also said that after reviewing the manuscript for Child's book "Mastering the Art of French Cooking" right before they met, he may have felt some jealousy (via WGBH). Thankfully, even with that strange and less-than-flattering description of Child and any jealousy he might have felt, Pépin agreed to cook with her. "We were friends for half a century," he said. "That means we argued all the time, but we drank a lot of wine, too."
Pépin shared that filming "Julia and Jacques Cooking at Home" was freeing compared to working on his solo cooking show, which was fast-paced and had tight time restrictions. In contrast, "When we did it with Julia, she said 'OK, we're going to cook and when it's finished, we'll tell you,'" the chef explained. "We had no recipe, no time frame. We had a bottle of wine ... it was a fun show." Separately, Pépin has said it's "extremely important to have fun in the kitchen, to enjoy eating as well as cooking," and it sounds like that's an ethos he and Child both shared.