You Can Substitute Beans For Pasta In Penne Alla Vodka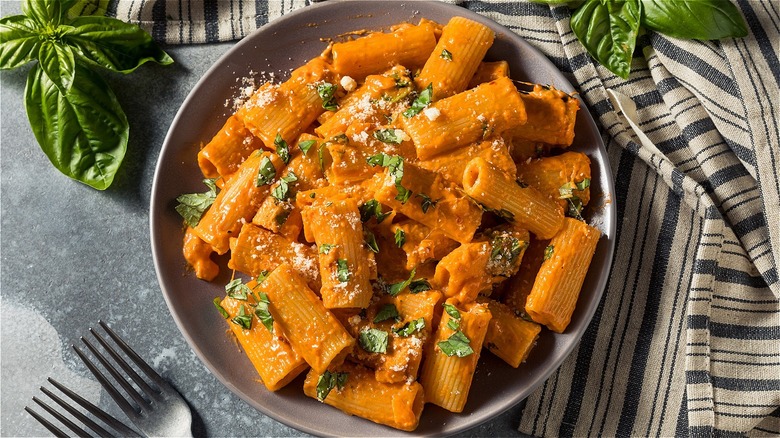 Brent Hofacker/Shutterstock
There's nothing like digging into a big bowl of pasta, whether it be spaghetti with marinara sauce, tortellini with basil pesto, fettuccine Alfredo, or penne alla vodka. Pasta is undeniably delicious, but it's not always the healthiest choice for a meal. In fact, according to Healthline, studies report that eating lots of refined grains — which many pastas are made from — can lead to heart disease, high blood pressure, and bad cholesterol, among other issues.
Wouldn't it be great if there were healthier foods you could substitute for your pasta and still have a delicious meal? Luckily, there are plenty of such potential ingredients ranging from spiralized zucchini — aka zoodles — to quinoa to even rice. Azumio suggests cooking with zoodles instead of spaghetti and tossing them with olive oil before adding a little Parmesan cheese. Our Everyday Life says to give quinoa a try instead of pasta, noting it will absorb more liquid than pasta, so you should wait until serving to add your favorite sauce.
There's another substitute for pasta that perhaps you may not have thought of — beans. Thanks to TikToker @carolinagelen, we have a great recipe for how to whip up a batch of beans alla vodka.
TikTok is raving about beans alla vodka
TikTok, user @carolinagelen, a food blogger and recipe developer, shows us how to make a dish she calls beans alla vodka, describing it as just like the regular version, but with beans. First, @carolinagelen makes a traditional vodka sauce, then adds in canned butter beans, saying, "they're baked; they're buttery; they're juicy; they're just perfect for this sauce." Once finished, she tops the dish with olive oil, cheese, balsamic, and parsley.
Carolina Gelen's followers took to the comments to express their admiration for the cook and her creation. "Just made this tonight and it was Delicious," wrote @claudiahilton4, while @das.sophiechen chimed in, saying "Damn I need more bean recipes I love this," followed by a heart-eyed emoji. User @mireyaxg took things a step further, suggesting using chickpeas in place of pasta instead of beans. @carolinagelen agreed this would be a great substitute, replying, "indeed, chickpeas would be delicious."