The Essential Ingredient In TikTok's Copycat Panera Mac And Cheese
Copycat recipes are extremely popular, and the interest continues to grow especially on TikTok, with the social media platform's hashtag #copycatrecipe having about 101.3 million views as of January 23, 2023. There are copycat recipes for almost every fast food or restaurant menu item you could think of, including Starbucks' popular pink drink, Chick-fil-A's classic chicken sandwich, and chow mein from Panda Express. There are even copycat recipes for popular grocery store items such as Little Debbie Zebra Cakes and Reese's peanut butter chocolate Christmas trees.
The Panera popular macaroni and cheese is no exception. Dining in at Panera every day just for its macaroni and cheese is unfeasible for most of us, but luckily, the chain does have a Panera at Home line that's available in select retail stores and includes its macaroni and cheese, per Panera. However, if you can't find Panera's macaroni and cheese at your local grocery store, these two TikTok users have a solution: Make it at home! These copycat recipes for Panera's macaroni and cheese are pretty straightforward, but there's an unexpected secret ingredient that you should definitely use when recreating these recipes.
Garlic powder will elevate this Panera mac and cheese copycat recipe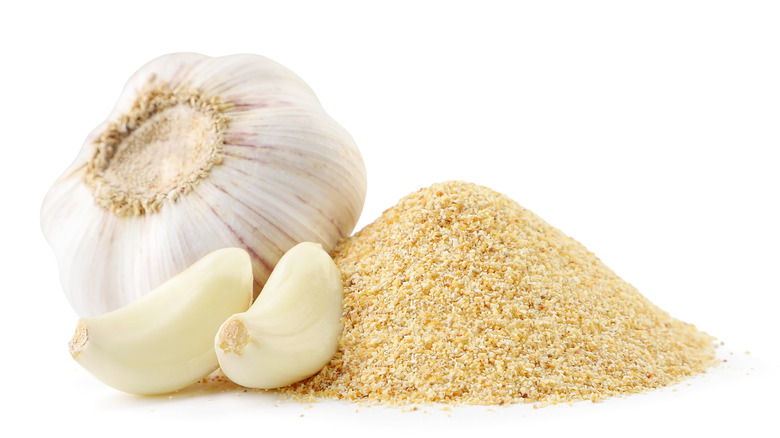 innakreativ/Shutterstock
TikTok user @spicednice shared their copycat recipe for Panera's popular macaroni and cheese. They begin by whisking flour into melted butter and making a roux. Then, milk, heavy cream, salt, pepper, and ground mustard are added, as well as the special ingredient, which is garlic powder. The original poster of the aforementioned TikTok says that Panera actually doesn't add garlic powder to their macaroni and cheese, but it's an easy, delicious way to elevate the dish. Once the sauce is thickened, shredded white cheddar cheese is added and cooked pasta is folded in, resulting in scrumptious Panera macaroni and cheese right at home.
Another TikTok user @cooklikeimbook shared their version of Panera's macaroni and cheese recipe which has 533 calories, 33 grams of protein, 18 grams of fat, and 59 grams of carbs, while the original macaroni and cheese dish from Panera has 960 calories, 32 grams of protein, 64 grams of fat, and 67 grams of carbs, per Panera. In their TikTok, @cooklikeimbook uses a blender to combine cottage cheese, milk, half and half, salt, ground mustard, and white cheddar cheese. They then add the sauce to some shell pasta along with cream cheese, mozzarella cheese, and the same secret ingredient that @spicednice adds: garlic powder. A few commenters weren't sure about some of the ingredients, with one user writing "The cottage cheese makes me nervous." However, the majority of TikTok users were fans of the recipe.