Pizza Hut Was Booming Over The Holiday Season – To Say The Least
You may not expect pizza to be a popular holiday choice, however, numbers never lie. If you truly think about it, New Year's Eve can be a great time to order a pizza. If you're holding a get-together and don't feel like cooking, pizza is a viable solution. Due to delivery services, it's also a great way to eat without drinking and driving. Per American Pizza Community, New Year's Eve makes the list of the top five busiest days to order pizza. New Year's Day is also in the top five, along with Super Bowl Sunday, Halloween, and Thanksgiving Eve.
Per Reddit, there's some discord about whether you should actually place an order on New Year's Eve. "Is this something to avoid trying to do? I imagine it's pretty busy all around, taking forever for things to arrive," the original poster wrote. One commenter noted that while delivery times are definitely longer, pizzerias have long prepared for the increase as it happens every year. Let's hope Pizza Hut was prepared, because its business was booming as the year came to a halt.
New Year's Eve is among the top selling pizza days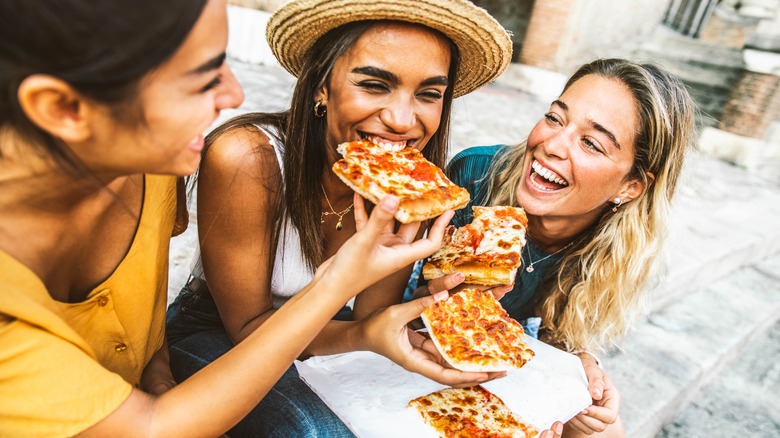 DavideAngelini/Shutterstock
Pizza Hut definitely benefited from two of the most popular ordering days of the year. According to Placer AI on Twitter, the pizza chain's business increased by nearly 30% the last week of December and 15.3% in the first week of January. This comes as a nice boost for the brand, which suffered a 6% decrease in sales in the first quarter of 2022 due to failure to meet demand, per Nation's Restaurant News. The numbers improved a bit in quarter two, which only saw a 4% decrease, and finally flipped positive in the third quarter by 1%.
Per Statista, Pizza Hut was the second top selling pizza brand in 2021, with $5.51 billion in sales. Above the hut was Domino's at $8.61 billion, while Little Caesars was right below with $4.23 billion in sales. Though Domino's has led in sales since 2017, it seems Pizza Hut could be a contender this year with its impressive New Year's numbers.