TikTok-Inspired Green Goddess Salad Recipe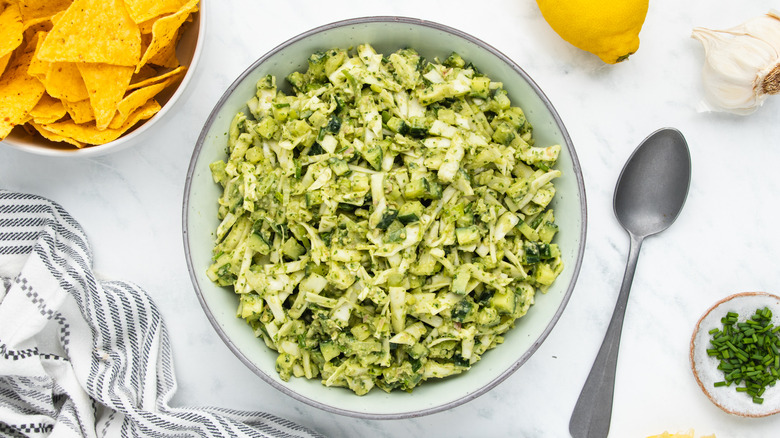 Catherine Brookes/Mashed
Back in the day, people used to have to buy a good old-fashioned cookbook in order to find new and innovative recipes. But these days, there are plenty of other ways to discover a fun new dish, and the TikTok platform is one of them. Recipes on TikTok are known to go viral, and it's always fun to give them a try. For those of us who have tried Green Goddess dressing before, we know that it's incredibly delicious, and its bright green color is so recognizable and worthy of a shot on your social media feed. Better yet, it's great when it make an appearance at a dinner with family or friends. 
Recipe developer Catherine Brookes of Blue Sky Eating did the work for us to recreate the viral TikTok-inspired Green Goddess recipe (including the greens and the dressing) that goes great with chips, crackers, or pita bread. "I love the fresh crunchy texture and delicious herby flavors in this nutritious salad. It's packed with goodness and so versatile too," Brookes raves. She also explains what makes her spin different from the TikTok recipe. "This version of the salad includes the addition of avocado which helps make the sauce extra creamy and flavorful," Brookes adds.
Gather the ingredients for this Tik-Tok inspired Green Goddess Salad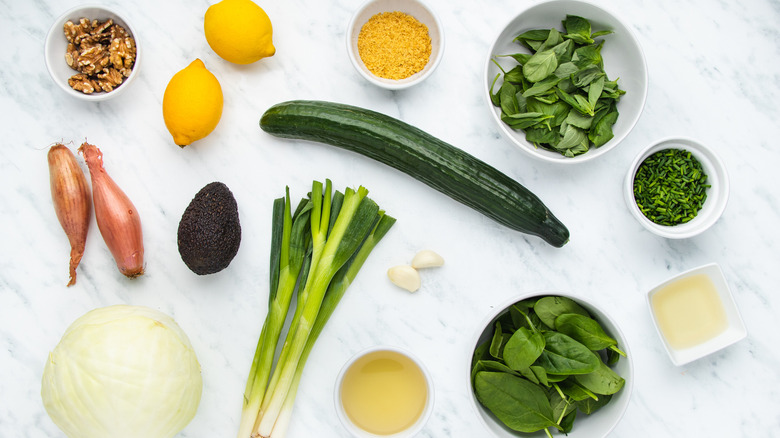 Catherine Brookes/Mashed
When you head to the store, you will need to make a big pit stop in the produce section. Be sure to pick up a small head of cabbage, cucumber, green onions, chives, basil leaves, spinach, shallots, garlic, two lemons, olive oil, nutritional yeast, apple cider vinegar, walnuts, and avocado. You'll also need a bit of salt to taste. Once you have those things, you can quickly and easily make this TikTok trend for yourself!
Chop and mix the ingredients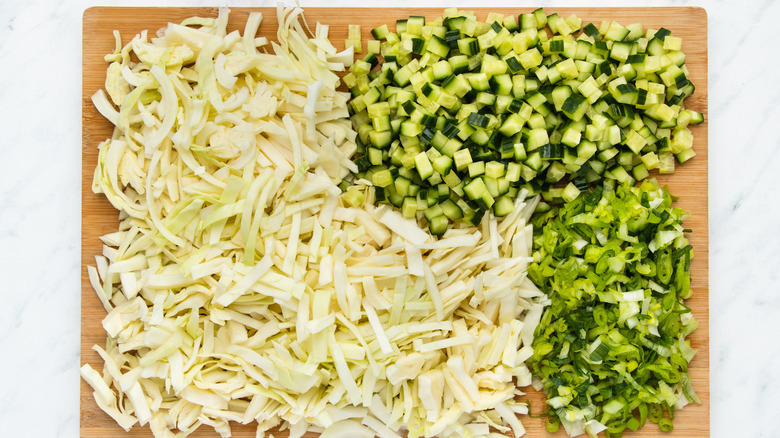 Catherine Brookes/Mashed
Let's jump right in. Grab a cutting board and a sharp knife, and cut your veggies. Start with the cabbage, followed by the cucumber and green onions. "You'll want to make sure to chop the veg fairly small here so that the flavors of the veg and the sauce can combine together really well," Brookes notes. 
Once chopped, add the veggies to a large mixing bowl. From there, you can toss in 3 tablespoons of chopped chives.
Blend the remaining ingredients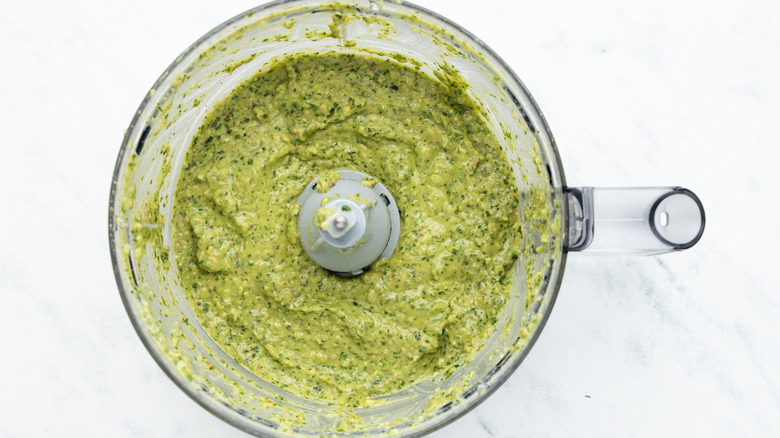 Catherine Brookes/Mashed
This recipe is one of the easy ones where you get to throw in most ingredients in during a single step. Gather the remaining items, including the rest of the chives, basil leaves, spinach, shallots, garlic, two lemons, olive oil, nutritional yeast, apple cider vinegar, walnuts, avocado, and salt. Toss them into the bowl of a food processor or a high-power blender — whichever you have access to.
Turn on the blender (or food processor) and continue blitzing until smooth. This shouldn't take more than a few seconds. "The taste of the dressing is garlicky, herby, zingy and creamy," Brookes says of the flavors. 
Add the dressing to greens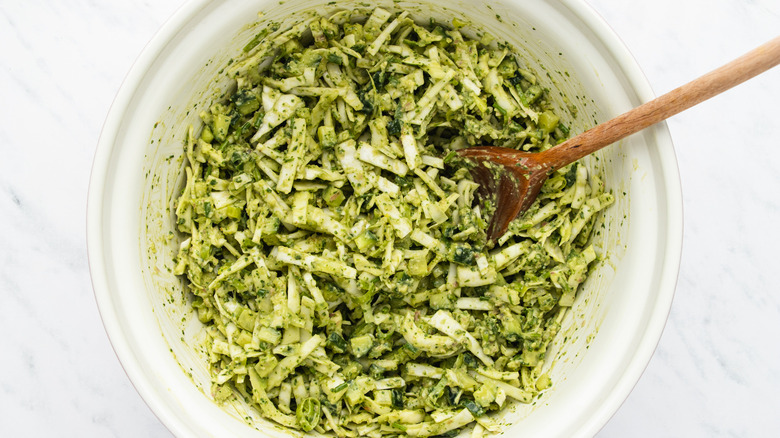 Catherine Brookes/Mashed
By now, the dressing is good to go — once again proving that this recipe is incredibly easy! Just grab the bowl with the chopped veggies and drizzle the dressing over the top. Stir well to coat the veggies in the dressing, giving it that signature green look that most of you will instantly recognize.
Serve and enjoy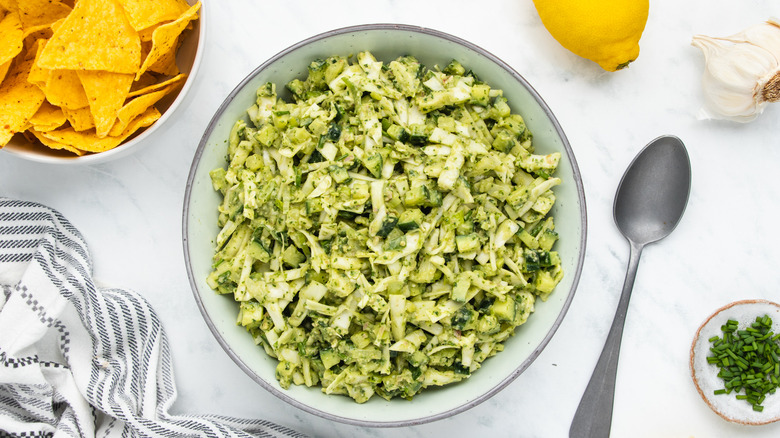 Catherine Brookes/Mashed
Some people like to enjoy this Green Goddess salad as it is, while others like to think a little bit outside of the box. Brookes shares some of her favorite serving suggestions that you may want to for serving! "This is great spooned inside a pita bread with some chickpeas and hummus, as a side salad along with meat or fish, or even on it's own with crackers and chips to dip in," she adds. 
Make sure to keep any leftover dressing! "Any leftover dressing will keep well for up to 3 days in the fridge," Brookes notes.
TikTok-Inspired Green Goddess Salad Recipe
If you like to stay up-to-date on the trends, then you'll definitely want to try this vegetable-loaded, Tiktok-inspired Green Goddess salad recipe.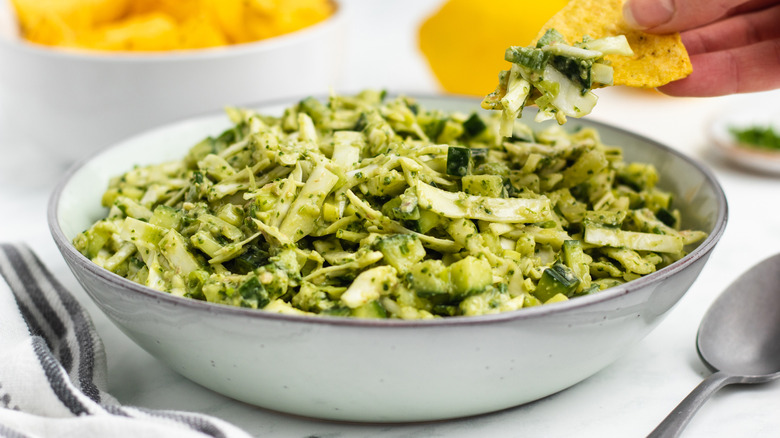 Ingredients
1 small head cabbage
1 large cucumber
6 green onions
6 tablespoons finely chopped chives, divided
1 cup basil leaves
1 cup spinach
2 shallots
2 cloves garlic
juice of 2 lemons
⅓ cup olive oil
¼ cup nutritional yeast
2 tablespoons apple cider vinegar
¼ cup walnuts
1 avocado
salt, to taste
Directions
Finely chop the cabbage, cucumber, and green onions, and add to a large mixing bowl along with 3 tablespoons of the chopped chives.
Add all remaining ingredients to the bowl of a food processor or high powder blender and blitz until smooth.
Pour the sauce all over the chopped vegetables and stir well to coat.
Serve with corn chips, pita bread, or crackers, or enjoy the salad on its own.
Nutrition
| | |
| --- | --- |
| Calories per Serving | 289 |
| Total Fat | 20.8 g |
| Saturated Fat | 2.8 g |
| Trans Fat | 0.0 g |
| Cholesterol | 0.0 mg |
| | |
| --- | --- |
| Total Carbohydrates | 22.5 g |
| Dietary Fiber | 10.3 g |
| Total Sugars | 8.1 g |
| Sodium | 700.5 mg |
| Protein | 10.0 g |