The Secret Behind This Starbuck's Copycat Lemon Loaf Is Lots Of Grated Lemon Zest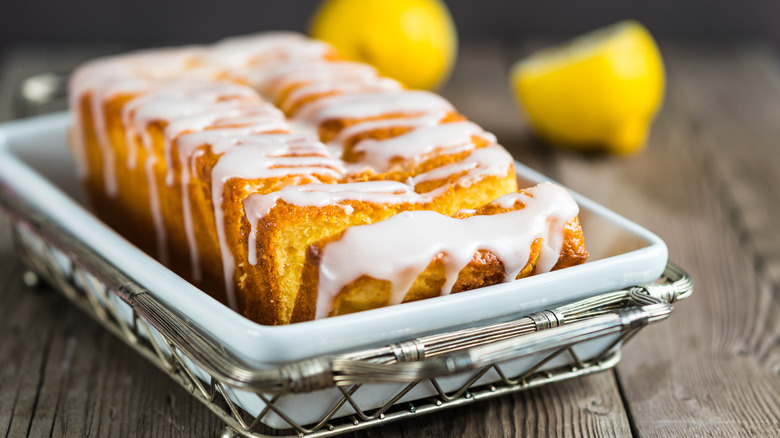 Sky Motion/Shutterstock
When it comes to Starbucks' dupes, attempts to recreate the Lemon Loaf "take the cake." After all, who doesn't love the moist mix of sweetness and lemony tang with every bite? If you ask us, eating a slice is like a party in your mouth.
Even if you are not a Starbucks fan, chances are you find lemon cake both comforting and luxurious. In fact, during the 2020 self-quarantine, the New York Historical Society shared vintage recipes and the very first they chose was a 19th-century lemon cake recipe, according to the New York Times. It appears that a moist lemon cake never goes out of style.
When we see a promising Lemon Loaf recipe, we can't help but check it out. Given the markup on Starbucks' baked goods, the total price of making a cake may be less than the cost of one slice in the cafe. Who doesn't want to save a little money these days? Best of all, there is just something wholesome and fulfilling about baking something delicious and sharing it with friends or loved ones.
When life gives you lemons, start zesting!
When Tiktoker @nombeah shared her copycat version of the Starbucks Lemon Loaf cake, people took notice. Her secret was a lemony triple threat using a combination of lemon zest, lemon juice, and the zest from two large lemons. In addition to the TikTok demo, she also shared her recipe on Instagram.
TikTokers apparently love some lemon cake. One commented, "I did it, it tastes like heaven. Thank you for the recipe." Another posted, "I normally don't bake – but this is something I might actually make." If something is both delicious and doable, that's a win in our book.
Of course, Starbucks carefully guards its secret, but looking at the ingredient list, this combination seems likely since the official list includes lemon juice, lemon zest, lemon oil, and "natural flavor" (via Starbucks). The homemade version also includes fewer additional preservatives, thickeners, and coloring agents. If you are interested in trying another variation you may enjoy our copycat lemon loaf recipe.