The Absolute Best Secret Filet Deal At Texas Roadhouse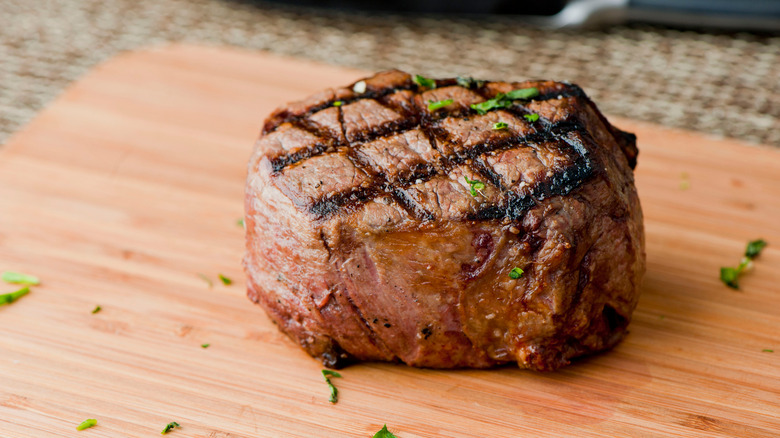 Marie Sonmez Photography/Shutterstock
Anyone who's ever been inside a Texas Roadhouse knows that it is extremely popular. From the free fresh peanuts given to every table to the extensive steak menu, not to mention the cinnamon butter rolls, it's no wonder the restaurant is always popping. Texas Roadhouse serves up an accessible and affordable steakhouse meal in a more relaxed, down-home setting. According to its website, everything is made from scratch and in-house and the USDA choice steaks are hand-cut by an in-house butcher. Roadhouse constantly offers specials and deals to make dining out for a steak dinner even more affordable.
In 2021, Texas Roadhouse raised its prices by 1.4% with a 2-year goal of raising the prices by 5% (per Nation's Restaurant News). Even with the raise, Roadhouse remains one of the cheapest steakhouse chains. In December 2022, Roadhouse offered a $5 bonus gift card when customers spent $30 on gift cards (via Slick Deals). The chain is also known for its early dining specials, where customers who come before 6 pm can choose from 11 dishes, priced at $10.99 or less (per Krazy Koupon Lady). For those who want to score a deal, but don't want to get there early, you need to follow a former worker's secret tip.
Get more meat for less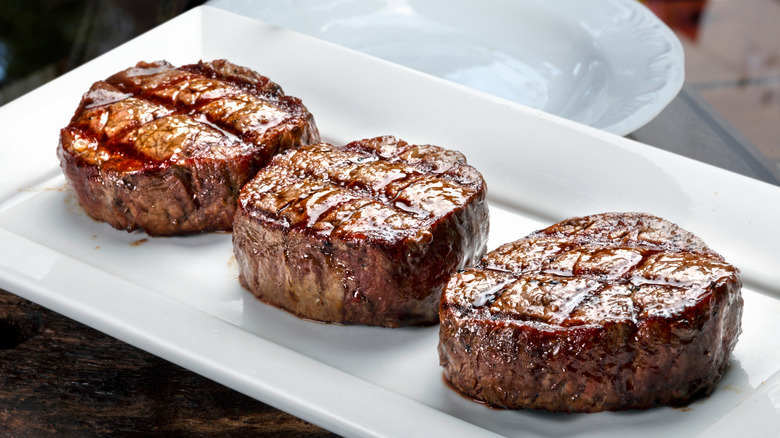 rocharibeiro/Shutterstock
Look no further than social media for the best tips and tricks to getting a deal. Tiktok user @aever17 shared her tip for getting more filet for less money. As a former employee of Texas Roadhouse, she recommended ordering the filet medallions instead of the standard 6 or 8-oz filet. She shares that the medallion comes with 9oz, making it cheaper per ounce, and thus a better deal. She also notes that the medallions are served with rice or potatoes, but any of the sides can be substituted, ensuring you get an extra side. According to Roadhouse's website, and depending on the Roadhouse location, the Dallas filet is $20.99 for the 6 oz and $23.49 for the 8oz. The filet medallions are also $20.99, and clearly the best deal.
Users were quick to comment on the deal and share their own favorite menu hacks. One user shared that customers can opt to receive half a Roadhouse appetizer instead of their side. Another shared to never order the mac and cheese, as you're paying for a pre-packaged mac and cheese. For those wanting to cook their filets from the comfort of their home, the chain has an online butcher shop store. Customers can purchase multipacks of filets and other steaks, so it will set you back quite a bit more than dining in.