Here's What Bobby Flay Thinks You Should Order From His New Restaurant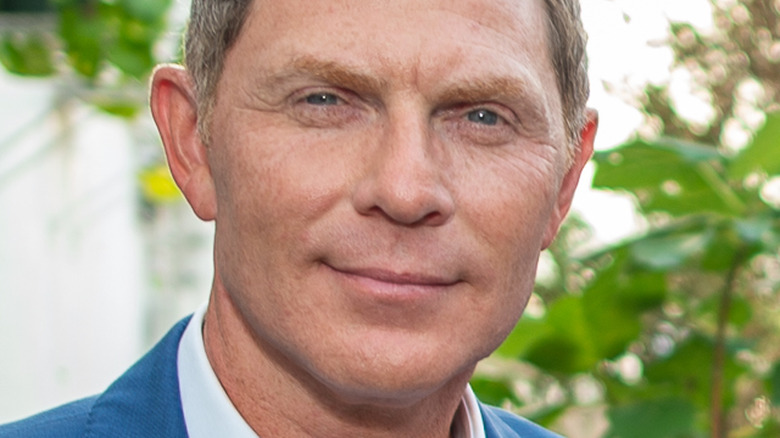 Mark Sagliocco/Getty Images
Bobby Flay is a bonafide tastemaker in his own right. With multiple cookbooks, over a dozen cooking shows, several restaurants, and a couple of James Beard awards, it is safe to trust Flay's recommendations on what to order at a restaurant. In other words, this guy knows what he's talking about. It's kind of like taking quarterback advice from Tom Brady; you don't question it. 
Flay's expansive career as a beloved celebrity chef has taken him around the world, tasting food from some of the finest restaurants and chefs. While his palette may be a bit more refined than the average Joe, his good old-fashioned American burger joint, Bobby's Burger Palace, keeps him relatable. Life as a celebrity chef hasn't distorted Flay's outlook on good food either. His humble beginnings helped shape him into the household name he is today, and Flay isn't afraid to say that maybe the best burger he's ever had, isn't his own. Just another reason why people look to him for recommendations they can trust, as if the extensive list of accolades isn't enough.
Bobby Flay's Amalfi is a stunning Mediterranean-inspired restaurant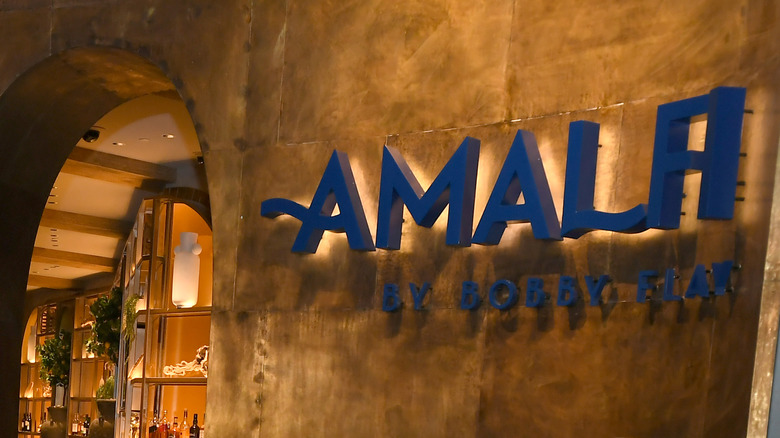 Bryan Steffy/Getty Images
It is no secret that Bobby Flay is obsessed with Italy and the bountiful Mediterranean lifestyle. He never shies away from an opportunity to show off his extensive travels throughout the glistening olive oil-packed country on his Instagram. There is even a tv show to prove it, "Bobby and Giada in Italy." 
But since Flay knows that not all of us are lucky enough to stroll the streets of Tuscany with a glowing Giada De Laurentiis in our arms, he brought Italy to America. Inspired by his travels to the country's southern coast, Flay opened his latest and greatest restaurant, Amalfi, in the renowned Caesars Palace Las Vegas. The restaurant is dripping with elegance and Tuscan charm, with colorful mosaic tile floors and romantic, dimmed lighting. For a moment, diners briefly forget that somewhere around the corner, people are shrieking with joy (or grief) at the slot machines trying to make up for the plane ticket cost there.
At Bobby Flay's Amalfi, good things come in threes
While dining at Amalfi, guests can expect to enjoy exceptionally fresh seafood and handmade pasta. With so many mouthwatering choices on the menu, like salmon carpaccio with pistachio breadcrumbs or bucatini in a red clam sauce, it can feel impossible to make a decision. 
No need to fret; Bobby Flay shared his hot take on what to order at his restaurant with his 1.8 million followers on Instagram. "Order a whole fish with salsa verde, the pasta 'rags,' and Lemon, Lemon, Lemon for dessert," he wrote. Done, done, and done! Thanks for the tip, Bobby. Of course, dessert has to be thrown in the mix. The Lemon, Lemon, Lemon is described as a "cake, custard, crisps." 
Does it seem like Flay has also developed an adoration for alliterations throughout his Italian travels, or is it just that good things come in threes? Who knows! All that matters is now everyone has a cheat sheet on what to order the next time they find themselves at Amalfi from none other than Bobby Flay himself.