Here's What Really Goes Down At Craft Beer Day Spas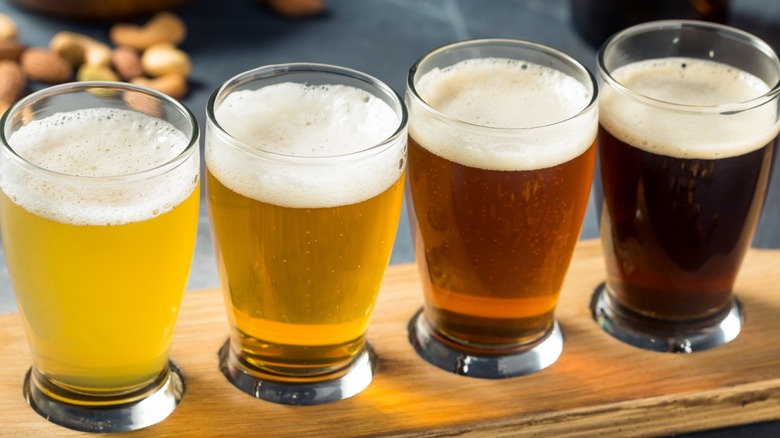 Brent Hofacker/Shutterstock
While vacationing in Prague, Barbara Corzo discovered something that has been around for centuries but was new to her: a beer spa. Once she experienced a bath in beer — hot water infused with hops, malt, and medicinal herbs — she knew she had to bring this concept back to Florida. While beer spas are big in Eastern Europe, they're a fairly new concept in the United States. Craft beer spas, like My Beer Spa, which Corzo opened in Orlando in 2021, and The Beer Spa in Denver, are hopping up, err... popping up around the country, where you can soak in the suds (literally).
It turns out beer has advantages beyond quenching your thirst and making your date more attractive. According to Forbes, fans of the centuries-old practice believe it cleanses the skin, relieves stress, and releases toxins from the body.
Corzo told Mashed that her moisturizing beer treatment is a proprietary blend of beer ingredients full of vitamins and antioxidants with anti-inflammatory and anti-anxiety properties. Damien Zouaoui, co-owner of The Beer Spa in Denver, discovered the benefits of bathing in beer while vacationing in Poland with his wife, per Delish. He said that the ingredients in beer are full of nutrients, and vitamins. Barley, for instance, is a rich source of zinc and selenium, to help maintain skin elasticity and protect skin from free radicals, says Be Well Buzz. Hops are naturally calming and can treat insomnia. 
So, what can you expect from the experience?
Hop in the spa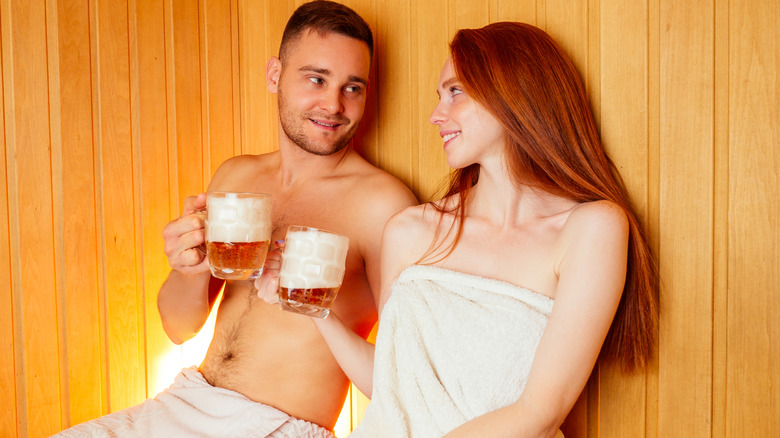 yurakrasil/Shutterstock
Nicole Hunter of Orlando, a frequent patron at My Beer Spa, summed it up during an interview with Mashed. "I like beer and I like spas." She gets unlimited beer and the spa experience — a soak in the private oak beer tub, followed by time in the sauna and on the hay cooling bed. "You're drinking beer, so you feel good, and you're warm from the tub and sauna," says Hunter. "It's very cozy."
At most beer spas, the experience begins with a cold mug of beer and ends with steam rooms, saunas, and more beer. You'll get a locker, but it's up to you whether you want to keep your phone to photograph this novel experience or take a break from the world.
Barbara Corzo told Mashed she felt it was important to "maintain the essence of a traditional Czech beer spa. That includes a private room with a tub and beer tap with complimentary beer. But we also wanted to cater to the tastes of Americans, so we added more beer options and red and white wine taps." The Beer Spa in Denver has a communal tap room, according to Food & Wine. Co-owner Zouaoui and his wife Jessica French were trying to emulate the social experience in a Japanese onsen. After the soak, bathers can imbibe while making new friends. 
A sudsy soak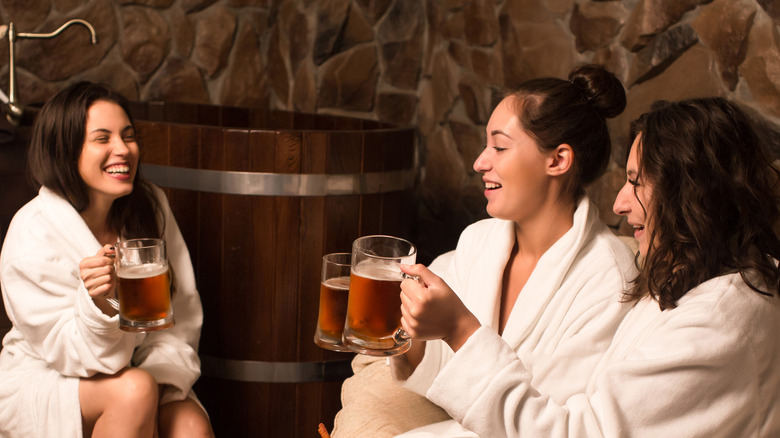 Nick Mayorov/Shutterstock
The setting and procedures can differ. At the Thermal Beer Spa in Budapest, for example, dry ingredients — hops, malt, yeast and a beer salt — are added to 96.8-degree water (just below normal body temperature) in an open-air wooden tub. In Krakow, the Piwne Beer Spa is in the basement of the fourteenth-century Kmitów Palace. Beer baths have a long history, Dino Sarancic, who opened PIVA Beer Spa in Chicago in 2018, told Mashed, "The recipe for beer is 8,000 years old. There has been evidence of use of beer for purposes other than drinking for hundreds of years. The first beer bath recorded dates back to the year 921. So we are definitely not inventing something new here."
In the U.S., patrons usually pay per room, which can accommodate one to four adults. For example, at The Beer Spa in Denver, you'll pay $179 for one or two people to spend 90 minutes in a private room that includes a beer bath, infrared sauna, and a shower. Alcoholic beverages are not included. At My Beer Spa you can reserve a room for 60 to 90 minutes, with unlimited beer, beginning at $189 for two adults. A wine upgrade is additional. 
So, have a beer, or bathe in beer. Or better yet, have a hot bath of beer with a cold ale or lager.