Sweet, Spicy, And Tangy Chamoy Recipe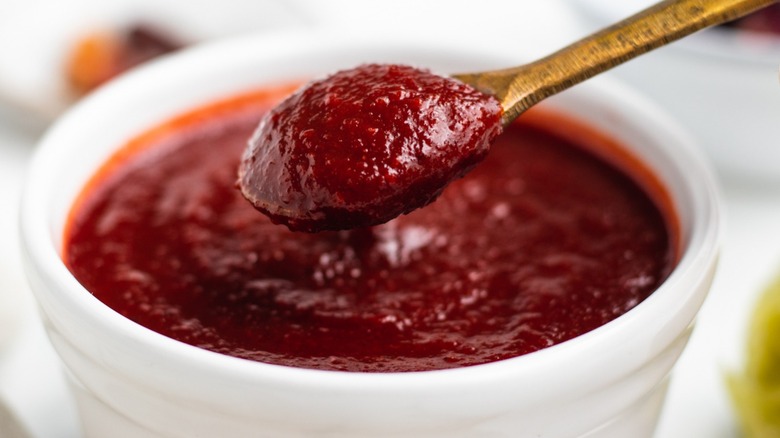 Catherine Brookes/Mashed
Chamoy is a typical Mexican condiment, but interestingly enough, it may have actually originated from Chinese. Its name is derived from see mui, a Chinese dish of dried and salted apricots that was introduced to Mexico centuries ago by well-traveled traders (via NPR). Over the years, this salty and sweet snack evolved into a sauce made from fruit, salt, and chiles, and in some instances, dried hibiscus flowers. Recipe developer Catherine Brookes, who makes this chamoy sauce recipe with hibiscus says, "I love the unique fruity, floral taste of this sauce. It's spicy, flavorful, and has a lovely, silky texture."
Brookes describes the chiles she uses in her chamoy sauce as "a red variety with medium heat," and says they're thin, and measure about ¾ of an inch in length. We did a little research into the topic, however, and found that many Mexican recipes call for chile de árbol peppers, which is also the variety that Andrew Zimmerman calls for in his chamoy recipe. Keep reading to find out how to make this easy chamoy recipe. 
Assemble the ingredients for the chamoy sauce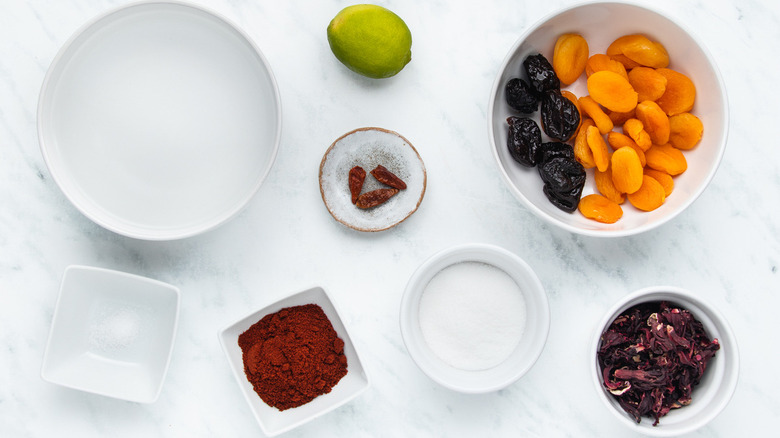 Catherine Brookes/Mashed
The one ingredient that may be somewhat difficult to source for this recipe is the dried hibiscus flowers. You may be able to find them at an Hispanic grocery store, but you could also purchase them online, as well. Dried apricots and prunes are supermarket staples, though, and dried whole chiles usually aren't too hard to find, either. 
The other ingredients you'll need are also pretty standard: sugar, a lime, water, salt, and chili powder. While some chamoy recipes may call for powder made of pure ground chile, the kind Brookes uses is the typical kind sold as "chili" rather than "chile" powder, and generally containing other ingredients such as garlic, onion powder, and salt.
Simmer the fruit, flowers, and chiles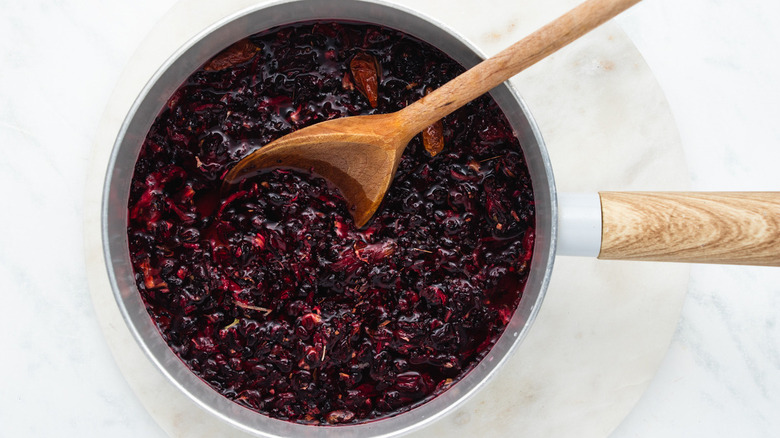 Catherine Brookes/Mashed
Take the hibiscus, chiles, dried apricot, and dried prunes, and put them into a small pot along with the water. Set the burner to medium, then stir the sauce ingredients until it comes to a boil. At that point, turn the heat down, stop stirring, and let everything simmer for 15 minutes. Turn the heat off, then let the mixture cool for 10 minutes.
Purée the cooked ingredients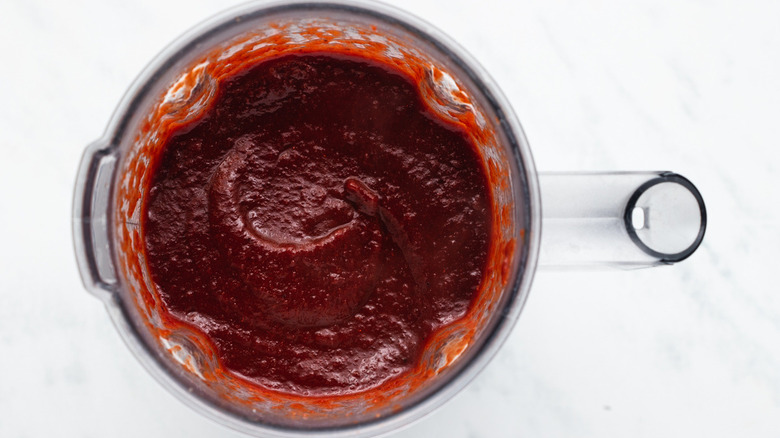 Catherine Brookes/Mashed
Once the fruit mixture has cooled off to some extent, add the chili powder, sugar, lime juice, and salt. Purée everything in a blender or food processor, until the sauce is smooth and homogeneous with no prune or apricot chunks.
Strain and serve the chamoy sauce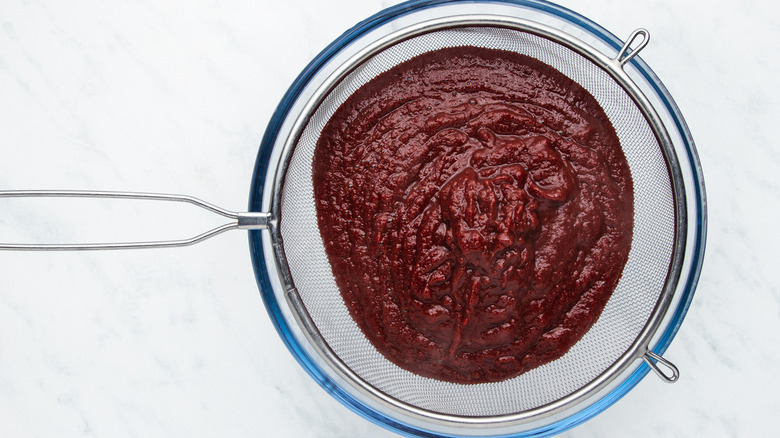 Catherine Brookes/Mashed
Finally, strain the sauce through a fine mesh strainer in order to remove any fruit pulp. Check the texture and, if it's too thick for your liking, stir in a few tablespoons of water to thin it out a bit.
Brookes says of this chamoy sauce, "You can ... drizzle it over Mexican dishes, such as tacos, enchiladas, or use it as a meat marinade." You might also enjoy it as a barbecue sauce, a dip for tortilla chips, or stirred into a fresh mangonada.
Sweet, Spicy, And Tangy Chamoy Recipe
This sweet, spicy, and tangy chimoy sauce is perfect with anything from dips, to tacos, and even marinades.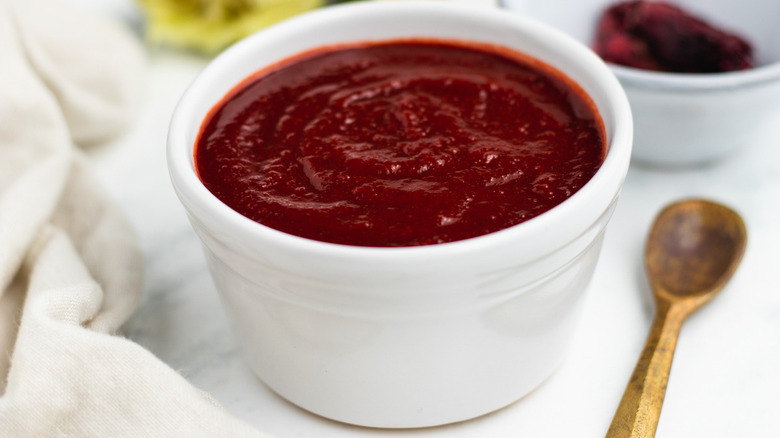 Ingredients
½ cup dried hibiscus flowers
¾ cup dried apricots
¼ cup prunes
3 dried chiles, such as chile de árbol
3 cups water
3 tablespoons chili powder
⅓ cup sugar
Juice of 1 lime
¼ teaspoon salt
Directions
Combine the hibiscus flowers, dried apricots, prunes, dried chiles, and water in a pot. Bring the mixture to a boil over medium heat while stirring.
Turn the heat down until the sauce is just simmering, and let it cook for 15 minutes. Turn the heat off, and let the sauce cool for 10 minutes.
Add the chili powder, sugar, lime juice, and salt to the sauce. Purée the sauce in a blender or food processor, until smooth.
Strain the sauce through a fine sieve to remove any pulp. Add a few tablespoons of water to thin the sauce, if desired. Serve as desired.