Vegan Red Lentil Curry Recipe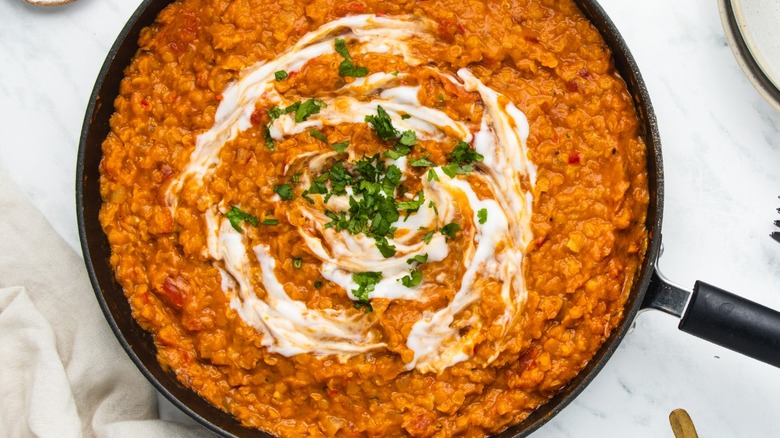 Catherine Brookes/Mashed
Whether you are vegan or not, plant-based cooking is always a good idea. This plant-based recipe for red lentil curry, brought to us by recipe developer Catherine Brookes, is a delicious way to enjoy plenty of protein without meat. It's great for those who are vegans, but also those who are vegetarian, flex-etarian, or for those who simply love lentils.
"‌I love to make this curry on weeknights as it's super quick, delicious and healthy," Brookes says. "If you make a big batch you can eat leftovers throughout the week too!" There's nothing better than a recipe that makes enough for leftovers. That's the kind of meal prep we can get behind. Not sure what to serve this dish with? We'd recommend serving up a side of simply roasted vegetables to increase your produce intake. Brookes suggests, "I like to serve the curry with brown rice and sometimes add some steamed greens on the side such as broccoli or green beans. You can also serve with poppadoms or naan bread too."
Gather your ingredients for vegan red lentil curry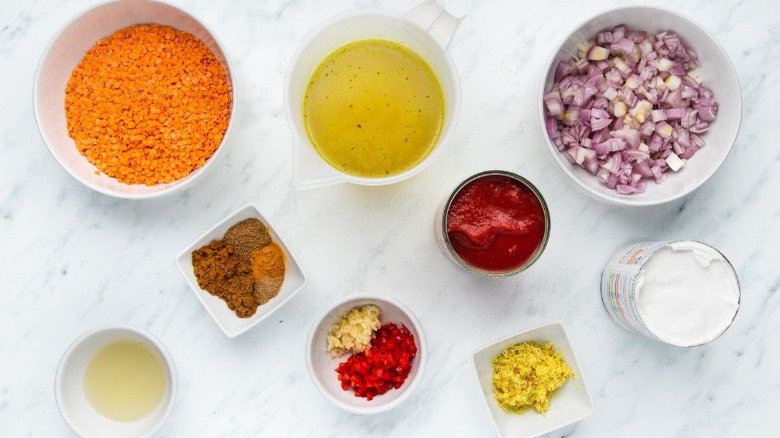 Catherine Brookes/Mashed
To make this vegan red lentil curry, you can start by gathering your ingredients. For this recipe, you will need olive oil, shallots, garlic, ginger, red chili, curry powder, cumin, garam masala, coriander, turmeric, red lentils, vegetable broth, canned chopped tomatoes, canned coconut milk, salt, and pepper.
Fry the aromatics in olive oil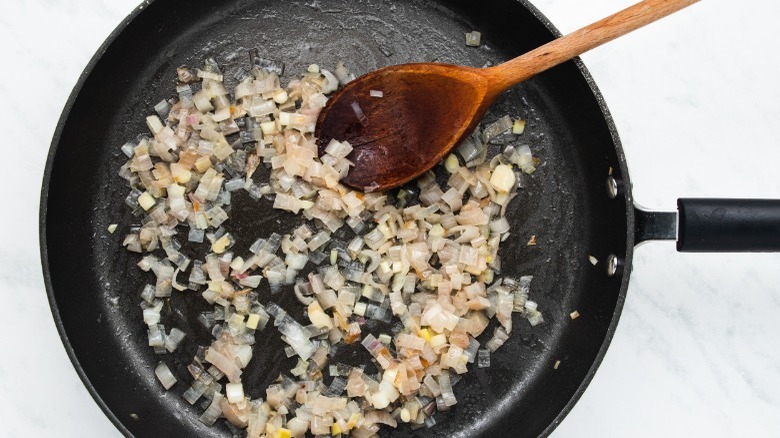 Catherine Brookes/Mashed
In a deep skillet over medium heat, add the olive oil. Once the oil is hot, add in the shallot. Fry the shallot until it is just about softened, which takes about 5 minutes. Then, add in the garlic, chili, and ginger before stirring and frying for another 2 minutes. Then add in the spices and continue to cook for about 2 minutes. By this point, your kitchen will be smelling delicious.
Add remaining ingredients and cook for 20 minutes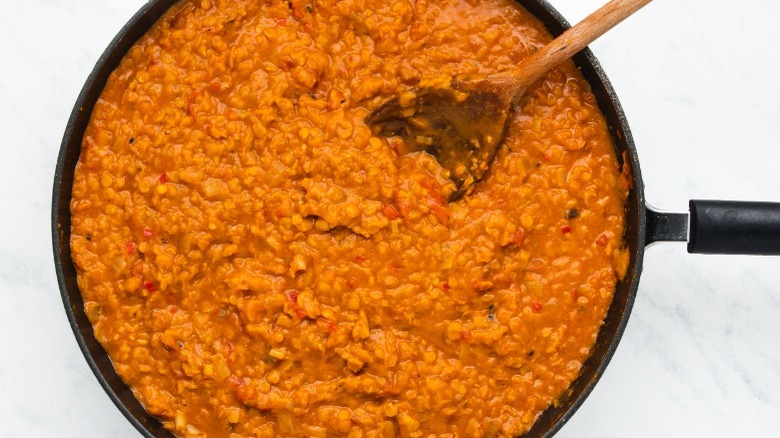 Catherine Brookes/Mashed
Next, add in the lentils, vegetable broth, canned tomatoes, and coconut milk. Stir these ingredients thoroughly to make sure that they are well-incorporated. Then, bring up the heat to a boil. Once it is boiling, reduce the heat to a simmer. Continue to simmer for 20 minutes. This will allow the flavors to meld together nicely.
Serve with brown rice, coconut yogurt, and fresh cilantro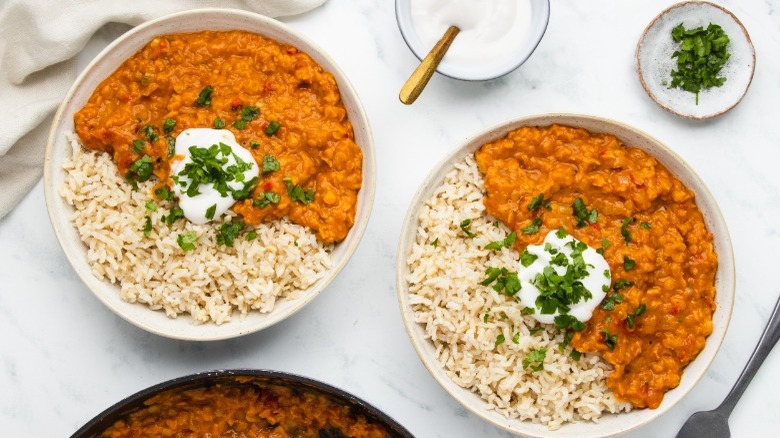 Catherine Brookes/Mashed
Lastly, serve the curry over cooked brown rice, a dollop of coconut yogurt, and a sprinkling of fresh cilantro. Brookes notes, "This curry can also be frozen for up to 3 months. Simply defrost overnight in the fridge then reheat in the microwave". Meal prep doesn't get much easier than that.
Vegan Red Lentil Curry Recipe
This vegan red lentil curry is a tasty dinner option for both vegans and non-vegans alike.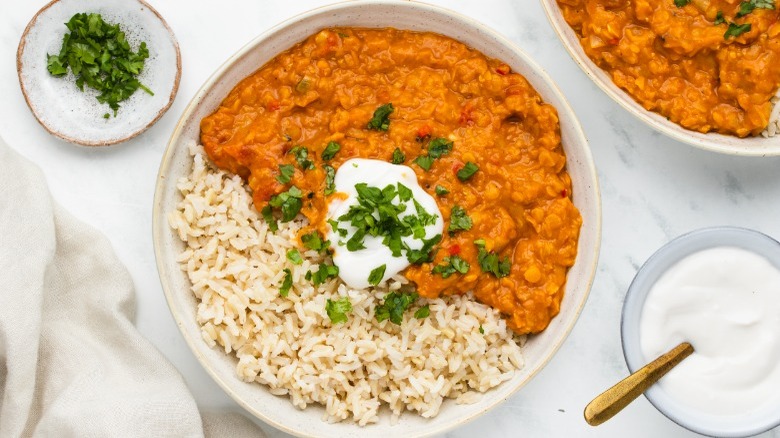 Ingredients
1 tablespoon olive oil
2 shallots, diced
4 cloves garlic, minced
½-inch knob ginger, grated
1 Serrano chili, finely chopped
2 teaspoons curry powder
1 teaspoon cumin
1 teaspoon garam masala
½ teaspoon ground coriander
½ teaspoon turmeric
1 cup red lentils
2 cups vegetable broth
1 (15-ounce) can chopped tomatoes
1 (15-ounce) can coconut milk
salt, to taste
pepper, to taste
Directions
Heat the olive oil in a large, high-sided frying pan. Fry the shallot until softened, about 5 minutes.
Add the garlic, chili, and ginger, then stir well and fry for another 2 minutes.
Stir in the spices and fry for another 2 minutes.
Add all remaining ingredients, stir well and bring to a boil. Reduce to a simmer and cook for 20 minutes, stirring occasionally. Add salt and pepper to taste.
Serve immediately, optionally with naan or rice.
Nutrition
| | |
| --- | --- |
| Calories per Serving | 466 |
| Total Fat | 27.3 g |
| Saturated Fat | 20.8 g |
| Trans Fat | 0.0 g |
| Cholesterol | 0.0 mg |
| | |
| --- | --- |
| Total Carbohydrates | 46.0 g |
| Dietary Fiber | 9.5 g |
| Total Sugars | 6.3 g |
| Sodium | 970.4 mg |
| Protein | 16.3 g |