Marcus Samuelsson's Black History Month Menu Honors Martin Luther King's Favorite Cocktail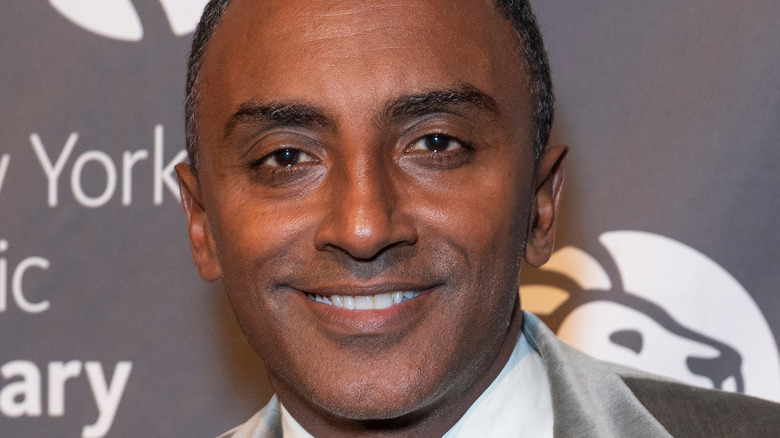 lev radin/Shutterstock
Marcus Samuelsson has always been a champion of black chefs and African American cooking. The restaurateur, cookbook author, and food television personality has worked tirelessly to help promote black-owned restaurants and to tell the stories of their chefs and owners, as he does on his Audible podcast "Seat at the Table." In one such episode, he highlights the Hell's Kitchen restaurant Jezebel and its owner Alberta Wright, noting that without Wright's "trailblaz[ing]" instincts and influence, he would never have been able to open his own original Harlem eatery, Red Rooster (via Ebony).
Samuelsson also notably authored a cookbook that shines a spotlight on black chefs and black food culture entitled "The Rise: Black Cooks and the Soul of American Food," which transverses the journey through which African American cooking has influenced overall American foodie culture (via Indiebound). Now, this February for Black History Month, Marcus Samuelsson has gone a step further in honoring the history of Black culture in relation to food with a special menu at his Newark, New Jersey restaurant Marcus B & P.
The King cocktail is inspired by the screwdriver
The menu at Marcus Samuelsson's Newark restaurant Marcus B & P has a special addition this February to offer an option to dine in honor of Black History Month. In addition to regular menu items like chicken and waffles, shrimp and grits, and jerk cauliflower, diners can choose from the Black History Month menu, which features an entree, dessert, and specialty cocktail in honor of none other than Martin Luther King, Jr. The entree course is called Burlington Duck Stew, a tribute to Burlington County in New Jersey where many emancipated black people relocated. The dish consists of a "roasted duck quarter dressed in creole sauce" served with "country red rice and curry chickpeas." The dessert plate is a southern-inspired peach cobbler baked with a cinnamon streusel on top. Finally, the Martin Luther King, Jr. cocktail, a nod to his favorite drink, the screwdriver, is called "King" and is a mixture of cognac, sugar cane, and triple sec served up in a martini glass.
Samuelsson advertised the Black History Month menu on Instagram, with multiple users replying in the comments "yummy" and one writing, "You Rock Marcus." Sameulsson also featured the pics on Twitter with one user commenting, "Wow, that cobbler looks obscene! (in the nicest way!)"