Rihanna's Super Bowl 2023 Dancers All Looked Like Marshmallows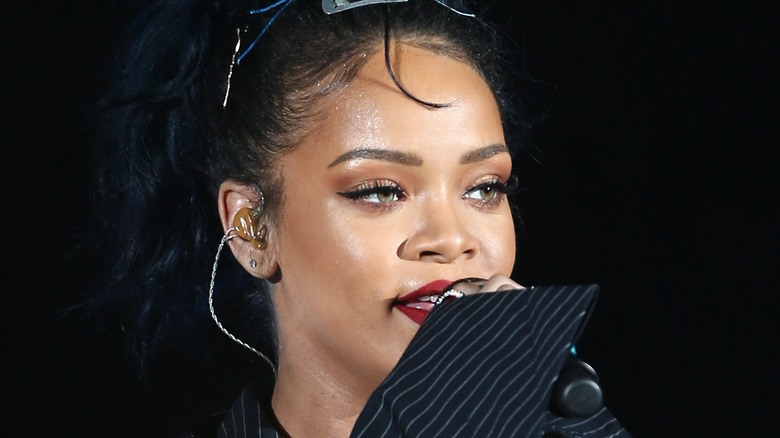 Debby Wong/Shutterstock
Did you make a run for the bathroom as soon as the Super Bowl halftime show started? If so, you're not alone. The Great American Super Flush is, in fact, an annual event that wastewater treatment professionals say is no urban legend, per The University of Arizona. Well, when you've got to go, you've got to go, and all of that beer or soda you consumed during the first two-quarters of the game undoubtedly couldn't wait. Still, you're probably wondering if you missed anything while you were otherwise occupied, and we're here to fill you in.
Rihanna, the halftime headliner, put on her usual high-quality show, only this time, she did it with a somewhat unusual backdrop: dancers who seemed to have been dressed up as marshmallows. Yes, we kid you not — an actual chorus line of mini-Michelin persons. Needless to say, Twitter was very amused, and it's a sure bet that we can expect a multitude of marshmallow memes by morning. 
We have no idea why the dancers were dressed that way, but that won't keep us from guessing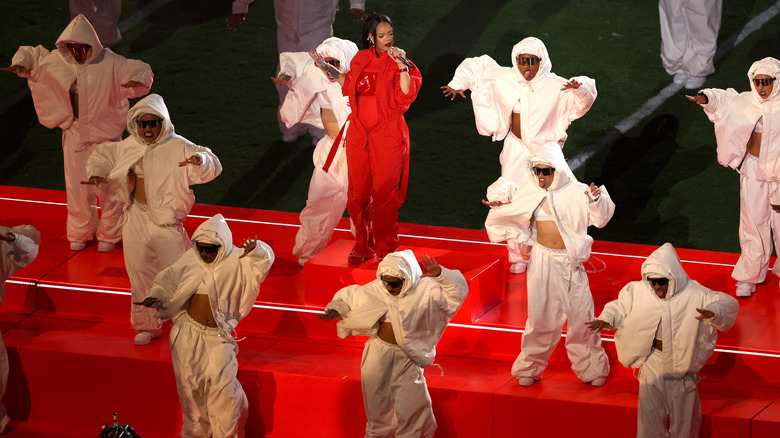 Rob Carr/Getty Images
Why the marshmallow army, Rihanna? Twitter was no help here, so we're left to come up with our own best guesses. As Rihanna was dressed in a dramatic red outfit herself, perhaps she just wanted to ensure all eyes were on her. Kind of like a bride who requires all of her attendants to wear hideous dresses in colors that match the tablecloths so that she can be the center of attention.
Another random idea we've come up with is that perhaps it was a homage to the 2021 Super Bowl's socially-distanced halftime show (via Mediaite). Surely you remember how The Weeknd trotted out his own lineup of backup dancers in poofy white outfits. It could be, however, that the marshmallow outfits are a sneak preview of Savage x Fenty's sportswear collection for next winter, or maybe they were meant to be snow people, and Rihanna is planning to star in a live-action remake of "Frozen." Who knows, only Rihanna can say for sure, but it's always fun to speculate.