Famous Chefs Dish On Their Favorite Fast Food
Known for their innovative cuisine and second-to-none palates, you might assume that famous chefs only have a taste for the finest ingredients at the fanciest restaurants. We can easily envision them sitting down to a five-course meal featuring wagyu beef and mountains of shaved truffles sprinkled with gold leaf just because — but fries and burgers from a fast food joint? No way. Certainly a chef of Gordon Ramsay's or Julia Child's caliber wouldn't be caught in a drive-thru drooling over a bag of greasy fare. Or would they? Turns out they would, and they're not ashamed to admit it. 
Of course, chefs always have a preference when it comes to flavor, and that doesn't stop at fast food. Just because they're getting down and dirty with a humble cheeseburger doesn't mean they don't have an opinion on which humble cheeseburger reigns supreme. Read on to find out who makes a beeline for a Double-Double, who can't pass up Culver's, and who doesn't like fast food at all (gasp!). 
Anthony Bourdain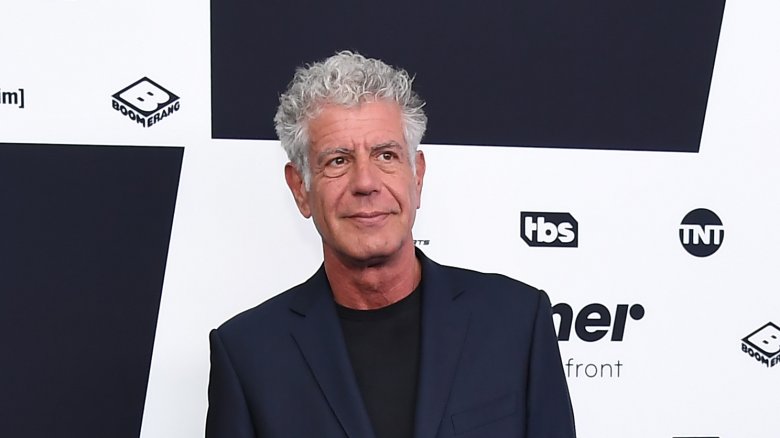 Getty Images
Let's start with one of the most opinionated food personalities out there: Anthony Bourdain. Bourdain passed away in June 2018, but he was known for giving a completely honest appraisal of what he thought about, well... everything — without a care in the world whether or not it was the unpopular opinion. Most of us would agree though, that his favorite fast food pick was spot on.
Talking to Eater, Bourdain waxed poetic about In-N-Out Burger, saying it was his favorite restaurant in Los Angeles, and praised the bun, good quality meat, non-limp fresh greens, and the perfect "cheese-like substance" of this "brilliant" burger. "It's the only fast food chain that I actually like, and think is reasonably good for the world," he said. Before digging into his Double-Double, which he liked Animal Style, Bourdain noted, "This is like a ballistic missile. A perfectly designed protein delivery system."
His Instagram followers seemed to agree with his choice, if "likes" are any indication. The ever-colorful chef surmised that an image of an In-N-Out burger sitting alone on a table would get more "likes" than a photo of himself, Christopher Walken, Keith Richards, and the Dalai Lama in a hot tub doing bong rips. Maybe true, but we'd still like to see that hot tub pic, if you don't mind.
Andrew Zimmern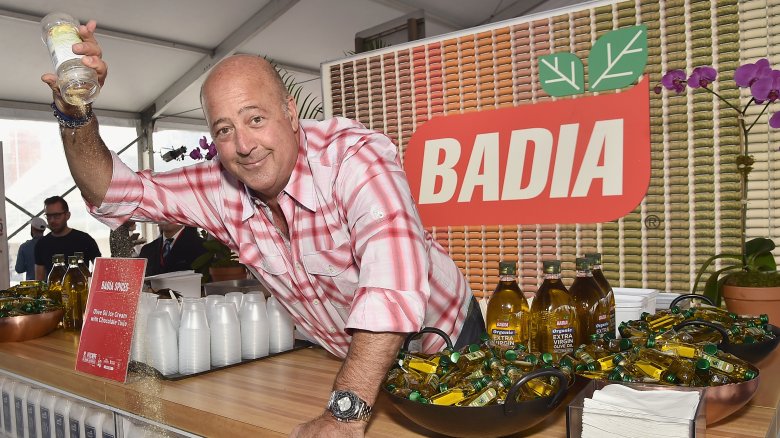 Getty Images
Andrew Zimmern might travel the globe sampling regional cuisine, local delicacies, and even the occasional still-moving creepy crawly while filming Bizarre Foods, but when he's on the road in the states? It's Americana all the way. 
He dished on his favorite pit stops to The Daily Meal, saying, "I have a weakness in my heart for Culver's. It's a family favorite. It's a mid-Western chain that does custard really well and does hamburgers pretty decently." 
He's also got a soft spot for gas station pizza and truck stop food. "Anyone who's done a lot of road trips [knows] you go into [truck stops] and they have 17 different types of hot dogs. There's cheddar cheese 'wurst and relish onion stuffed dogs and three types of pizza and 10 types of fried chicken," said Zimmern. And to wash it all down? "You know the 45-ounce Diet Coke? It's terrible," he said. "It's exactly what I don't want people to eat and I tell my son 'no, no, no' and then I'm doing that."
Julia Child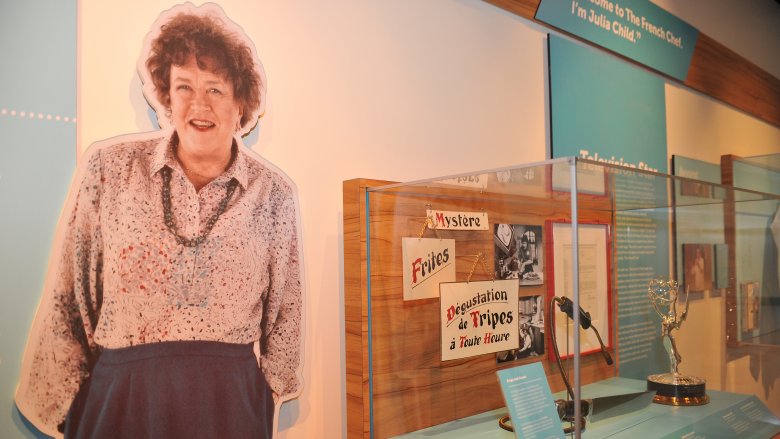 Getty Images
The chef responsible for bringing French food to the masses was known for not shying away from what others might describe as indulgences. Julia Child made no apologies for liking what she liked, and famously said things like: "The only time to eat diet food is while you're waiting for the steak to cook," and "If you're afraid of butter, use cream."
It's not too surprising then that when it came to fast food she had more than one favorite. Though Child was rumored to have carried a list of In-N-Out locations around in her purse, it became clear in an interview on Larry King Live that she had a soft spot for more than one burger joint. When King asked if she liked McDonald's, she replied, "Yes, but there's another one called the In-and-Out Burger that I like, too. We have lunch here or there on the way down... it's very good." King pressed her, asking, "Is that the best of the fast foods?" Child answered, "Well, it's awfully good. But I think the McDonald's could be very good, too, and so can Burger King. But the Burger King's French fries are very good, I think." 
Danny Meyer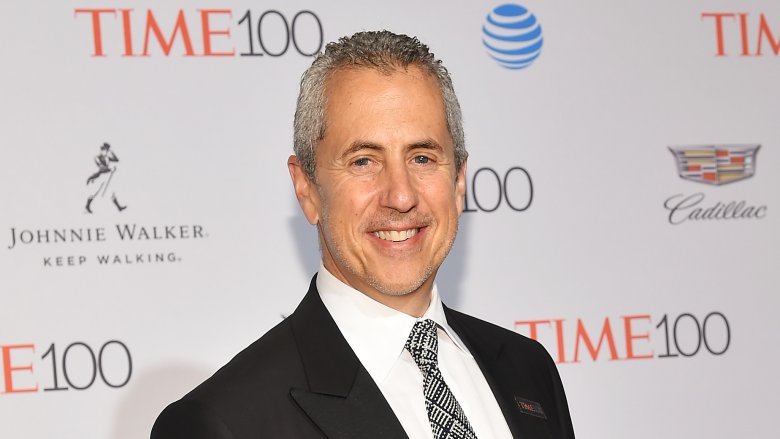 Getty Images
What does the founder of the hugely popular Shake Shack list as his favorite fast food? Surprisingly, it's not Shake Shack — in fact, it's not a burger at all. Danny Meyer, prolific restaurateur and CEO of Union Square Hospitality Group, knows food — from fast casual eats to five-star fare, he's been involved in countless successful restaurant ventures. While he could easily snag a seat at Gramercy Tavern any time he pleases, sometimes he just needs to satisfy that fast food craving. Fair warning: His descriptions will leave you hungry.   
"I treat myself to Popeyes a couple of times a year and I am wickedly happy downing a few pieces (wings and thighs best) of their crispy, spicy chicken — with a side of dirty rice and biscuits," Meyer told BloombergPursuits. "Or I'm completely satisfied making a lunch of a salad from Chipotle, loaded with grilled chicken, pinto beans, shredded cheese, extra cilantro, and spicy dressing." 
Gordon Ramsay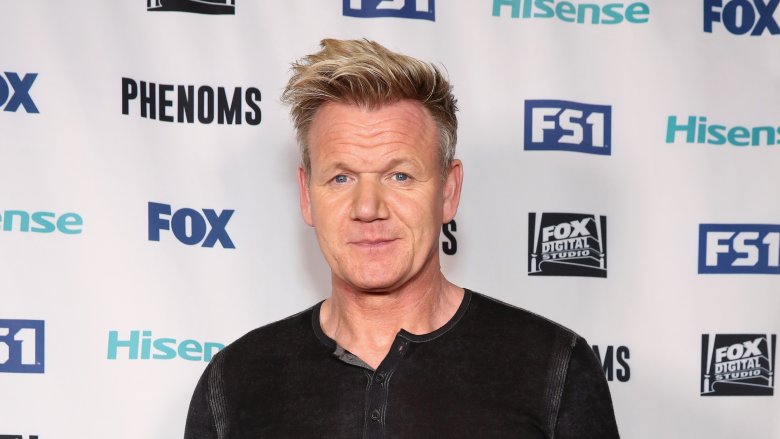 Getty Images
Another supremely opinionated chef, another vote for In-N-Out Burger. It seems that the west coast favorite must be doing something right to gain the approval of these notoriously salty critics.
That's right... the Michelin-starred and foul-mouthed chef Gordon Ramsay, who makes it his job to come up with colorful insults about other people's food, has nothing but good things to say about In-N-Out. You'll find no references to f**king donkeys or idiot sandwiches here.
"People think Americans are obese and burgers are bad for them — they are delicious. In-N-Out burgers were extraordinary. I was so bad, I sat in the restaurant, had my double cheeseburger then minutes later I drove back round and got the same thing again to take away," he said. "I wish that they were set up in London because if there's one thing I miss flying out of LA, it's an In and Out Burger."
David Chang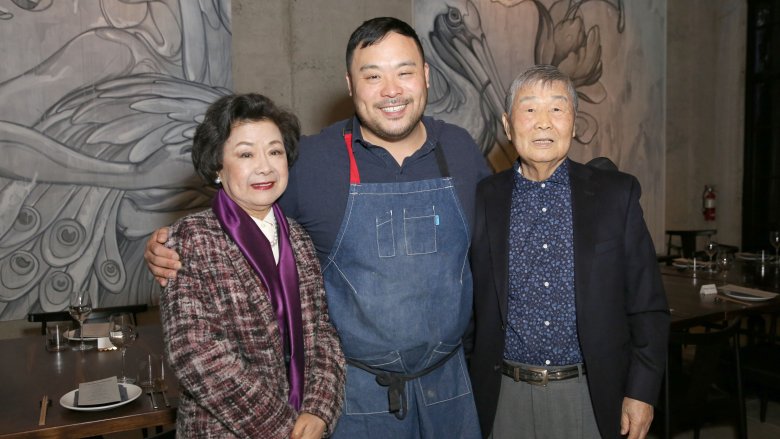 Getty Images
It shouldn't come as too much of a surprise that David Chang's favorite guilty pleasure food is Popeyes. The chef and founder of Momofuku clearly has a thing for the crispy skinned treat — so much so that he opened his own fast casual fried chicken joint, Fuku, in 2015. 
Popeyes might be his go-to now, but Chang says he grew up in Virginia eating Chick-fil-A, and it actually served as inspiration for his eatery. Grubstreet reported that he described Fuku as "our attempt to sort of honor the great fried-chicken places and fast-food concepts out there, to do our version of that, and hopefully, to make it better."
Chang, who is also a fan of In-N-Out (who isn't?), says he threw around the idea of combining an In-N-Out burger with a Chick-fil-A sandwich for the Fuku menu. "We thought about taking both and merging them into one sandwich," he said. "No one ever thought to do that. [What if you could] ask for spicy chicken Animal-style?" If only...
Tim Love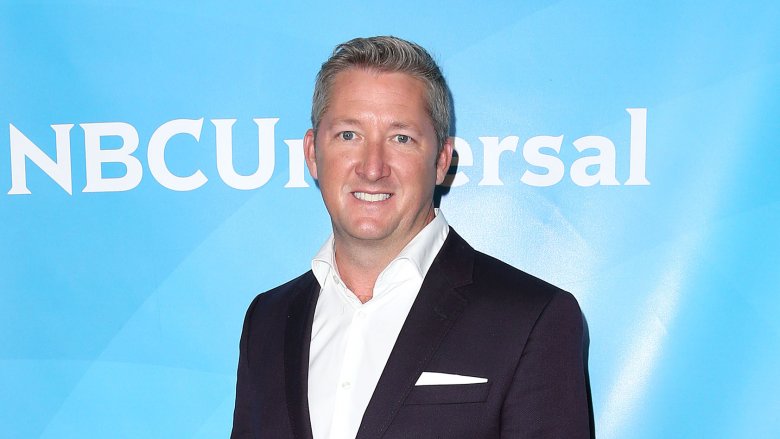 Getty Images
You could say that Tim Love loves burgers. The Iron Chef America participant (who defeated Iron Chef Morimoto) is the owner of Fort Worth's Love Shack, where they serve up an array of drool-worthy burgers ground fresh daily with a blend of prime tenderloin and prime brisket. According to their website, Love's creation, the Dirty Love Burger, "has been lauded by critics as a 'burger that is one of the best in America.'" With lettuce, tomato, pickles, Love sauce, American cheese, bacon, and a fried quail egg, we can understand why.
But as with many chefs, when asked where he'd go to satisfy his burger craving, it's not his own restaurant. Love told Esquire he'd hit up Whataburger, explaining, "It's like a fresh, clean, Texas version of McDonald's." His go-to order? "Whataburger with cheese, bacon, and jalapeños, and two sausage-and-egg taquitos." Worth noting — a Whataburger taquito is actually a filled soft flour tortilla, not the deep-fried delight we typically expect. So basically it's a burrito — but hey — you do you, Chef Love.
Michael Psilakis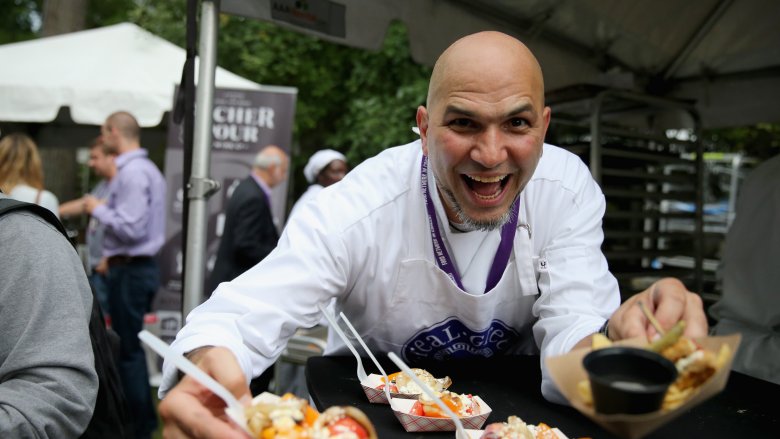 Getty Images
Michael Psilakis, not to be confused with lookalike chef Michael Symon, wears many hats: First and foremost he's the executive chef and owner of several New York area restaurants, but you might recognize him for his appearances on Iron Chef America, Ultimate Recipe Showdown, and No Kitchen Required. No matter what hat he's wearing though, Psilakis loves fried chicken.
He told Esquire that his favorite fast food indulgence is none other than KFC. "I treat myself to KFC about three times a year. I love that crunchy fried crust. It's like the crumb on top of crumb cake; the chicken is an afterthought, really," he said. And that's not the first time he's spoken lovingly about the dish. On an episode of The Best Thing I Ever Ate, Psilakis said, "For me, fried chicken is the barometer of crunchiness." He went on to name the fried chicken from Brooklyn Bowl as the best thing he ever ate, but KFC has to feel good for getting an honorable mention, right?
More chefs that love In-N-Out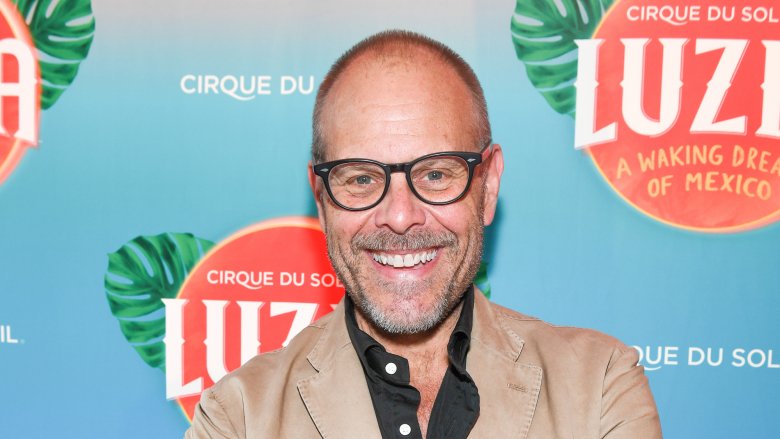 Getty Images
One thing is clear: When it comes to favorite fast food among chefs, In-N-Out is king, and these Food Network stars all agree on that.
Tyler Florence, whose go-to order is an Animal Style Double-Double Cheeseburger, defiantly said, "I dare anyone to tell me their burgers aren't as good as any you'll find anywhere, from fast food to fine dining." 
Alton Brown, who knows good eats, explained, "The hamburger is definitive, greasy but oddly clean-tasting at the same time, and the sauce actually is 'special.' And the shake tastes the way shakes tasted back when I was a kid. It makes me tear up just thinkin' about it." 
Ina Garten, rationalizing her love for the burger joint, confessed, "I have to say, I don't eat fast food at all, with one exception. When we're in California doing book tours, we always have to go to In-N-Out burger. It's so good and I know it was Julia Child's favorite too, so it's okay."
And Guy Fieri, when asked to choose between Shake Shack and In-N-Out, explained, "I love Danny Meyer, but In-N-Out. Danny's the machine, Shake Shack's phenomenal, but there's something about growing up around In-N-Out."
Martha Stewart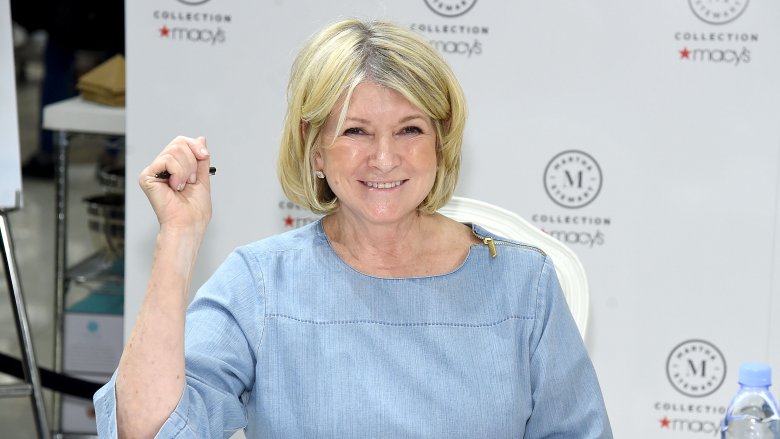 Getty Images
It might be a bit of a surprise to see Martha Stewart's name on this list. The lifestyle queen who grows her own veggies and collects fresh eggs every morning doesn't come off as the kind of person who hits the drive-thru after a long day at work — unless there's a drive-thru serving fresh salmon with a side of kale out there that we don't know about.
But it turns out that Stewart's favorite fast food is... no fast food. In fact, she says she has only eaten it four times in her life. Total. Yes, really.
"Never ate fast food. I proudly can tell you that I've eaten one Burger King and I think maybe two McDonald's... and today I ate an In-N-Out burger. It was okay," she said. "You know, it's not my favorite food. I would much rather have a salad or sushi or something like that." 
Describing an In-N-Out burger as "okay"? It's hard to get behind you on this one, Martha...