Buffalo Wild Wings Is Launching Two New Combination Sauces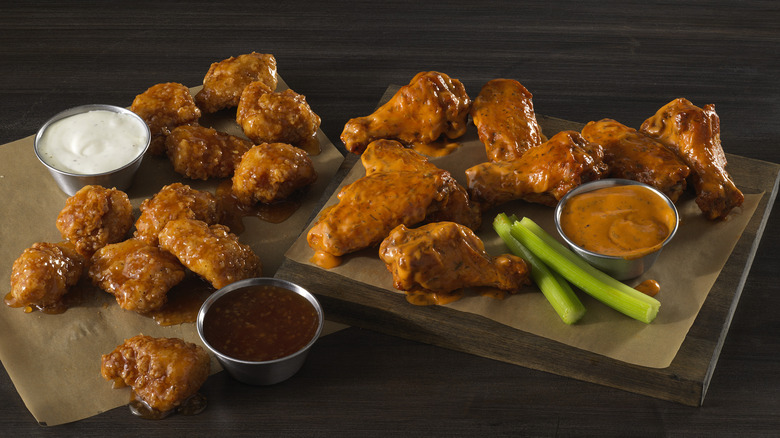 Buffalo Wild Wings
Sports enthusiasts and game-day food fans have barely let the confetti settle from the Super Bowl before starting to gear up for March Madness. Whether you're filling in your bracket with the collegiate teams most likely to win or you're preparing all the snacks you plan to eat while you watch, this time of year is a reminder of how sports and food bring people together.
As the country hut, hut, hikes from football season into the world of basketball, much will stay the same food-wise. Fans will eat chips and wings, they will sip on beer, and the occasional veggie tray might make an appearance. DoorDash reported in 2021 that the most popular Super Bowl foods were mozzarella sticks, boneless wings, and chips and salsa. That same year, according to PR Newswire, data from grocery delivery service Shipt revealed that basketball fans favored Doritos, Cheez-Its, Goldfish, and Tostitos during March Madness.
While buffalo wings didn't crack the top four, this year, Buffalo Wild Wings is rolling out something new to get sports fans and foodies hyped for the season.
Honey Garlic and Buffalo Ranch will debut at Buffalo Wild Wings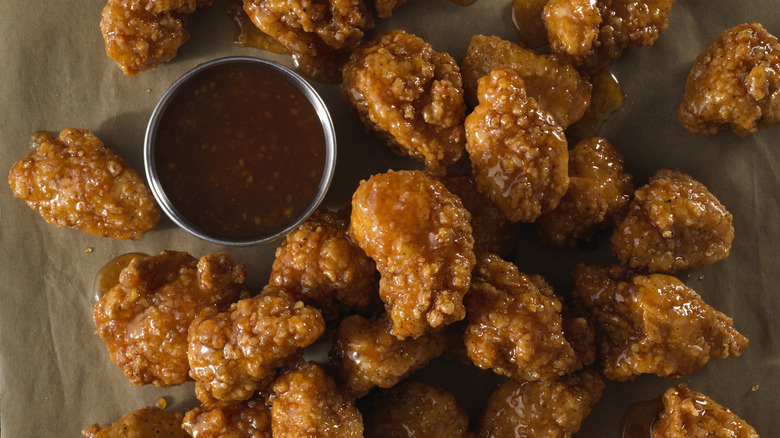 Buffalo Wild Wings
If your wings need a pre-March Madness makeover, turn to Buffalo Wild Wings. The sports bar-themed chain will debut two new sauces just in time for the madness to begin, per a press release. The new Buffalo Ranch sauce marries the restaurant's beloved ranch dip with buffalo sauce. And if you opt for the new Honey Garlic option, you'll experience a sweet and sour flavor that brings something new to the menu. Both of these flavors are around for a limited time.
Buffalo Wild Wings also plans to make dreams come true for one basketball fan this year by awarding them with some time at the BnB-Dubs pop-up space during the first round of March Madness on March 17 and 18. This space, which is located inside a Chicago Buffalo Wild Wings, serves as a bed and breakfast for select lucky fans, according to Yahoo!. The winners will experience bunk beds that have flat screen TVs built in and eat items from Buffalo Wild Wings.
USA Today reported that Buffalo Wild Wings first debuted the BnB Dubs in 2020. That year's winners were given a varsity-jacket bathrobe, matching shoes, and towels along with their stay.