Jeni's Ted Lasso-Themed Ice Cream Is Arriving In Time For Season 3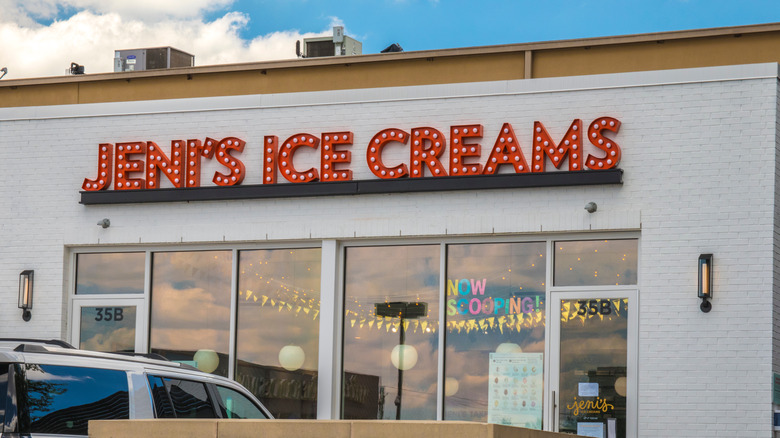 Billy F Blume Jr/Shutterstock
Jeni's Ice Cream is known for its delicious — and sometimes bonkers – ice cream flavors. Founded in Ohio in 2002, Jeni's uses fresh ingredients and Fair Trade and Direct chocolate and vanilla, meaning their ice creams are not only fresh but ethical. Jeni's Ice Cream has earned an endorsement from B Lab for its commitment to ethical production standards — a Ben & Jerry's for millennials.
The most recent flavor encouraged you to have breakfast for dessert, with a maple-soaked pancake flavor featuring buttermilk, salted butter, and maple syrup tapped from trees in Vermont. And, on a slightly more savory note, Everything Bagel was available for a limited time, with flakes of onion and garlic, sesame, and poppy seeds suspended in a cream cheese ice cream. And for those of us who are lactose intolerant or vegan, there is also a fairly sizeable selection of dairy-free ice creams, like Texas Sheet Cake and Lemon Bar. Gluten-free fans haven't been forgotten, either – Gooey Butter Cake and Wildberry Lavender are available. 
Their most recent release is inspired by none other than TV football-coach-turned-soccer-coach Ted Lasso and his famous shortbread biscuits.
The limited edition flavor features shortbread cookie and cream
Inspired by the buttery, slightly salty shortbread biscuits that fictional football coach Ted Lasso (Jason Sudeikis) makes for his club-owning boss Rebecca (Hannah Waddingham), Jeni's Ice Cream flavor Biscuits with the Boss will feature crumbly pieces of shortbread cookie in buttery sweet cream and spiked with salt (according to Fansided). 
The collaboration with the hit AppleTV+ show "Ted Lasso" couldn't come at a better time — season 3 is set to stream on March 15, according to AppleTV+. The cast of colorful characters returns, including fan favorite Roy Kent, with new challenges to overcome. We're particularly interested to see how Nate's radical transformation affects Lasso and his Diamond Dogs.
The limited edition flavor drops on March 2, so you can grab yourself a few pints to enjoy while watching the new season. If you don't have a Jeni's Ice Cream near you, you can use their grocery locator to find a pint or two, or you can order it directly to your front door – they ship to all 50 states.