Mistakes Everyone Makes When Ordering Food From Chick-Fil-A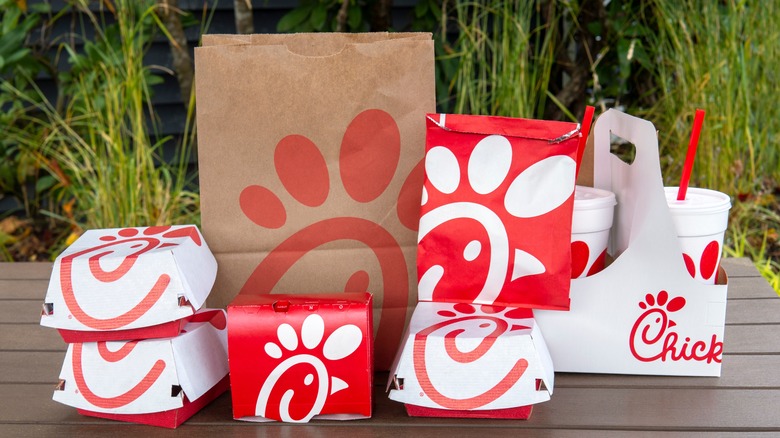 Summer Wind/Shutterstock
Knowing how to order like a pro at a trendy restaurant is like being allowed to sit with the cool kids and knowing their secret handshake. Yes, it might feel a bit weird to associate the word "trendy" with a fast-food restaurant, but Chick-fil-A has seen a sudden and rapid growth in popularity in the past decades. Although the restaurant has been around since the 1960s, it experienced a meteoric rise from 2000 to 2011 and quadrupled sales from $1 billion to $4 billion per year (via Business Insider). Today, the company's annual sales reach nearly $11 billion.
While Chick-fil-A has become a household name across the country, there are still several frequent mistakes that people make when ordering fried chicken and sides. If you're falling prey to any of them (and you most likely are), it could be affecting the quality of your orders — and you might even be paying more than you have to. The good news is that we've compiled some of the most common mistakes, many of which have been divulged directly from employees. Keep reading to learn how to upgrade your next visit to Chick-fil-A.
Not getting the freshest sandwich possible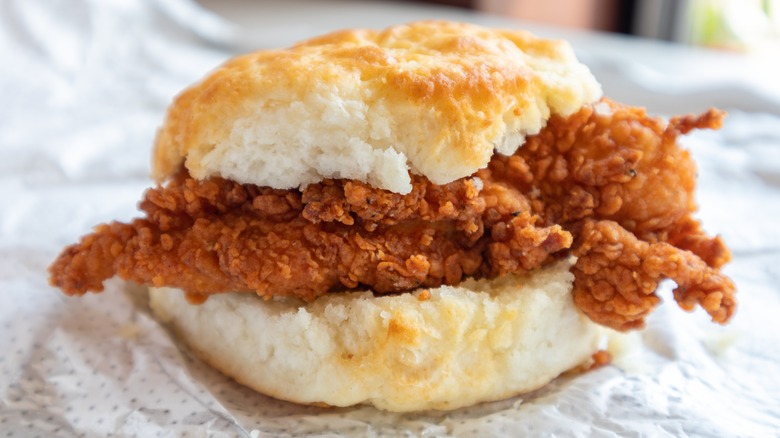 James Andrews1/Shutterstock
Let's face it — fast food doesn't always come out as piping hot and fresh as the commercials would lead you to believe. Some days, you may find your burger hot, crispy, and juicy, while on other days, not so much. Thankfully, if you want to guarantee optimal freshness, simply make adjustments to your order. This could be anything from getting your pickles on the side rather than on the burger, adding extra bacon, choosing a different bun, or requesting extra cheese.
Why? Because the Chick-fil-A workers make most of the regular menu ahead of time to provide speedy service for standard orders. If you change it up, they'll have to make yours from scratch, meaning you'll most likely get a hot, juicy sandwich fresh from the fryer and customized to your specific taste. So for all the picky eaters out there, your finicky habits actually turn into an advantage when ordering from Chick-fil-A.
But remember, don't just barge in asking for a fresher sandwich. As one Redditor notes, this can come off as rude as it implies that the food generally isn't fresh. Do the right thing and just ask for your pickles on the side.
Not getting every single sauce.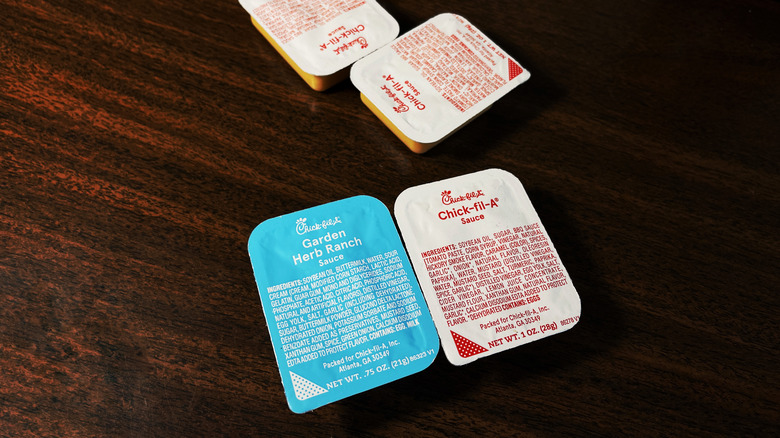 Marouane Sitti/Shutterstock
Gone are the days when salty employees give you dirty looks when you ask for extra sauce. (Well, those days aren't gone. But you won't experience them at Chick-fil-A.) The fast-food restaurant is well-known for its sauces, and there are a lot of them: Polynesian, honey mustard, garlic herb ranch, zesty Buffalo, barbeque, and of course, the signature Chick-fil-A sauce. 
They're also amazing, and most importantly, the staff is super generous when it comes to doling them out. Although employees note on Reddit that they have a recommended amount of sauce they are instructed to give out, they are usually pretty generous. If you want to make a sampling flight of sauces for your nuggets, all you need to do is ask.
Although new limits were placed on sauce counts during the pandemic, it's still worth a shot. The employees at Chick-fil-A are some of the nicest in the business, so just put on an extra big smile and don't forget your manners.
Not taking advantage of free food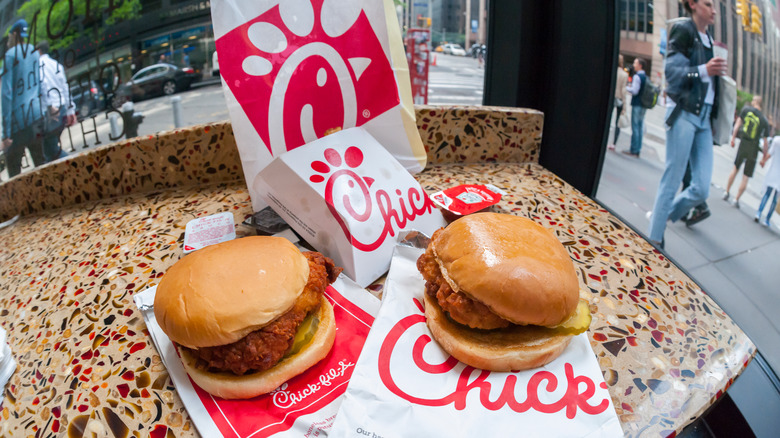 rblfmr/Shutterstock
The only thing better than Chick-fil-A is free Chick-fil-A, and you'll be glad to know there are a few ways to get some mouth-watering chicken goodness without paying. The first strategy requires holding onto your receipt the next time you get your Chick-fix. At the very bottom, you may find a link that brings you to a survey. Fill it out and you'll score a free original chicken sandwich. The receipts are randomly printed with surveys, so make sure to check yours before tossing it in the trash.
Another avenue to free goodies is to take a trip to Chick-fil-A on your birthday. You'll first need to download the Chick-fil-A app and register. Depending on your membership tier on the app, you'll score a free birthday reward. At the very least, you can get a chocolate chunk cookie or a chocolate fudge brownie. The next tier up (silver members) can choose from either of those desserts, as well as a small milkshake, frosted lemonade, frosted coffee, or ice cream. The highest tier (red members) can snag a chicken sandwich or 8 to 12 nuggets.
The restaurant even has a Cow Appreciation Day on the second Tuesday of July. Dress up like a cow and score free food ... great news for anyone with an array of costumes lying around. Although the event has been postponed for the past few years, Chick-fil-A promises it will be back soon.
Not getting your fries well done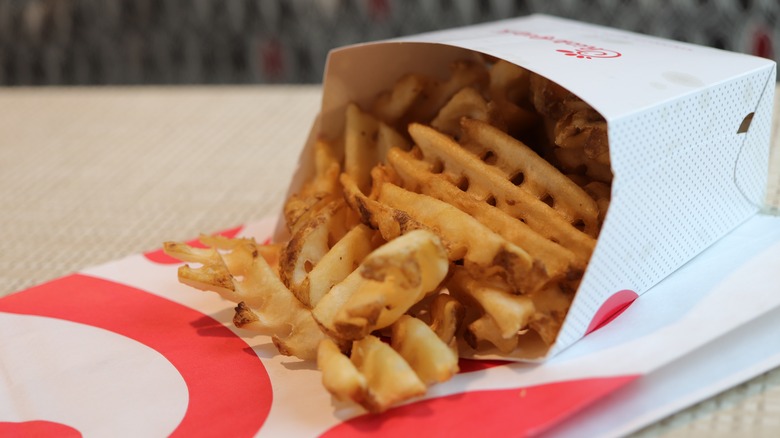 Deutschland Reform/Shutterstock
Ordering your fries well done isn't just for In-N-Out; Chick-fil-A offers the same steakhouse-like customization for its fries. The next time you go, just ask for your fries to be cooked well done and the staff will fry them up a second time for extra crispiness. Legend says you can even ask for them to be fried three times if you're the ultimate crisp connoisseur. If you're really serious about preventing your fries from getting soggy, one Redditor claims that ordering them without salt and adding it afterward with salt packets is the way to go.
Back in the day, you could even get your chicken sandwich well done for a super crispy chicken patty. Unfortunately, according to some employees on Reddit, Chick-fil-A stopped allowing well-done sandwiches back in 2020 during restaurant shutdowns as it significantly slowed down operations. Nevertheless, try well-done fries to see if it's your style (and you might as well ask about well-done sandwiches while you're at it).
Not mixing the milkshake flavors
If you were the kind of kid who went to fast-food restaurants and added a little bit of every flavor of soda to make your own concoction, this one's for you. Not only can you combine milkshake flavors, but Chick-fil-A actively encourages you to. According to the company website, if you can't decide between a cookie and a milkshake, order both and mix them together. Just get a cookies & cream milkshake and crumble a chocolate chunk cookie in and mix it up. It won't be quite as sippable but the extra effort is worth it.
Some other notable concoctions include a blueberry cheesecake milkshake (vanilla milkshake mixed with blueberry cheesecake milkshake) and a strawberry peach milkshake (strawberry ice cream and peach milkshake).
One TikToker and ex-Chick-fil-A employee went viral for her frosted lemonade hacks. The drink is already a delicious frozen lemon treat, but she shares that you can also ask for extra strawberry puree to be added. You can even give any of the other beverages a frosted treatment (Coke, Powerade, Fanta, etc.). The number of combinations is only limited by your imagination, so stop being so vanilla and get wild with your milkshake flavors.
Being too scared to fix messed-up orders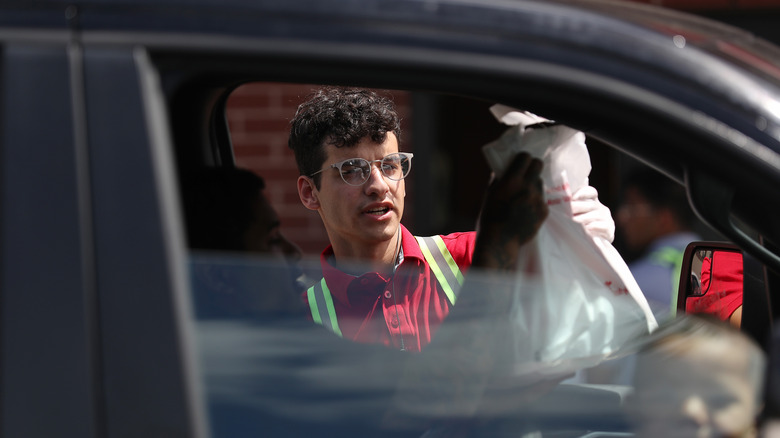 Joe Raedle/Getty Images
Besides the food, there's a reason why Chick-fil-A is one of the most loved fast-food chains in the country — it has some of the best customer service around. Per the American Customer Service Index, the restaurant consistently ranks at the top in customer satisfaction.  
If you've ever been to Chick-fil-A, you've likely noticed the bright smiles and warm greetings that welcome you — even through a speaker box. This isn't a coincidence. Employees undergo strict interview and training processes to ensure they're up to par with the company's standards. Managers have an ownership mentality and spend time on the front lines to make sure their customers are getting the best experience.
In one instance, a Chick-fil-A location in Georgia delivered a fresh order to a woman's doorstep after she complained about her fries being "nasty." She called up the restaurant and spoke to the manager, who she stated was "the nicest man in the world." He was attentive and polite and offered an order of fries to replace the old ones. Soon after, a delivery driver was at her door with hot piping fries. Moral of the story? Let the staff know if they didn't get your order right and chances are they will gladly fix the mistake.
Not taking advantage of the secret menu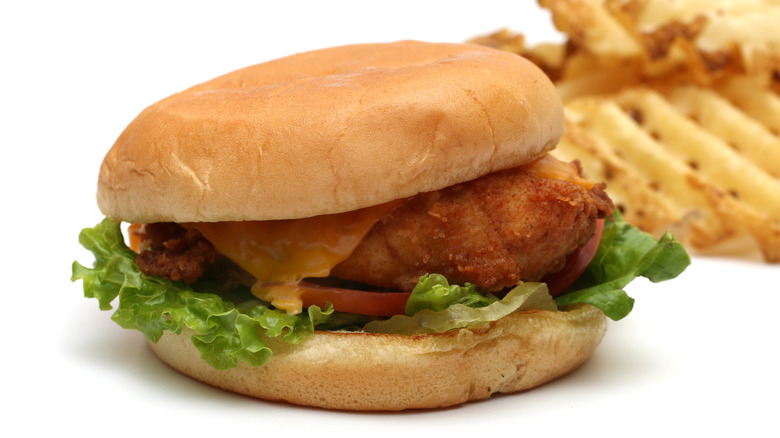 P Maxwell Photography/Shutterstock
Officially, Chick-fil-A doesn't really have a secret menu ... which is exactly what a company with secrets would claim. However, the company actively encourages you to hack away at its menu to create the most delightful combinations imaginable.
Probably the most classic Chick-fil-A hack to start with is the Buffalo chicken sandwich. All you need to do is order a spicy chicken sandwich and marinate the chicken patty with zesty Buffalo sauce by tossing the two together in the bag. Some locations might even do it for you if you ask nicely. Meanwhile, if you're looking for breakfast, give the chicken, egg, and cheese biscuit a try by asking for the chicken, egg, and cheese bagel on a biscuit instead. You can get even wilder by getting a spicy chicken patty instead.
Another big hit is the Chick-n-Mac sandwich. Get yourself a chicken sandwich and add a big scoop of mac and cheese on top of the patty. Reassemble the layers for easy eating and enjoy this not-so-healthy but oh-so-delicious sandwich hack. Meanwhile, a simple option is to order a basic grilled cheese by getting a toasted buttered bun with a slice of cheese. Wash it all down with a classic root beer float. Just ask for a scoop of vanilla ice cream for your root beer and you're good to go.
Not timing your Chick-fil-A visits for optimal returns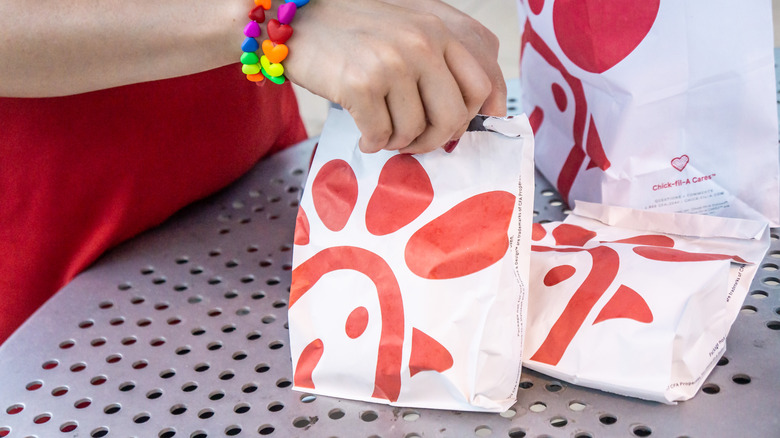 Jaimie and Kyle Shoot Stock/Shutterstock
Life is all about timing and strategy, and ordering from Chick-fil-A is no different. Think of this one as a possible addendum to the many ways of snatching free food. The restaurant serves its breakfast menu every day (except Sunday) from 6 a.m. to 10:30 a.m. Although this window may feel way too short for some people, it also presents an opportunity for others. 
According to several different Redditors, if you arrive just before the cutoff time, you might be able to score extra free biscuits with your order of chicken biscuits. Since the store will no longer sell biscuits as the menu changes for lunch, staff are looking to get rid of the surplus without throwing food away.
This, of course, depends on the location and its policy, but it's definitely worth giving it a try. Some stores will give extras away to customers, others will give them to their employees or to employees of nearby businesses, and some might actually just toss them in the trash. Just promise you won't go digging in the dumpster if your location doesn't offer free biscuits.
Not taking advantage of the app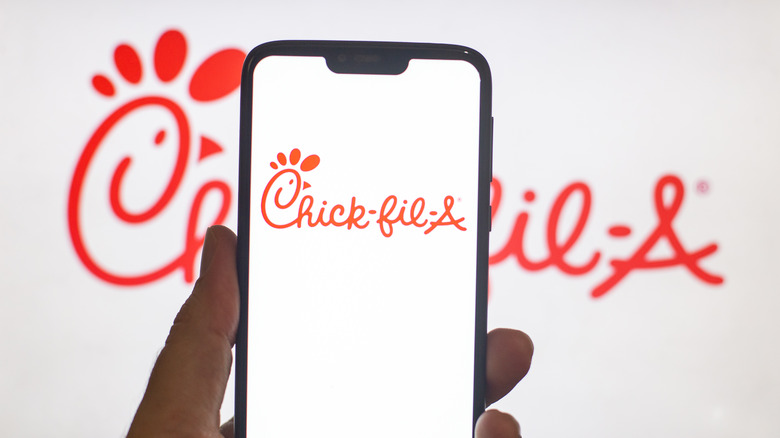 Roberio Jr/Shutterstock
Nowadays, just about every restaurant chain has a nifty app that you can use to make your eating experience easier and more convenient. Chick-fil-A's app has several features that can seriously enhance your food. For one, you can fully customize your meal right from the start. Instead of trying to remember your family's complicated orders as you walk up to the counter, you can easily note them in the app. Once you hit the order button, you can skip the line at the register or drive-thru and speed right along with your day.
Another benefit of the app is the membership program. As customers buy and accrue more points, they can score free food based on their previous orders. You can also move up in membership tiers for better rewards in the future.
Last (but definitely not least), the restaurant often has promotions such as giving customers free sandwiches just for downloading the app. With all that said, getting the app is pretty much a no-brainer if you're planning on eating at Chick-fil-A anytime soon.
Not optimizing your order for maximum yumminess and minimum cost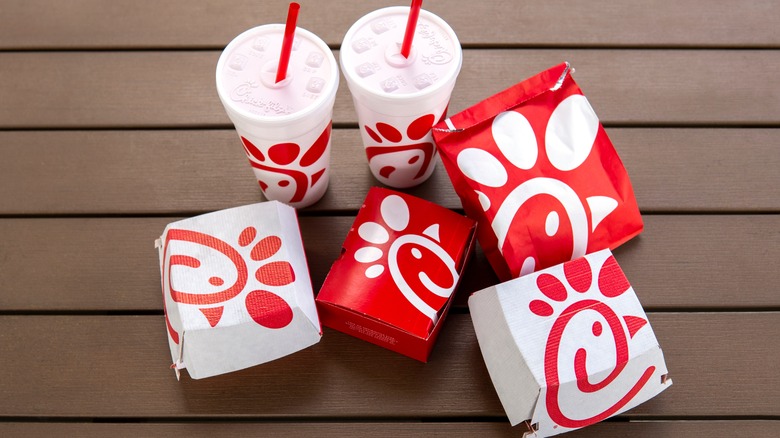 Summer Wind/Shutterstock
Let's be honest, there's a reason why we eat at fast-food restaurants besides their convenience and deliciousness — they're affordable. But menus aren't always set up to have you save as much as possible (in fact, it's often the opposite).
There are several creative ways to get more bang for your buck at Chick-fil-A. We mentioned the grilled cheese from the secret menu, but we didn't mention the best part — it's less than a dollar! Similarly, you can get a Chick-fil-A BLT (a toasted bun with a side of bacon, lettuce, tomato, and mayo) for around $2.
The chicken sandwich is already a pretty great deal at about $5.69 depending on your location, but you can get even thriftier by ordering the chicken strips, buns, and pickles on the side to make your own. You'll skim off a dollar from your sandwich order with this easy trick. 
Another hack to try if you're craving the grilled chicken club but don't want to pay over $7 is to order the original chicken sandwich and add tomato, lettuce, cheese, and bacon — you'll save a little over a dollar. Lastly, if you're getting your child a kid's meal, you can also swap out the plastic toy for a kid's ice cream for free.
Not getting your favorite food in bulk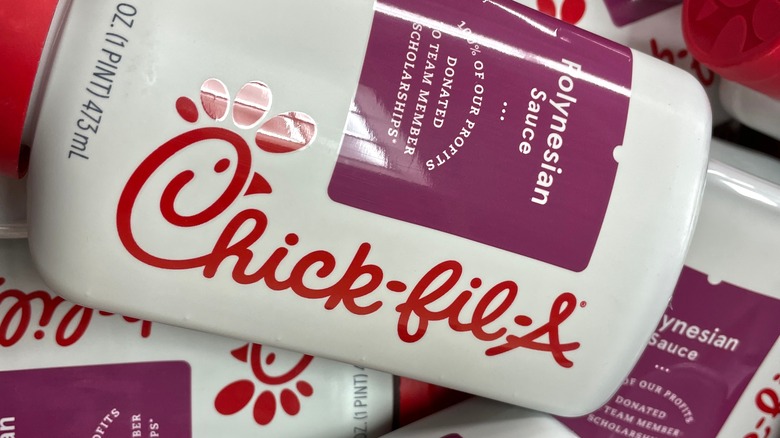 Billy F Blume Jr/Shutterstock
We've shared plenty of tips and mistakes to avoid when you go to Chick-fil-A. But what if you want more than just a single trip's worth of that sweet, sweet chicken? Fantastic news — there are plenty of options to get your Chick-fil-A fix in bulk.
The easiest option is to buy 16-ounce bottles of Chick-fil-A's signature sauces from some of the biggest retailers around the country, including Target, Walmart, Albertson's, Kroger, and Safeway. If you can't find them at your local grocery store, many restaurant locations also have a selection of 8-ounce sauce bottles for purchase. You can simply check the app or reach out to the store to see what's available.
If you're having a party and want to be the most talked-about host for months to come, you can't do that much better than getting a huge tray of nuggets catered for your party. Of course, if you'd like to go slightly more sophisticated, Chick-fil-A offers a menu that's perfect for any event and includes chicken biscuits, grilled cool wraps, Chick-n-Strips, boxed lunches, desserts, healthier options, and more.
Missing out on Chick-fil-A on Sundays
Finally, the elephant in the room. If there is one downside to Chick-fil-A, it's the fact that it's not open on Sundays. We've all heard the stories of the unwitting individuals who drive all the way to their local Chick-fil-A, only to be devastated by a non-responsive speaker box.
Never give up — or at least plan a little better. There are still ways to get your Chick-fil-A fix on Sunday if you put your mind to it. The best option is to order in bulk on Saturday, keep it in the fridge, and reheat it on Sunday. This is a popular solution for people hosting parties on Sundays (like the Super Bowl). The good news is that Chick-fil-A offers reheatable trays for situations just like this.
For anyone willing to step into the kitchen, you can make your own copycat recipes right at home. Whether you're craving the spicy chicken sandwich or the Chick-fil-A nuggets, you'll find a recipe dedicated to recreating the addictive taste of the originals.
You can simply head to your local grocery store and pick up a bottle of your favorite sauce too. But if you'd like to get extra crafty, whip up your own Chick-fil-A sauce recipe at home with ingredients you probably have lying around, like mayonnaise, mustard, barbecue sauce, and sugar.