Alex Guarnaschelli's New Show Ciao House Is Food Network Reality TV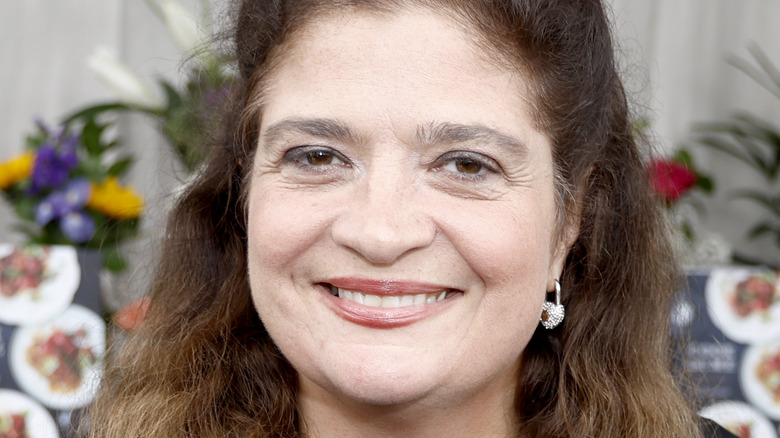 John Lamparski/Getty Images
If it seems like Food Network has been coming out with tons of new shows lately, it's not just your imagination. In 2022, Food Network introduced 40 new series, had 30 shows returning for new seasons, and even saw a ratings hike compared to viewership in 2021 (via Warner Bros. Discovery). Aside from the usual competition shows, Food Network also focused on more reality-style shows, like "Guy's All-American Road Trip," which featured an inside look at Guy Fieri and his family, and "Bobby and Sophie on the Coast," starring father-daughter duo Bobby and Sophie Flay. It must have been a winning move because the network is adding more reality-style content in 2023.
Just as chef and "Chopped" winner Kathy Fang found herself suddenly in the spotlight with Food Network's "Chef Dynasty: House Of Fang," a new group of chefs are about to become Food Network reality stars, with their lives both in and out of the kitchen documented in a new show hosted by Alex Guarnaschelli and Gabriele Bertaccini. But this isn't just a reality show. It's part travel show, part competition show, and part reality show.
Food, friends, and foes
Unlike other cooking competition shows on the Food Network, the new show "Ciao House" will take a look at the contestants' lives both inside and outside of the kitchen (via Variety). Alex Guarnaschelli and Tuscan chef Gabriele Bertaccini will co-host and judge various challenges, centering on traditional Tuscan and Italian cooking. The show premiers on April 16 on the Food Network and Discovery+. 
But there's a twist to "Ciao House." After a long day of filming, the chef-contestants won't be able to get a break from the cameras. That's because they'll be filmed inside the villa they share during the competition, and the bonds they create with other players in the house will be very important to the outcome of the show. Each week they'll form teams to compete against one another, and members of the losing team will have to vote a member out. 
That means that while the chefs' cooking skills will be important as they compete in various challenges, their interpersonal skills could have a lot to do with how long they stay in the game too. Guarnaschelli seems pretty excited. On Instagram, she announced the show by sharing a photo of her "fabulous co-host," who she said she's nicknamed "The Tuscan Terror." Bertaccini shared his own announcement on Instagram, which included a trailer for the show. "You surely are in for a treat...and some drama!" he promised.