Starbucks Is Now Serving Coffee Mixed With Extra Virgin Olive Oil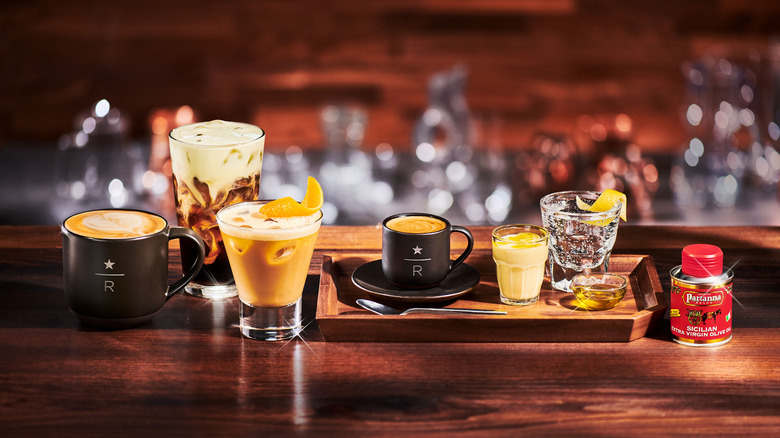 Starbucks
The options for coffee fiends at Starbucks can seem endless sometimes, and a new option has fans intrigued and others scratching their heads. Let's just say the Seattle-based company strongly believes that the world's favorite caffeinated beverage pairs extraordinarily well with another surprising ingredient, one that is revered within the culinary world. The result? A richer, creamier, more luxurious cuppa. According to Starbucks, patrons will soon feel the buzz of coffee infused with ... olive oil.
That's right. Olive oil — the liquid gold people use to sauté veggies, drizzle over dishes to enhance their texture and flavor, or dunk crusty bread into. The global coffee chain announced in a press release that its Italian shops are launching Oleato, which is simply a combination of Starbucks coffee and extra virgin olive oil. While the line of innovative beverages is currently only available in Italy, it will soon make its way to even more stores around the world. Here's what's in store for the caffè-meets-EVOO sensation.
Starbucks Oleato is expected to kick-start a new coffee ritual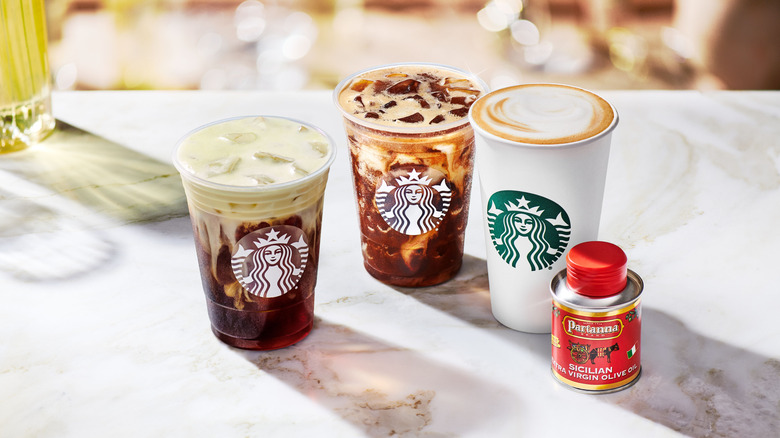 Starbucks
Since its founding in 1971, Starbucks has experienced a slew of metamorphoses on its menu. The brand is adding yet another notch in its timeline with Oleato, a blend of coffee and Partanna extra virgin olive oil. The beloved brand recently shared that the new offering will be available at the Milano Roastery, as well as various Starbucks locations across Italy, starting February 22. In spring 2023, Oleato will appear on Starbucks menus in Southern California. Customers in Japan, the UK, and the Middle East will have the chance to enjoy Oleato products later in the year.
The lineup includes the Oleato Caffé Latte, Oleato Iced Cortado, Oleato Golden Foam Cold Brew, Oleato Deconstructed, Oleato Golden Foam Espresso Martini, and Oleato Iced Shaken Espresso.
Howard Schultz, interim chief executive officer at Starbucks, explained the meaning behind the roasted revolution. "Oleato represents the next revolution in coffee that brings together an alchemy of nature's finest ingredients — Starbucks arabica coffee beans and Partanna cold pressed extra virgin olive oil," per a press release. Coffee and olive oil — who knew?