Heinz Just Won The Ketchup Wars As Sir Kensington's Bows Out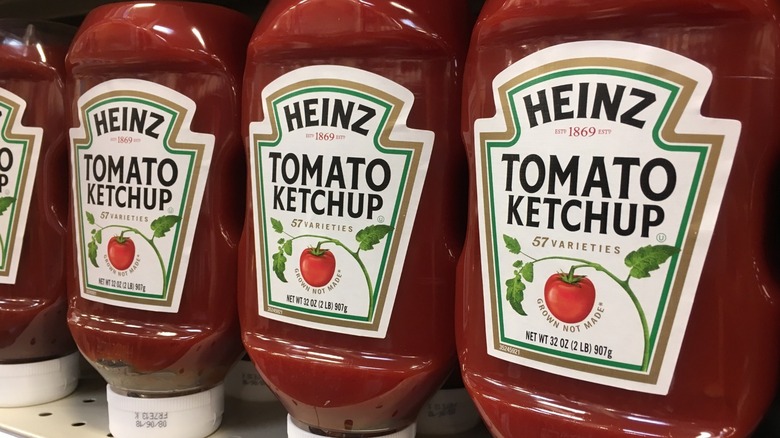 JJava Designs/Shutterstock
Drizzle it on hot fries, slather it on a juicy beef hamburger patty, or use it to give plain scrambled eggs a little more pizazz — ketchup is one of America's favorite condiments. You probably have a Heinz squeeze bottle sitting in the door of your fridge right now, ready to work its flavor magic in all your favorite ketchup-worthy meals. It's no secret that H.J. Heinz went on to create the most iconic ketchup brand across the globe, and you can find bottles of the stuff at just about any diner or major grocery store. Ever since Heinz ketchup was first sold in 1876, other companies have tried developing their own tasty recipes to rival the king and take the crown.
Brands like Hunt's and French's can be found next to Heinz in the condiment aisle, but there have been other ketchup brands that have seen success over the years like Annie's, Whataburger, and Sir Kensington's. One of the major draws of condiment connoisseurs, like Sir Kensington's, are its healthier sauce formulas, free of high fructose corn syrup. Heinz still uses this disputed ingredient in its regular ketchup, unless you buy the bottles labelled with "organic" or "simply." When the Brown University students who started Sir Kensington's set out to dethrone the ketchup giant in 2010, their ketchup saw quick success with Whole Foods and other restaurants. Now, 13 years later, Sir Kensington's is dropping out of the ketchup war for good.
Sir Kensington's announced its ketchup will be discontinued
Sir Kensington's two flavors of ketchup, classic and spicy, are what first set its success into motion. After over a decade of profits and growth, the company issued a statement on Instagram announcing it "recently had to make the unfortunate decision to retire" both of its ketchups, and will be pulling these products from shelves eventually. The brand goes on to mention a need for "making space for new flavors and sadly letting go of the sauces that started it all," which was followed with details about a giveaway and commenters expressing their sadness at the discontinuation. "My favorite ketchup, you will be missed," and "Kensington's was the first ketchup that made me look into condiments without high fructose corn syrup," were a couple of the comments made in regards to the unfortunate news.
It's clear that the company isn't halting production of its other sauces and condiments, which include varieties of mayo, spicy brown mustard, and artisanal "everything" sauces. So even though we must say goodbye to the OG, we know only good things can come as the company moves forward with other ideas. For now, Heinz ketchup remains the reigning champion of popularity across the board, with its signature umami zest and 57 varieties of flavor. Who will the next challenger be?