Cheese Doesn't Actually Belong On Charcuterie Boards, According To The French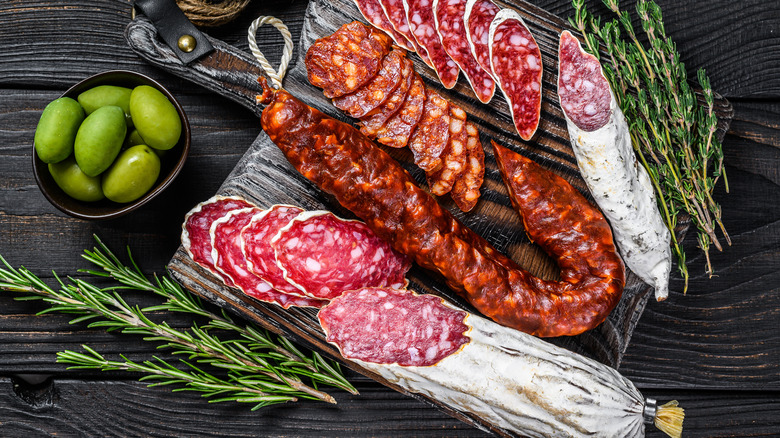 Mironov Vladimir/Shutterstock
Charcuterie boards make the perfect appetizer for any occasion. Book club meeting? Charcuterie board. Movie night? Charcuterie board. New apartment? Charcuterie board. Romantic night in? You know the answer. Even when going out to a restaurant or bar, charcuterie boards make the perfect compliment, and nowadays you can find it on most menus. Lucky us! 
The wonder behind these boards is how versatile they are. Pick your cured meat of choice, a fancy French cheese, garnish it with fruits and nuts, and enjoy along a sweet spread. You can adapt it for vegetarian eaters, kids, sweet tooths, and beyond. Plus, the feeling of enjoying one makes you feel like a food connoisseur, especially if choosing a wine to pair it with. At least, in the modern social media-influenced world we live in. 
But, a true fan of charcuterie boards must know something: Although French cheeses are particularly popular for this appetizer, the real French tradition doesn't include cheeses on these boards. Charcuterie boards are mostly formed with meats, and cheese — or fromage — is set for another moment of the meal.
The French eat cheese after the main dish and before the dessert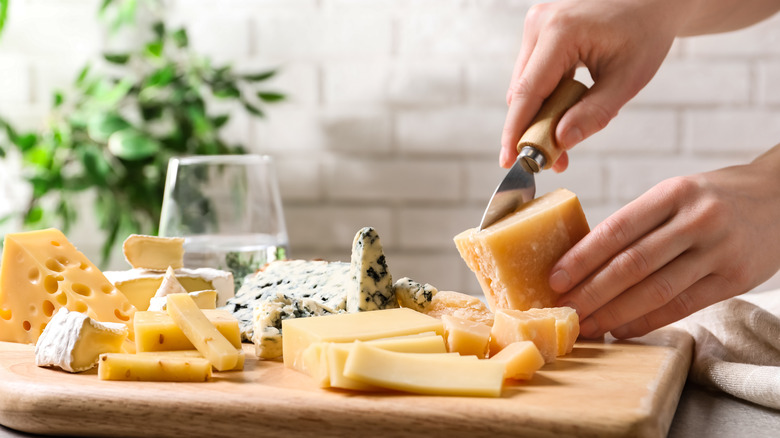 New Africa/Shutterstock
First and foremost, you need to understand that cheese in France is a big deal. So, cheese etiquette must be taken very seriously. Cheese is eaten after the main dish and before the dessert, mostly at lunch or dinner. Specifically, the correct order of French meals includes aperitif (drinks), appetizer, main, cheese, dessert, and digestif. Then, how to cut the cheese and which cheeses should go first is a whole other story.
French restaurants may include a cheese board, or planche de fromage, in their menus, but the charcuterie boards may be only made of cured meats. The word itself means cooked flesh. It was a practice developed by the working class to make the most out of animals in the 15th century.
It's the modern twist version that calls charcuterie boards to the whole cheese, meat, nuts, and cracker combo. Quiet Instagramable, but indeed just a board that took a French name with a different meaning. Perhaps the best way to call the boards you like is cheese and charcuterie board. When someone asks what you are talking about, now you know the story. Feel free to order one or both when you want to enjoy a drink or aperitif: The eater rules at the table but this is how French tradition goes.