Chipotle's Copycat Honey Dressing Can Be Made Entirely In The Blender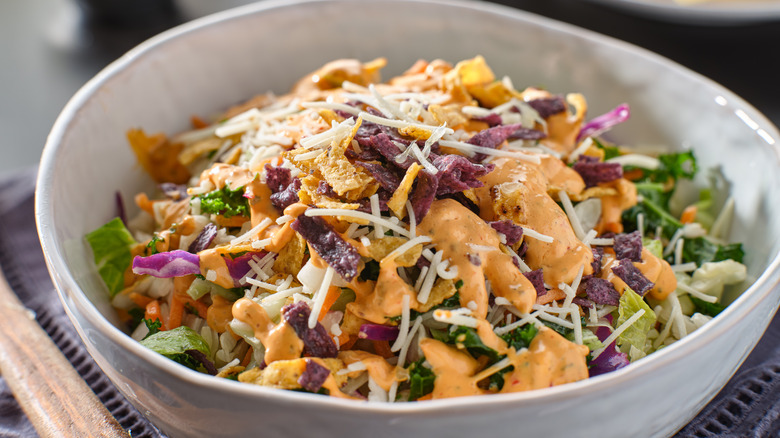 Joshua Resnick/Shutterstock
Chipotle has a variety of menu items ranging from burrito bowls to secret menu items like the Quesarito. Most of these can be more or less replicated at home — like this copycat Chipotle chicken recipe — since the ingredients are in plain view of the customer while employees are hard at work cooking the menu items. 
Still, one salad dressing from Chipotle has remained elusive to the public — their honey chipotle vinaigrette. This vinaigrette is a sweet and spicy blend that goes great with chicken salad and burritos alike. Dressings and sauces can sometimes end up being the most difficult things to replicate, but at long last, Chipotle seems ready to give away another secret. Believe it or not, the recipe comes from social media. A TikTok user posted the recipe, seemingly with Chipotle's blessing, on the popular social media app for others to share and steal for themselves. 
How to make this iconic dressing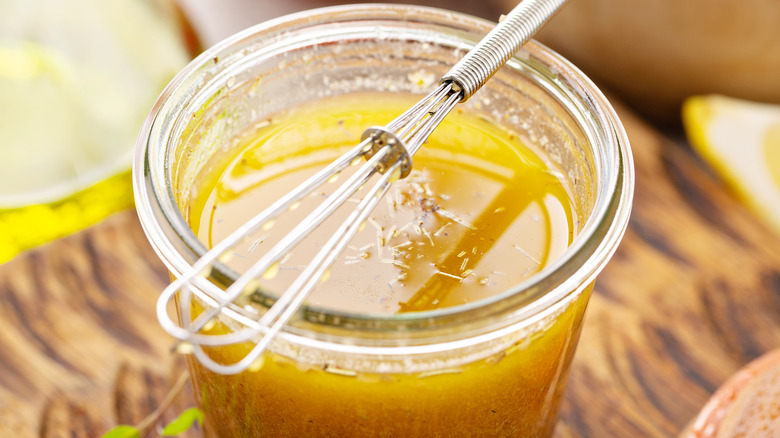 Elena Veselova/Shutterstock
TikTok user and Chipotle partner @nick.digiovanni posted the dressing recipe in a quick how-to video. The recipe includes a simple mix of red wine vinegar, canned chipotle peppers, honey, salt, water, and your preferred oil. And, all of these ingredients can be very simply mixed in a blender. After the dressing has emulsified in your blender, finish the dressing with black pepper and dried oregano. This offers a turn-key solution for a quick and easy dressing to make for your office lunchtime salad — and it can even double as a marinade for chicken or your protein of choice since it includes vinegar.
Long gone are the days of needing to use a copycat recipe instead of the correct one, sourced from Chipotle's insider knowledge. Another bonus: This recipe is easily modifiable to taste depending on the amount of salt and chili paste you use. Obviously, different spices yield different flavor profiles and can be adapted to fit any salad or Mexican-style dish in general. It's a relief to think that one of Chipotle's last remaining mysteries is now at home for anyone to use.