Gordon Ramsay Owns A Restaurant That Features Bottomless Pizza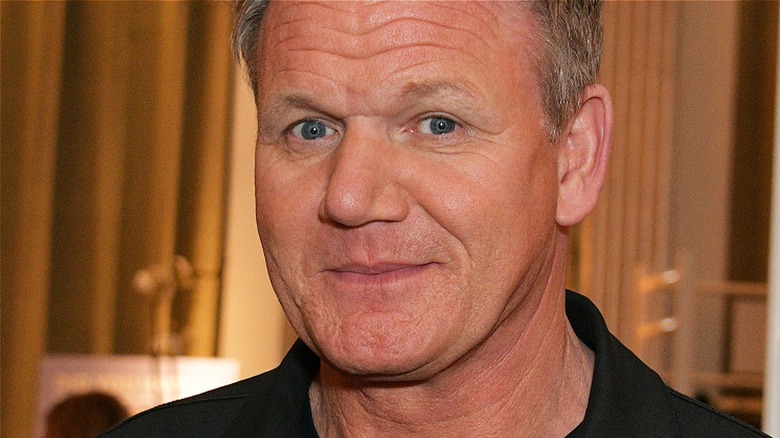 Pizza reaches all age groups and demographics. With an expansive lineup of toppings and crusts that can be adapted to fit different eating lifestyles whether carnivore, omnivore, vegetarian, or vegan, pizza has mass appeal. It's an all-ages staple, a fun, handheld food that we often serve at birthdays, work meetings, or football watch parties.
Americans consume three billion slices of pizza a year, which breaks down to 350 slices a second, or if you prefer to measure it out and visualize it, that's 100 acres of pizza a day. To satisfy that 100-acre craving, many families might make the trek to places like Cicis, where you can indulge in an all-you-can-eat pizza buffet, Pizza Hut, Dominos, or even Chuck E. Cheese, where you can combine pizza and entertainment.
Of course, no one goes to Cicis and Chuck E. Cheese for gourmet slices, but there are places that exist in this world where you can experience both quantity and quality in your pizza. None other than celebrity chef Gordon Ramsay owns a restaurant franchise that features bottomless pizza.
Getting pizza drunk
You may not associate Gordon Ramsay with pizza, but he has made the tasty triangles part of his restaurateur portfolio. In 2018, Ramsay opened Street Pizza in London, launching what has now become a chain encompassing seven total locations throughout the UK. The concept entails offering bottomless pizza for the equivalent of about $19 with five different options including Margherita, pepperoni, wild mushroom, eggplant, and corn and chorizo (via Insider).
Customer reviews from the original Street Pizza in London are mixed. One unhappy patron expressed disappointment that a place like this would be connected to Ramsay. The bottomless pizza drew them to try it, but they couldn't take full advantage of the deal because they found the pizza "extremely salty." Another reviewer described a totally different experience, raving that it was "probably the best pizza deal you can get in London! It was super tasty." The limited choices didn't seem to bother them either. "It's only 5 of them on the menu, but it's more than enough" (per Google Reviews).
Some Instagrammers from around the world have responded enthusiastically to Street Pizza videos. An Australian commenter implored, "That looks insane. Open a place in Melbourne please?" A Canadian pledged this pizza oath: "Please open in Montreal I swear I will be your most loyal customer." While there are currently no U.S. locations, Ramsay plans to open a Street Pizza in the Penn Quarter neighborhood of Washington D.C. as he seeks to expand the chain (via Eater DC).