White Queso (With A Little Green) Recipe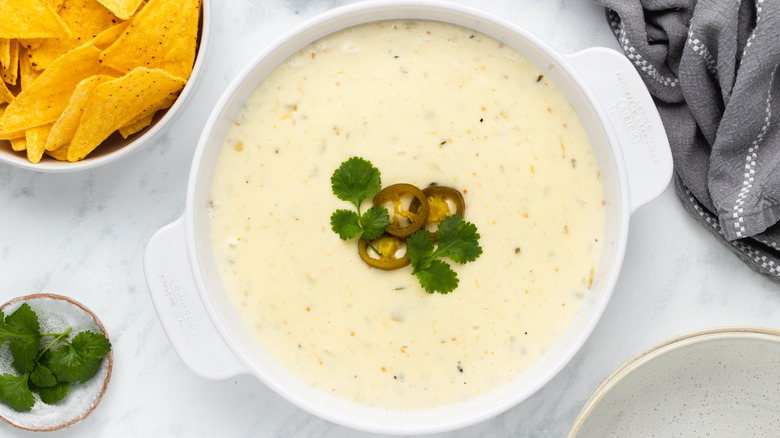 Catherine Brookes/Mashed
Is it possible to not love a good queso? Yeah, we didn't think so. This delicious melted cheese that we all know as queso comes in all different varieties, from the plain cheese kind to those loaded with meat or peppers. But this particular recipe for white queso (with a little bit of green) is great and unique for several reasons. The white American cheese boasts a mild and salty taste that's just a little different than the strong flavor of yellow cheese. But to kick it up a notch, adding diced pickled jalapeño does the trick. Since they're pickled, the jalapeños provide a little spice with hints of vinegar and sugar, giving the queso a nice kick without being too overpowering.
Recipe developer Catherine Brookes of Blue Sky Eating came up with this easy white queso recipe that brings out the cheese lover in all of us. "It's amazing how incredibly quick and easy this dish is to make. Simply melt everything together and the result is a super creamy, cheesy, delicious dip with a bit of spice too," Brookes raves. "This is great to serve as part of a spread of Mexican food or as a starter that everyone can share." After all, what entree of tacos or burritos doesn't start with a good queso appetizer?
Gather the ingredients for this white queso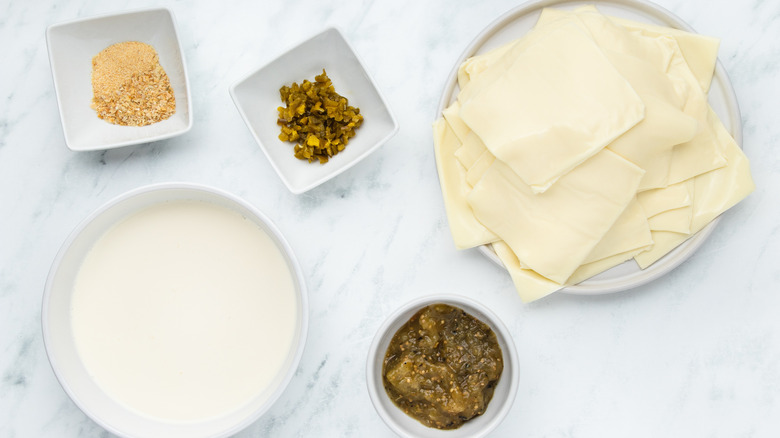 Catherine Brookes/Mashed
There's no doubt that the star ingredient in this dish is the white American cheese. "I find the white cheese has a much more creamy and mild taste than the usual orange cheese, which works well paired with the other ingredients," Brookes notes. While she used cheese slices, Brookes says that "a block or shredded cheese would also work just as well here." You will also need half and half, onion powder, garlic powder, diced pickled jalapeños, salsa verde, and a little bit of salt to taste.
Add the ingredients to a saucepan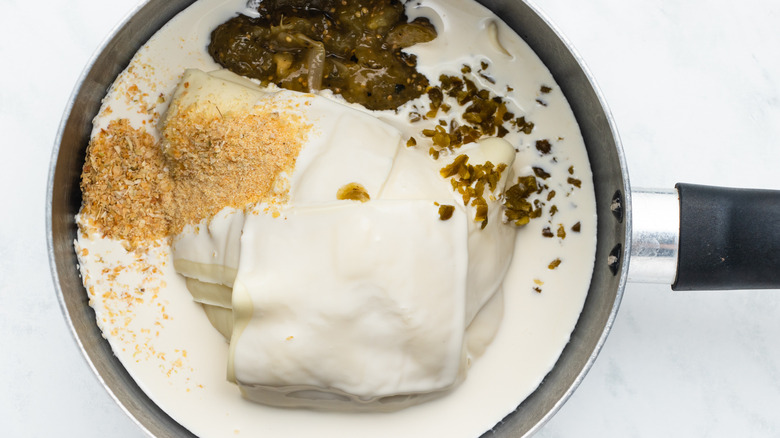 Catherine Brookes/Mashed
Who doesn't love adding all the ingredients in the first step? Take out a saucepan that's big enough to hold all of the ingredients. Then, throw in the American cheese, half and half, onion powder, garlic powder, diced pickled jalapeño, salsa verde, and a little bit of salt to taste. "The addition of some diced jalapeño adds that extra bit of a kick to the queso," Brookes notes. 
Heat the ingredients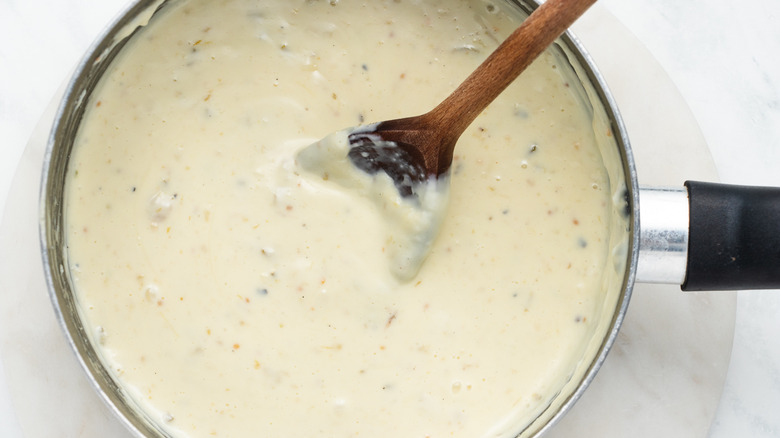 Catherine Brookes/Mashed
Turn the heat on your stove to a medium setting to melt all ingredients together. "Be sure the stir everything frequently whilst the ingredients melt in the pan, otherwise you may find that the cheese sticks to the bottom," Brookes says. Once the mixture achieves a smooth and creamy consistency, you can turn off the heat and remove the saucepan. 
Transfer the white queso to a serving dish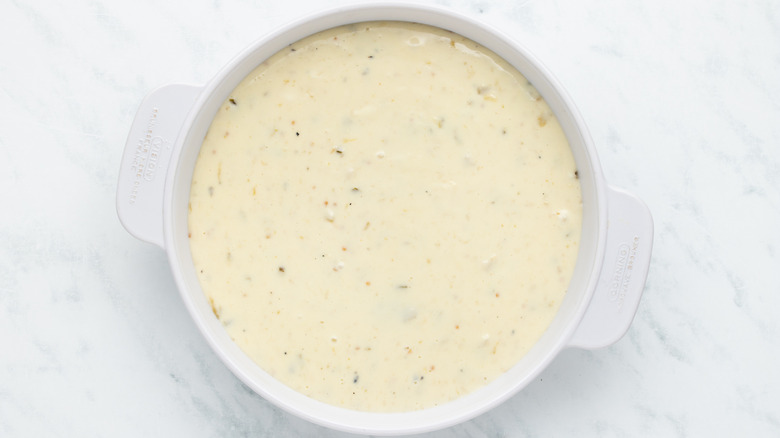 Catherine Brookes/Mashed
For this step, you will need to grab a serving dish of your choice. Depending on the occasion, you could use a regular bowl or something fancier. Transfer the contents of the saucepan into the serving bowl of your choice and add a few slices of jalapeño and fresh cilantro (if you wish) for that little extra bit of green.
Serve and enjoy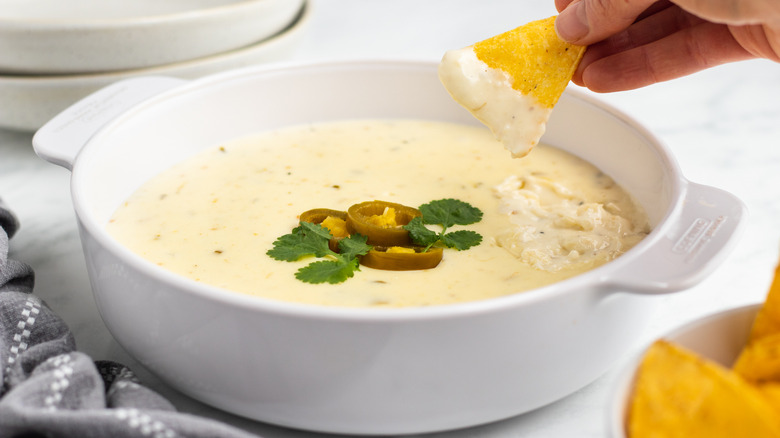 Catherine Brookes/Mashed
The only thing left to do is dip and repeat to your heart's content. Of course, chips stand out as the main object you'd use with this dip, but Brookes assures us that there are plenty of other great serving suggestions to try ... because liquid cheese should be used for more than just chips! "It's also great served with chopped veggies to dip in, such as cucumber, carrot or celery," Brookes shares. 
White Queso (With A Little Green) Recipe
This white queso has the perfect hit of spice and color thanks to the addition of pickled jalapeños.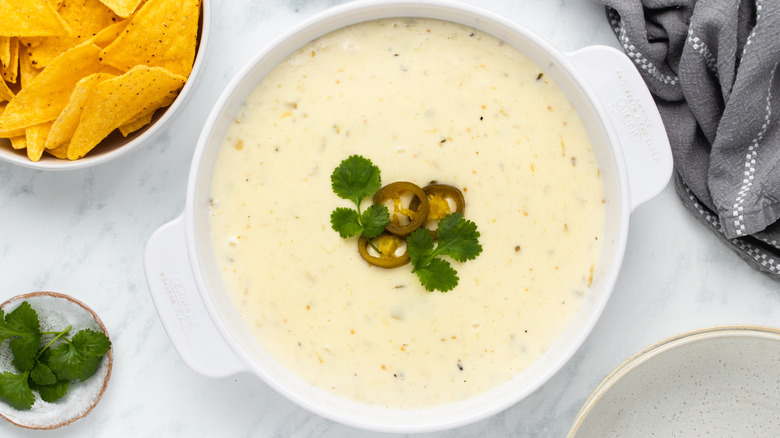 Ingredients
1 pound white American cheese
1 cup half and half
1 teaspoon onion powder
½ teaspoon garlic powder
1 tablespoon diced picked jalapenos
¼ cup salsa verde
salt, to taste
Optional Ingredients
extra jalapeños, for garnish
cilantro, for garnish
Directions
Add all ingredients to a large saucepan over medium heat.
Stir the ingredients frequently, until they melt down and form a smooth, creamy texture.
Transfer to your serving dish of choice. Garnish with a few extra slices of jalapeño and some fresh cilantro if desired.
Nutrition
| | |
| --- | --- |
| Calories per Serving | 232 |
| Total Fat | 17.4 g |
| Saturated Fat | 10.9 g |
| Trans Fat | 0.0 g |
| Cholesterol | 47.5 mg |
| | |
| --- | --- |
| Total Carbohydrates | 6.9 g |
| Dietary Fiber | 0.2 g |
| Total Sugars | 1.6 g |
| Sodium | 605.5 mg |
| Protein | 12.2 g |