McDonald's Finally Has A Triple Cheeseburger On Its Menu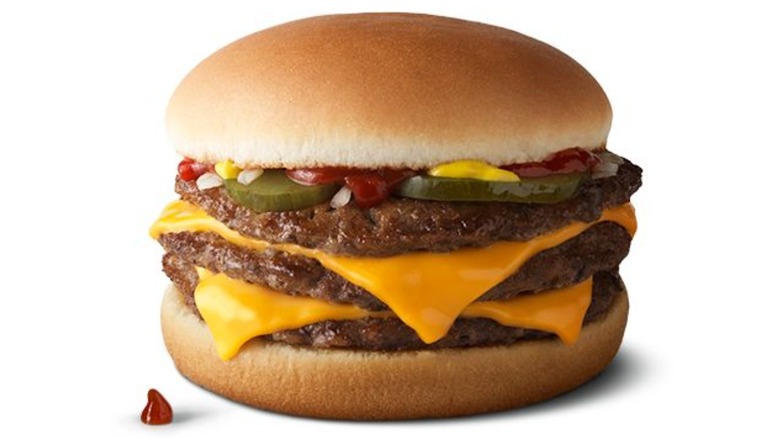 McDonald's
McDonald's is a name that's not really synonymous with nutritious eating. Some media coverage, including the 2004 movie "Supersize Me," even seems to go so far as to hold Mickey D's partly to blame for the great American obesity crisis. While the chain does have a number of healthy(ish) options on McDonald's menu, including more nutritionally balanced Happy Meals, it also has energy-dense offerings such as a pancake breakfast with nearly 800 calories and a chicken sandwich that's over 600 calories even without a side of fries.
So how would the chain's critics react to learning that the chain is now introducing its first-ever triple cheeseburger? Well, you might be surprised to learn that this new item probably isn't the supersized behemoth that the Morgan Spurlocks of the world could be imagining. What's more, adding this triple cheeseburger to the menu will arguably offer an economical alternative to some of their pricier sandwiches.
How the triple cheeseburger stacks up against other items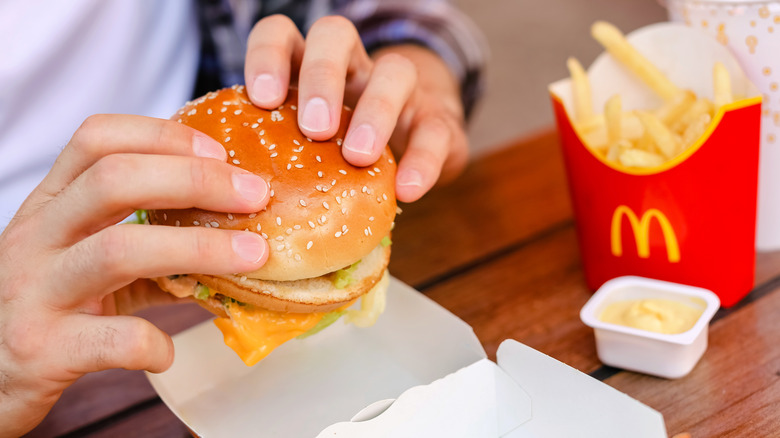 Eliz A/Shutterstock
McDonald's triple cheeseburger may still be in the market testing stage. It's been rolled out at some of the chain's Illinois restaurants, but other states might also be on board with the new offering. In fact, as McDonald's features the item on its website, it seems likely it may be added to the nationwide menu pretty soon. This burger is priced at $2.79, and apparently, McDonald's intends this cheeseburger to be a value item rather than a premium one. Still, either the burger or the price is meant as a "limited-time offer," so there's no guarantee that they will remain this way for too long.
So how does this burger stack up against McDonald's other offerings, nutrition-wise? It's no diet food, to be sure, with 540 calories, 34 grams of carbs, and 31 fat grams. By contrast, the Quarter Pounder with bacon and cheese has 630 calories, while the double Quarter Pounder with cheese has 740 calories, and a large Shamrock Shake comes in at a whopping 800 calories and 135 grams of carbohydrates. But for someone who skips the fries or sticks to the small size (230 calories), this triple cheeseburger could make for a fairly cheap meal that won't blow their daily calorie budget.