The Chefs Of Food Network Pulled Off A Flash Mob In Miami, And It's As Cool As It Sounds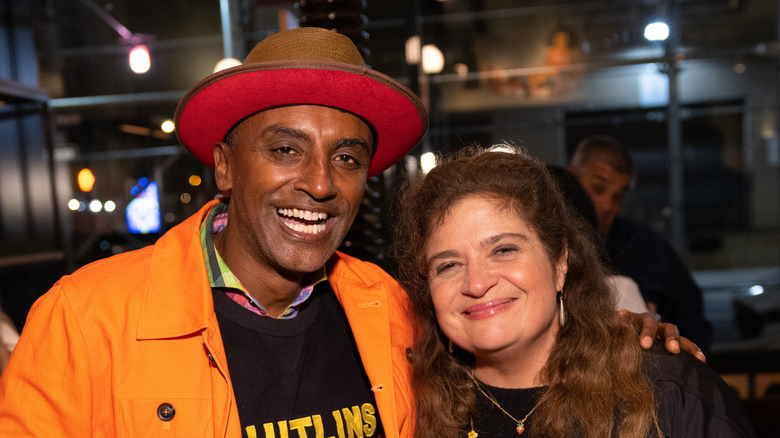 Jeff Schear/Getty Images
The nonstop party that is the Food Network South Beach Wine & Food Festival took place last week in sunny Miami, a celebration of renowned chefs and fine food that included late-night bashes, fashion shows, tastings, and dinners. Events at the festival were packed in all day long and went into the wee hours, leaving little room for anything unexpected — and yet, something fun and surprising did break out on Saturday, February 25. People reports that dozens of Food Network chefs and guests attending a tribute dinner launched into a flash mob-style dance, busting their moves to LL Cool J's 2004 hit, "Headsprung."  
Among those spotted on the dance floor were Food Network all-stars like Marcus Samuelsson, Giada De Laurentiis, Jeff Mauro, "Cutthroat Kitchen" chef Jet Tila, Marc Murphy, "Chopped's" Amanda Freitag, and Aarti Sequeira, host of "Aarti's Party." The chefs showed off their slick, synchronized moves while guests and staff gathered in throngs around the floor to cheer them on. 
Honoree Alex Guarnaschelli joined the dance, too
That night's tribute dinner at the South Beach Wine & Food Festival was in honor of two people: Alexandre Ricard, head of Pernod Ricard distillers, and Food Network favorite, chef Alex Guarnaschelli. Bobby Flay acted as Master Of Ceremonies for the dinner, and one of the guest speakers was Guarnaschelli's daughter Ava Clark.
According to People, the flash mob dance at the dinner was organized by Guarnaschelli's friend chef Antonia Lofaso, who faced off with Chef Jet Tila on "Super Grudge Match" and is a host on "Guy's Ultimate Game Night." Lofaso shared the dance plan ahead of time with the other Food Network chefs, including Guarnaschelli who happily hopped onto the dance floor with them. Guests and staff at the dinner were kept in the dark until the flash mob began, an event that People says has never happened before at Wine & Food Festival dinners. 
Now that the world knows that these award-winning chefs have killer moves in — and out — of the kitchen, their fans will definitely be expecting more impromptu boogies at future events. Or, perhaps this is the perfect time for a new Food Network show — maybe some kind of mash-up of "Iron Chef" and "Dancing With The Stars"?