The Best Sauce To Quickly Level Up Pigs In A Blanket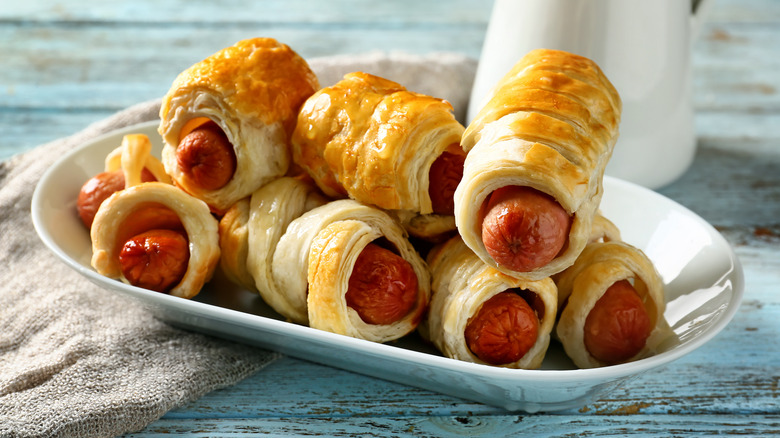 Pixel-Shot/Shutterstock
Budget-friendly, easy to make, and tasty enough to leave you wanting just one more savory bite, pigs in a blanket are a classic potluck or game day appetizer. There are tons of creative ways to level up your recipe, whether it be the technique used to cook them or the seasonings and toppings sprinkled within the flaky folds. If your palette is in need of something a bit more gourmet to dress up your pigs in a blanket with, why not look into what other culinary experts have tried? Rachael Ray's method for upgrading pigs in a blanket involves browning hot dogs on the stove, stuffing them with cheese, then rolling them in puff pastry. You can never go wrong with pigs in a blanket that ooze melted cheese.
So you've experimented and found your favorite recipe — what about the sauce? Sure, dipping them in classic ketchup and mustard will do the job, but in case you'd like to elevate your sauce to match your fancier version of pigs in a blanket, we've got just the thing to try. The best part is that this sauce can be easily made at home using everyday ingredients that will give those little piggies a dash of both zest and sweetness.
The star of this sweet upgrade is honey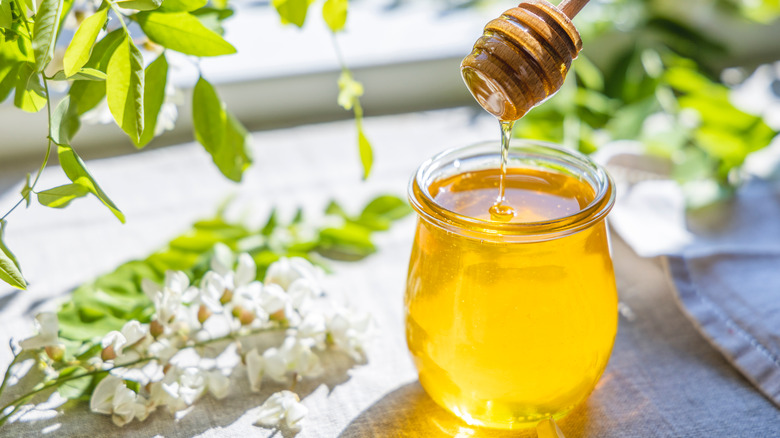 Victoria Kondysenko/Shutterstock
Your pigs in a blanket are about to get a delicious hint of sweetness. According to Jen Pelka, CEO and co-founder of Une Femme Wines, honey is the secret to really packing a punch of flavor into every morsel of this recipe (via Food & Wine). Grab your favorite type of honey and, after your puff pastry is cut into triangles, brush the pastry with a mixture of honey and Dijon mustard. Once each piece gets coated in a thin layer of homemade glaze, sprinkle black pepper over everything before rolling up the hot dogs, adding a brush of egg wash, sprinkling salt and pepper, and baking at 375 degrees Fahrenheit. The combination of buttery pastry and honey with the meaty flavors of hot dogs sounds nothing short of mouthwatering.
Using Pillsbury Crescent Rolls opens up one of the most heavenly ways to enjoy pigs in a blanket, and if you aren't that keen on hot dogs, you can substitute hot dogs for a package of Little Smokies to keep the flavor train going. Slow cook them first to really bring out that smoky taste, or just roll them right into the crescent pastry triangles before popping them into the oven. Whichever way you choose to re-create this popular appetizer, it'll be worth it to see a few wide-eyed expressions when your dinner guests try them and ask you about the magic ingredients you used in your new recipe.