A TikToker Actually Just Made Pasta With 512 Eggs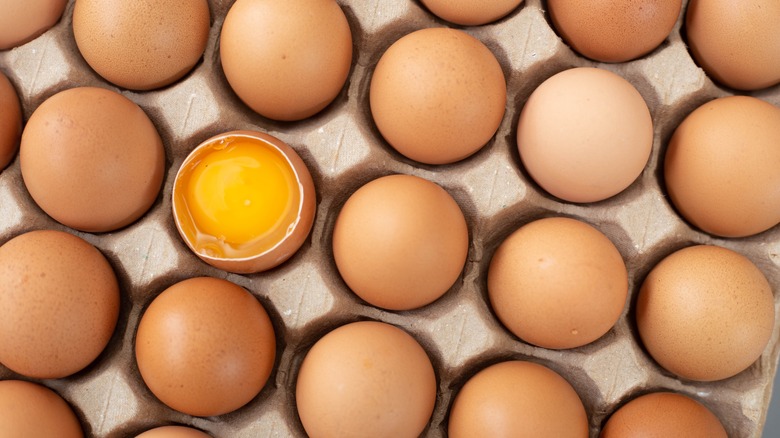 Parkin Srihawong/Shutterstock
If you've ever followed a homemade pasta recipe, you know it doesn't take too much to make the stuff, ingredients-wise. Really, all you need is flour and eggs, with your actual measurements depending on how many people you plan to feed (typically, it's about one egg and 100 grams of flour per person).
However, one TikToker has taken pasta-making to a whole new level. Instead of making pasta for a set number of people, Ryan Peters has been on a mission to ramp up his ingredients, doubling them each day. His first video in the series, posted January 31, shows Peters making pasta with one egg yolk and joking, "This would make like one single noodle."
Since then, Peters has made batches of pasta using two, four, eight, 16, 32, 64, 128, 256, and now 512 egg yolks, with corresponding amounts of flour, of course. Can you even imagine having to separate all those egg yolks and whites? But more importantly, what on earth is he doing with all that pasta?
TikTok's viral Peters' Pasta is donated to those in need
For day 10 of his TikTok series, Ryan Peters made a gigantic batch of pasta using 512 egg yolks. The video, which required Peters to push together two tables to knead out the dough, already has 37.6 million views and actually took two days to film. He explained in the clip that he had to split the batch into three smaller balls of dough just to make it easier to knead, let alone roll out, cut, and cook. No pasta mistakes made here, folks.
Once cooked, where does all this pasta go? Peters donates the pasta to homeless shelters and other nonprofits, noting in the caption of his Day 10 video, "This will be able to feed so many people who are hungry. Grateful to be able to make a small impact."
Although Peters could stop at any time, he already has plans for making pasta with 1,024 eggs. In an interview with TODAY, he said, "Seeing the impact I'm able to have, even if I'm just making a small amount of pasta and I hand it out to some homeless people, still being able to give that impact is huge for me now." We love to see it.