11 Iconic New Jersey Foods You Need To Try Before You Die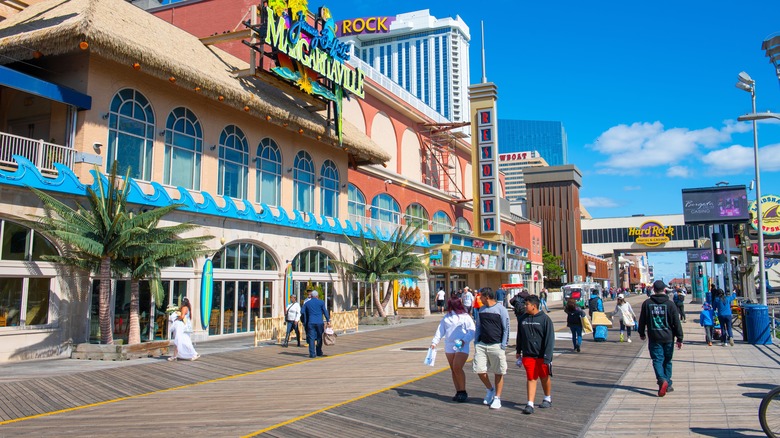 Wangkun Jia/Shutterstock
If you travel to the Garden State, you'll find a whole lot of cool stuff to do. If you love the beach, as well as spending a little time cranking slots or playing poker, then Atlantic City has your name written all over it. If you want the thrills and chills of riding some of the best roller coasters in the country, then head straight to Six Flags Great Adventure to get a huge fix of fun. You can even harness your inner historian and take a trip to Ellis Island, the plot of land that welcomed millions of immigrants to the country.
But if you're a huge foodie, this is the place for you too. That's right, there are a bunch of iconic New Jersey foods that you have to seek out the next time you're driving through. Whether you have an insatiable sweet tooth or are looking for something savory to wow your palate, these New Jersey staples are eagerly awaiting your appetite upon arrival.
1. Taylor Ham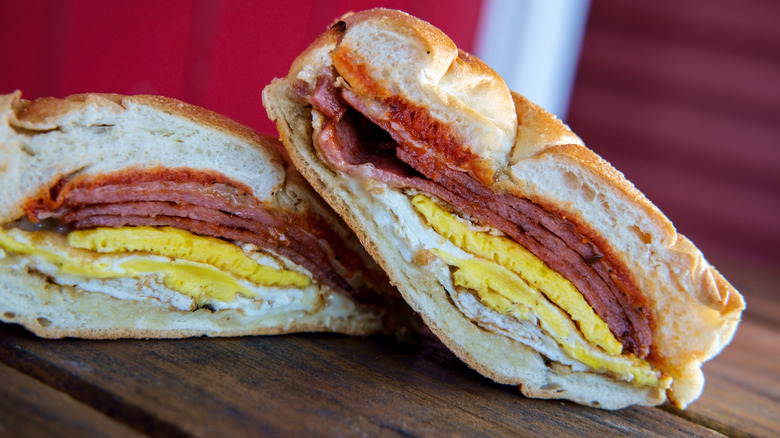 Ezume Images/Shutterstock
Some refer to it as Taylor Ham while others call it a pork roll, but ultimately they're the same. The history of Taylor Ham dates back to 1856 when a man named John Taylor began making the stuff in Trenton. Meanwhile, in 1870, a farmer and butcher named George Washington Case also started making a suspiciously similar product using his own recipe. Several years later things got a bit messy in Taylor's world.
The Pure Food and Drug Act that came into effect in 1906 had certain criteria requirements that Taylor's product didn't live up to. Consequently, the creator of Taylor Ham had to change the name of his preparation to pork roll. However, most people who grew to love Taylor Ham never stopped calling it by the name John Taylor gave it, and that's why it commonly goes by the two labels. Either way, a slice of the stuff on a breakfast sandwich is not only uniquely New Jersey, but it's pretty darn delicious too.
2. Saltwater taffy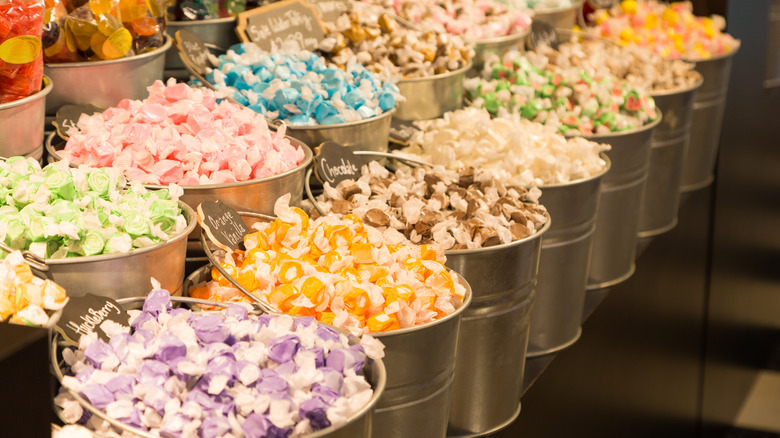 Adam Melnyk/Shutterstock
It's chewy, colorful, and all-around delicious, saltwater taffy is a great snack to munch on when you're hanging out on the beach, taking a stroll down the sunny boardwalk, or just relaxing at home. The origins of the sticky stuff trace back to Atlantic City, a place known nationwide for its fun-filled boardwalk that runs up and down the coast of the Atlantic Ocean. You'd be hard-pressed not to find anyone tossing back the colorful confection, and it's all thanks to a man named David Bradley.
According to candy lore, Bradley ran a candy stand directly on the boardwalk that was a bit too close to the ocean. The seawater rose up and completely flooded it out, but Bradley, unperturbed by the incident, continued to crank out the "salt water" candy. Now, just so you're aware, there are other reports that claim a candy maker named Joseph Fralinger was the creator, but either way, the sweet's history is rooted smack dab in New Jersey.
3. Trenton Tomato Pie
Who doesn't love a slice of pizza straight out of the oven? The dough is warm and crispy, the tomato sauce is full of spices and herbs, and the cheese is melted to perfection as it bubbles on top. Now, you can get a slice of pizza at a ton of spots in New Jersey, but the state is also home to a super unique twist on the pizza pie: the Trenton Tomato Pie. If you're a pizza enthusiast, it deserves a spot on your bucket list.
The product was created by an Italian immigrant named Giuseppe "Joe" Papa who opened a pizza joint called Papa's Tomato Pies in 1912. The pizza it served was a bit different than the ones other spots were selling, and that set the restaurant apart immediately. For starters, a thin layer of spicy brown mustard is spread between the cheese and dough. Additionally, the tomatoes are placed on top of the cheese, which allows the tomato flavor to break through much more. Not only is tomato the primary feature, but the hint of mustard gives every bite extra pizzazz, and who doesn't want more when it comes to pizza?
4. Italian hot dog
You probably tossed back a hot dog or two in your day, but have you ever tried an Italian hot dog? This New Jersey staple was created in Newark in 1932 by a man named Jimmy "Buff" Racioppi, who also ran a hot dog spot called Jimmy Buff's. Jane and Michael Stern's book, "500 Things to Eat Before It's Too Late: And the Very Best Places to Eat Them," a huge bucket list for foodies, featured the iconic hot dogs. They also landed some television spots on various travel and cooking shows thanks to their popularity. 
Now, what makes an Italian hot dog different from the others? The bread used is formed into a pita shape, and all the ingredients are tucked inside with mustard and sweet ketchup as condiments. The dogs are plopped on top and layered with onions, peppers, and fried potatoes. This dish packs a punch of flavor, so hot dog lovers will want to head to Jersey and get down with the dog.
5. Disco fries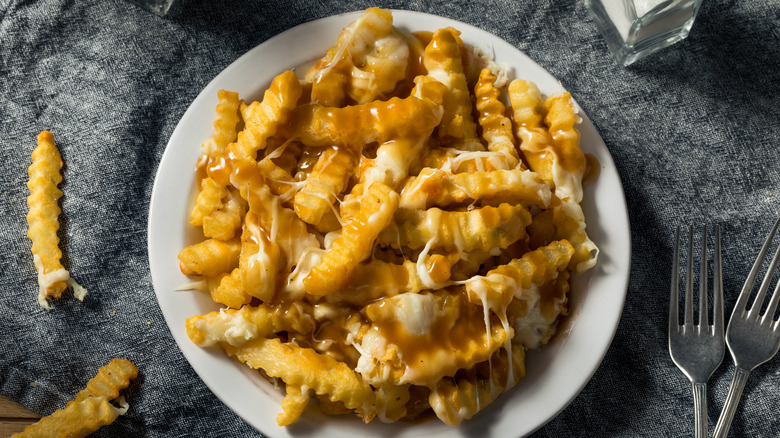 Brent Hofacker/Shutterstock
If you love french fries, then it'd be hard to pass up an order of Disco fries the next time you visit a New Jersey restaurant that offers them. First off, the name is fun and brings to mind a bunch of fries dancing wildly underneath a spinning disco ball. Secondly, they're so darn delicious. How could covering a pile of freshly fried sticks of potatoes with rich gravy and melted cheese be a bad move? It's not.
Disco fries saw their first boom during the 70s and early 80s as the snack of choice to satisfy disco-goers who were partying all night. People would leave party venues in search of something to fill their bellies, and Disco fries accomplished exactly that. Nowadays, the dish comes in all variations throughout New Jersey. For example, the Rocky Hill Tavern offers a version with pork belly, banana peppers, fontina cheese, and malt vinaigrette. These potatoes truly know how to party.
6. New Jersey Sloppy Joe
You might think you know exactly what a sloppy joe is. You're envisioning a bun that's overflowing with ground beef and tomato sauce, and you're not wrong. However, when it comes to New Jersey sloppy joes, the game changes quite a bit. It's not the cafeteria lunch stuff so many of us remember from childhood. Instead, these sandwiches consist of three slices of rye bread filled with ham, beef tongue, Swiss cheese, coleslaw, and Russian dressing. It's a little mix of a Reuben and a Cuban, and it's delicious.
Thomas Sweeney, the mayor of Maplewood, New Jersey, discovered this version of sloppy joes during a visit to Havana, Cuba, in the 1930s. He was so smitten with the combination of flavors and had a strong feeling the sandwich would take off in the States. With help from two of his friends who ran an eatery called Town Hall Deli, the sandwiches began making appearances in the party food orders and quickly found massive success. Soon, the sloppy joe became a permanent part of the deli's menu.
7. Johnson's popcorn
If you find yourself moseying down the boardwalk in Ocean City, New Jersey, you have a lot of food options to sample. You can either dine at a sit-down restaurant or grab yourself one of the hundreds of snack foods that vendors are cranking out in every direction. One huge draw is the popcorn. Those puffed kernels are great to carry while you soak up the sun and enjoy the surrounding environment. Few spots are more popular when it comes to kernels than Johnson's Popcorn.
According to the company website, Johnson's has been popping the stuff since 1940 along the Ocean City boardwalk. It offers caramel, cheddar, butter, and chocolate-flavored kernels, but it's the caramel that really gets people stoked. The hand-mixed popcorn is made in giant copper kettles, and once the caramel is added, it instantly attracts customers. If you're spending time in Ocean City, you had best take full advantage of the good eating and snag yourself a tub of popcorn.
8. Panzarotti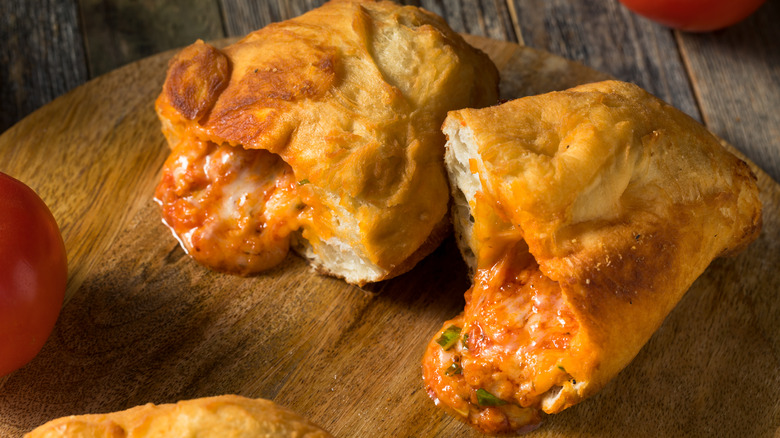 Brent Hofacker/Shutterstock
If you look at panzarotti, you might immediately think it's a calzone. However, even though panzarotti might resemble a pizza pouch or roll, anyone from South Jersey will beg to differ. Panzarotti are made using a deep-fried pizza dough crust that's formed into a big pocket and loaded with marinara sauce, mozzarella cheese, and whatever pizza toppings your heart desires. 
It was during the 18th century in southern Italy when the first panzarotti started popping up. There wasn't only one concrete recipe for them either. Depending on taste preferences and the ingredients available, every family had a unique version they passed down. The Tarantini family helped bring the dish to New Jersey upon immigrating to America in 1958. Two years later they began making and selling panzarotti out of a basement rental. By 1963, their product was so popular they opened The Panzarotti Spot in Camden. Food trucks soon followed due to the demand, and panzarotti instantly became an iconic Jersey food.
9. Candied apples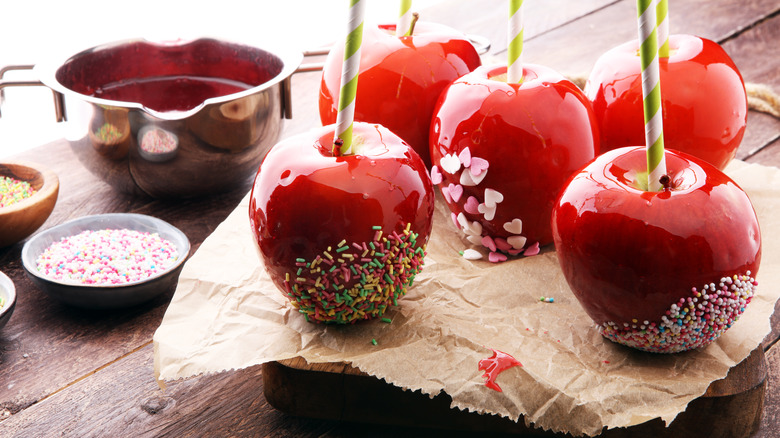 Beats1/Shutterstock
When you bite into a crisp apple and savor all those sweet juices erupting in your mouth, it's hard to imagine how the experience could get any better. Well, it turns out it can. Coat that fresh fruit in a layer of sweet glaze, pop it onto a stick, and there you have it — an apple on steroids. Candy apples are a staple food at fairs and festivals all over the country, but you might not know they got their start in New Jersey. 
The first apples smothered in a sweet, sugary coating were made in Newark in 1908. A candy maker named William Kolb felt as though his storefront display didn't appear lively enough with only chocolate. He wanted the colors to pop in order to draw more attention to his treats. He figured red apples would pair nicely with the dark chocolate, so he made a red cinnamon mixture to coat the apples with an enticing sparkly sheen. Not long after dangling his new red, glossy decorations in his store windows, people offered him money for them. Not one to turn down a sale, he sold them for a nickel each. Soon, candied apples erupted in popularity, and it all happened by accident!
10. Donkey's Place cheesesteak
When you think of cheesesteaks, your mind might immediately leap to Philadelphia where the food is wildly popular. However, those aren't the only cheesesteaks that have made a name for themselves. A spot called Donkey's Place in Camden, New Jersey, serves up its own unique version of the classic sandwich, and it's so good that Anthony Bourdain himself said, "The best cheesesteak in the area might well come from New Jersey."
The cheesesteak was introduced in 1943 at Donkey's Place, an eatery run by Alice and Leon Lucas. The cheesesteaks that Philly is famous for are served on long subway sandwich bread, but at Donkey's Place, sliced beef is stuffed in between a kaiser roll and topped with American cheese (not the liquid Cheez Whiz used in the City of Brotherly Love) and caramelized onions. Four simple ingredients combine to create one heck of a roundhouse kick of New Jersey flavor.
11. New Jersey Rippers
If you're looking to expand your hot dog game, heading to New Jersey is a perfect way to do it. You can order a basic dog just about anywhere, but in Jersey, specifically at Rutt's Hut in Clifton, you can get a Ripper. The name sounds hardcore, but don't let that instill fear into your appetite. A Ripper is a deep-fried hot dog that rips open lengthwise while it cooks in boiling oil, and it's just as awesome as you think.
Rutt's Hut opened in 1928, and was run by Royal "Abe" Rutt and his wife Anna. The couple invented the Ripper, and the recipe for the wildly popular dog hasn't changed since. Thanks to some television spots on the Travel Channel and PBS, people all over have discovered the unique hot dog. "We get tourists all the time," current owner Gus Chrisafinis said. "They see us on TV and they just have to try a Ripper. Business is always booming." 
But, the actual dog is only half of what people love about it. Rutt's Hut makes its own secret-recipe relish that cranks up the flavor volume loudly. Chrisafinis added, "I tell people who come in for the first time to at least try the relish," Chrisafinis said. "It's like nothing you've had before. And I'd say 9.9 out of 10 people who try it are amazed. They can't believe it."