Steakhouse-Style Oyster Mushrooms Recipe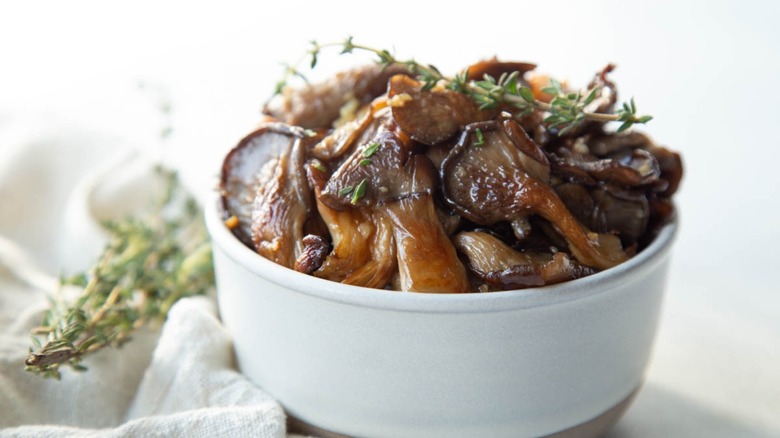 Kate Shungu/Mashed
If you're ever at a high-end or even a mid-level steakhouse (no such thing as a cheap one these days), there's one rule you should always follow: Be sure to ask that your steak be served with a side or topping of sauteed mushrooms. Ordering it any other way would be a mistake – or rather, a mis-steak. If you prefer to save a small fortune and enjoy your steak dinners at home, though, there's no need to miss out on this treat since sauteed mushrooms are incredibly easy to make.
This particular recipe makes use of oyster mushrooms in what recipe developer Kate Shungu calls "a unique way to enjoy a spin on sautéed mushrooms." As she tells us, "Oyster mushrooms are known for their unique shape and delicate mushroom flavor." If this type of mushroom is unavailable where you shop, though, she assures us, "You can replace the oyster mushrooms with any variety of mushrooms that you like."
Gather the ingredients for these steakhouse-style oyster mushrooms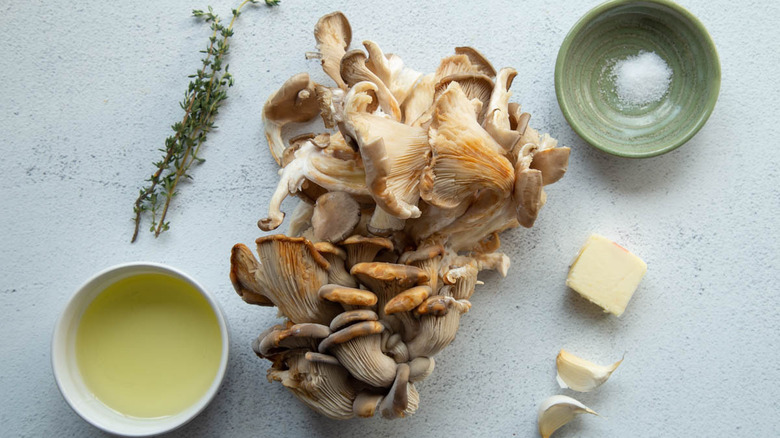 Kate Shungu/Mashed
One thing that makes this recipe so simple is the fact that it only involves six different ingredients. In addition to the mushrooms, you'll just need olive oil, butter, garlic, salt, and thyme. While Shungu likes to use fresh herbs here, she says, "You can use a pinch of dried thyme in place of the fresh thyme [and] it will not affect the cooking time. "
Prepare the produce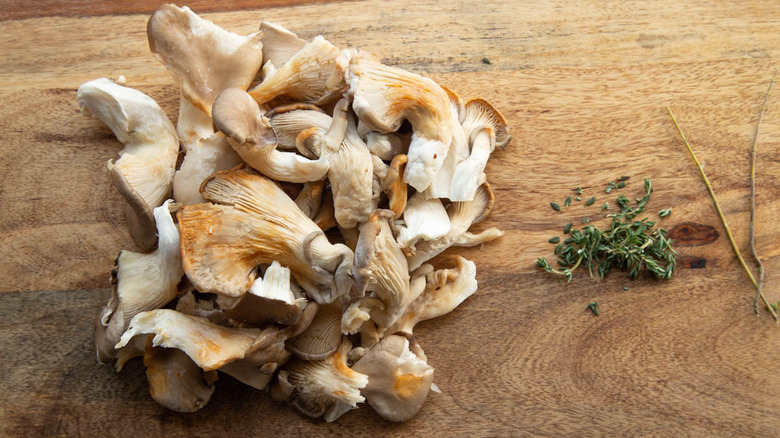 Kate Shungu/Mashed
Before you get started cooking, you'll need to strip the thyme leaves from the stalks as you'll only be using the former. You'll also be tearing the mushrooms into pieces rather than chopping them. The reason for this, Shungu tells us, is because "oyster mushrooms are easy to tear, which leaves their shape intact."
Sauté the mushrooms in oil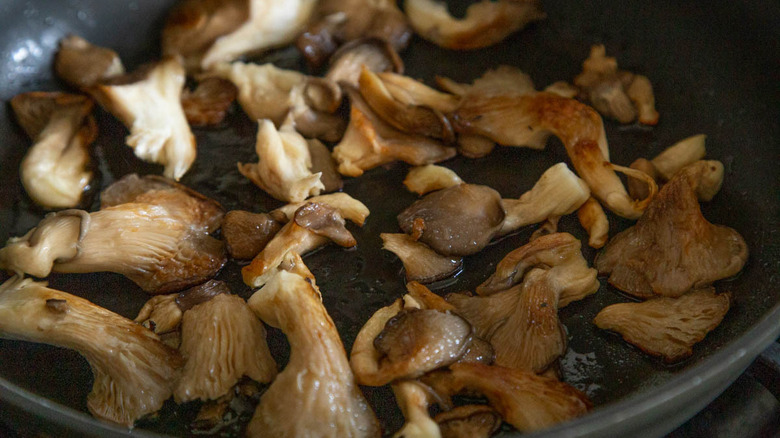 Kate Shungu/Mashed
Heat the oil in a frying pan over medium heat, then add the mushrooms when it's hot. Don't stir them just yet — Shungu insists that "the key to getting crispy mushrooms is to let them sit in the pan undisturbed for several minutes before stirring." You will need to stir them occasionally, though, since you don't want them to burn or stick to the pan in the 5 to 6 minutes it takes them to soften. Once the mushrooms are browned, Shungu says they should be "crispy on the edges" but remain "soft and tender in the middle."
Add the rest of the ingredients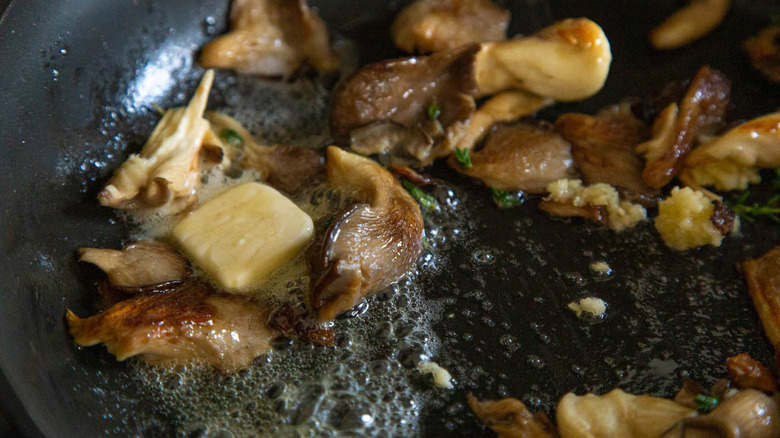 Kate Shungu/Mashed
Stir the butter, garlic, thyme, and salt into the mushrooms and cook them for 2 more minutes, then take them out of the pan. This dish is best eaten warm and can be used not only to top a steak, but also a pizza or a batch of crostini. Yet another thing you can do with these mushrooms is to stir them into pasta or eat them on their own with a chunk of French or Italian bread.
The good thing about this recipe is that it can be prepared in advance due to the fact that sauteed mushrooms can last for week or more in the refrigerator. You might not want to make it too far ahead of time, though, as cooked mushrooms may not freeze too well. As Shungu explains, "The defrosting/freezing process can negatively affect the texture."
Steakhouse-Style Oyster Mushrooms Recipe
Top off your sirloin or ribeye with this rich, buttery, steakhouse-style oyster mushrooms.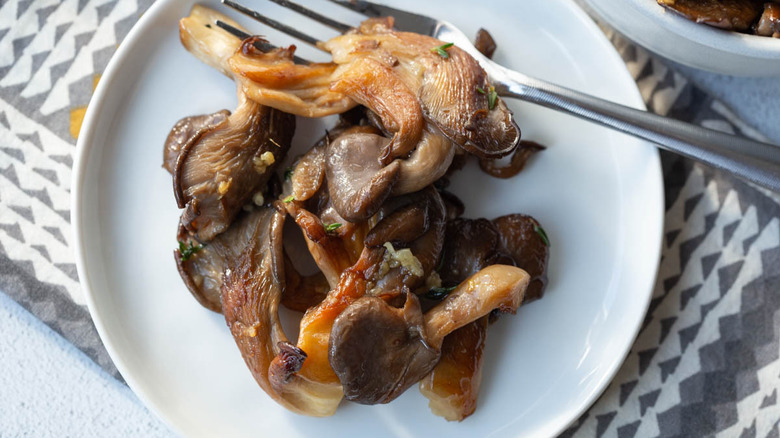 Ingredients
8 ounces oyster mushrooms
2 tablespoons olive oil
2 small sprigs fresh thyme
1 tablespoon butter
2 small cloves garlic, minced
¼ teaspoon salt
Directions
Gently tear the mushrooms into similarly-sized pieces.
Heat the olive oil in a large skillet over medium heat. Add the mushrooms and cook, stirring rarely to encourage browning, until the mushrooms are soft, about 5-6 minutes.
While the mushrooms are cooking, strip the thyme leaves from the stems.
To the skillet, add the butter, garlic, thyme leaves, and salt. Cook for an additional 2 minutes.
Transfer to a serving dish and serve while warm.
Nutrition
| | |
| --- | --- |
| Calories per Serving | 213 |
| Total Fat | 19.8 g |
| Saturated Fat | 5.6 g |
| Trans Fat | 0.2 g |
| Cholesterol | 15.3 mg |
| | |
| --- | --- |
| Total Carbohydrates | 8.2 g |
| Dietary Fiber | 3.0 g |
| Total Sugars | 1.3 g |
| Sodium | 312.7 mg |
| Protein | 4.1 g |