Adding A Nutty Oil Will Boost Your Boxed Mix Brownie Game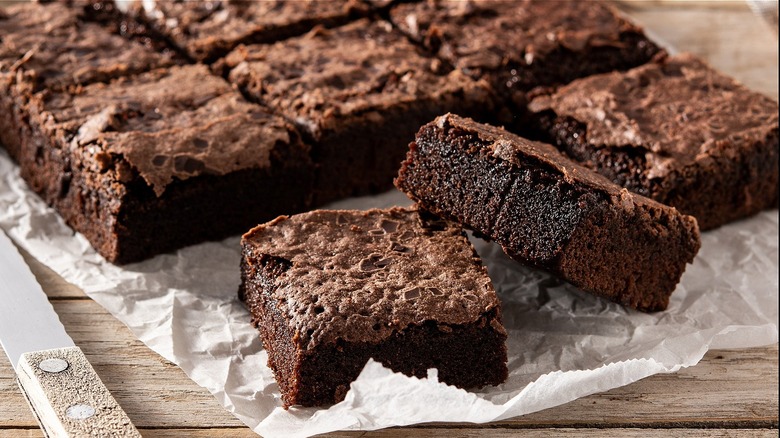 etorres/Shutterstock
When it comes to baked goods, homemade offerings usually trump what can be made with boxed mixes. But in reality, not everyone has time to throw together a cake from scratch or whip up a couple of dozen cookies when dessert cravings hit. Boxed mixes can be massive time savers and don't necessarily require you to trade quality and taste for ease and speed.
There are lots of ways to jazz up boxed mixes. For instance, you could add an extra egg to boxed cake mix for a richer cake. Make boxed cookie mixes taste homemade by sneaking in a little bit of powdered milk. Plus, there are tons of ways to upgrade boxed pancake mix to make your morning flapjacks go from "meh" to "OMG!".
If you're a brownie fan, don't worry — there's a great hack to amp up that box of brownie mix you have sitting in the pantry. It's a simple addition you might not have considered, but it can help you mix together a delicious pan of brownies in no time at all.
The oil you use in brownie mix makes a big difference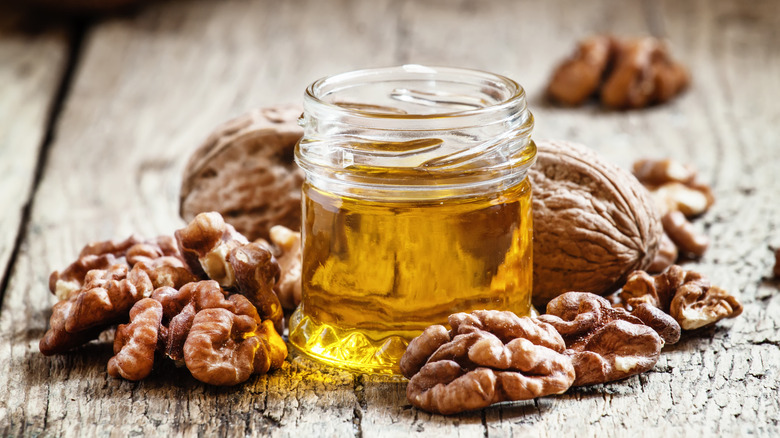 5ph/Getty Images
The trick to boosting your boxed mix brownie game? Try substituting a nutty-flavored oil for the vegetable or canola oil recommended by the box's recipe. Vegetable and canola oils are neutral in taste, so adding a more flavorful type of oil adds nuance while complementing the chocolate and any other ingredients you add. 
Adding walnuts? Why not try using walnut, almond, or pumpkin seed oil to complement the raw nuts? All three are deeper in flavor than vegetable oil and also contain lots of antioxidants and vitamins. If you have olive oil on hand, using it in a boxed mix introduces the fruity, slightly spicy notes found in many olive oils. Try mixing in dried cherries to complement a fruity-tasting olive oil.
If you love the combination of heat and sweetness, use sesame oil and mix in a dash of red pepper flakes. You'll end up with a finished product unlike any boxed mix brownie you've ever tried. With just a simple swap, you can turn boring, predictable boxed brownies into something a little more interesting — and maybe even fancy. There's no need to start from scratch when you've got a few tricks up your sleeve!