Pillsbury Is Finally Launching Ready-To-Use Frosting Bags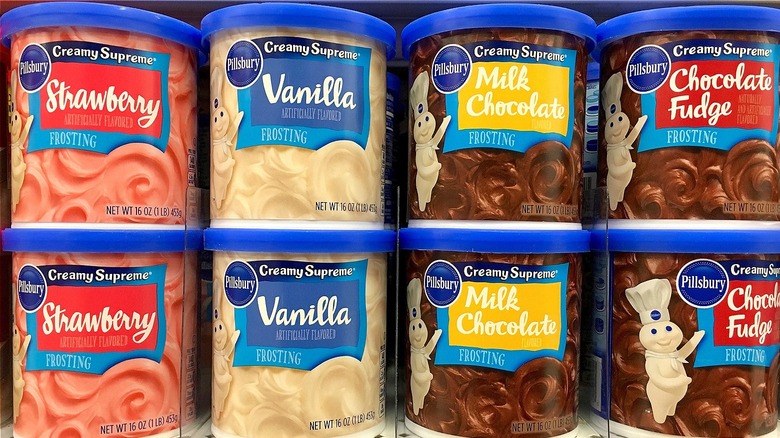 Sheila Fitzgerald/Shutterstock
If you love baking cakes, then another great — and necessary — skill to learn is how to frost a cake. Although decorating cakes can be difficult, it'll become a lot easier after some practice. To get started, you'll want to avoid overfilling your pastry bag and keep a binder clip handy to ensure that the frosting doesn't come out of the top of the bag. But if this sounds like too much hassle, there's another way to enjoy all the fun of decorating without buying a whole pack of piping bags and frosting tips.
For bakers who love the convenience of baking mixes and pre-made frosting, Pillsbury is likely a brand that you're quite familiar with. Now, the company is continuing to expand its lineup of products. In what may be considered a total time-saver for many bakers, Pillsbury Baking announced that one of its the latest additions will have you ready to frost away!
Pillsbury's ready-to-use frosting bags come in three different flavors
Whether you prefer chocolate or vanilla frosting, Pillsbury has a ready-to-use frosting bag for you. Pillsbury has a wide range of frosting flavors and has even launched new ones, like coffee frosting. But for the ready-to-use bags, the company is sticking to the classics. Customers will be able to purchase frosting bags filled with chocolate fudge, vanilla, or cream cheese frosting. Based on the package, each bag has enough frosting for 24 cupcakes, so there's more than enough for a full cake or to top a batch of sugar cookies.
A press release from the company stated that these frosting bags are available in stores now, and although prices will vary from store to store, you'll be able to snag a bag of frosting for between $3.50 to $5. To find out where you can purchase Pillsbury's ready-to-use frosting bags near you, the company has a locator on its website to search near you, but the frosting bags can be expected in Walmart locations first.
Can't find ready-to-use frosting bags near you? While it won't be quite as easy, try following our recipe for cream cheese frosting and practice your piping skills by filling a bag with whipped cream, which is Ina Garten's secret for using a pastry bag.