7 Best And 7 Worst Kirkland Wines To Buy At Costco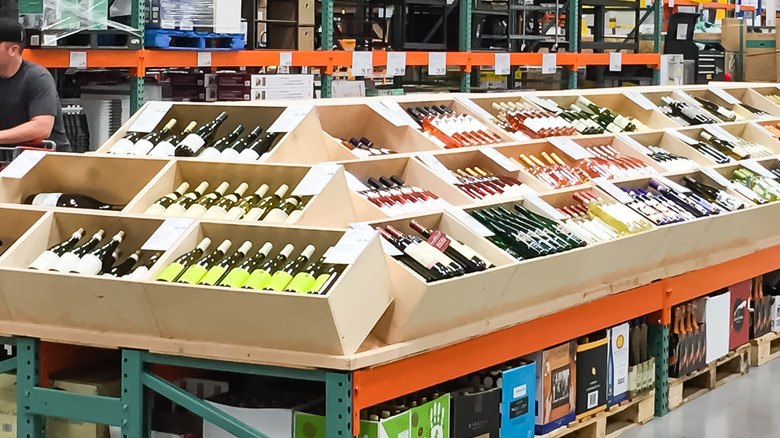 Trong Nguyen/Shutterstock
The line of Kirkland Signature products is the crown jewel of Costco Wholesale stores, especially in the alcohol aisle. Costco's in-house brand has expanded to include food, household items, personal care supplies, and even an arsenal of booze. Kirkland Signature beer and hard liquor are a common sight to see while perusing the cavernous Costco aisles, but the die-hard customers know that the bottles of wine are some of the best deals in the entire store. 
Kirkland Signature added wine to its lineup in 2003 and it's been a favorite among Costco shoppers ever since. Costco partners with a lot of major winemakers across the globe to create its small but mighty line of in-house wines. The Kirkland Signature line is also surely a major factor in Costco becoming the largest wine retailer in the U.S. and beyond.
While most Kirkland Signature products at Costco are reliable in their quality and price, wine can be a little more specific. We decided to make an easy guide to seven of the best and seven of the worst Kirkland wines you can buy at Costco. It might help you ensure you're getting the best bang for your buck, even though most of the bottles are a steal compared to what you can buy at smaller wine retailers. 
Best: Marlborough Sauvignon Blanc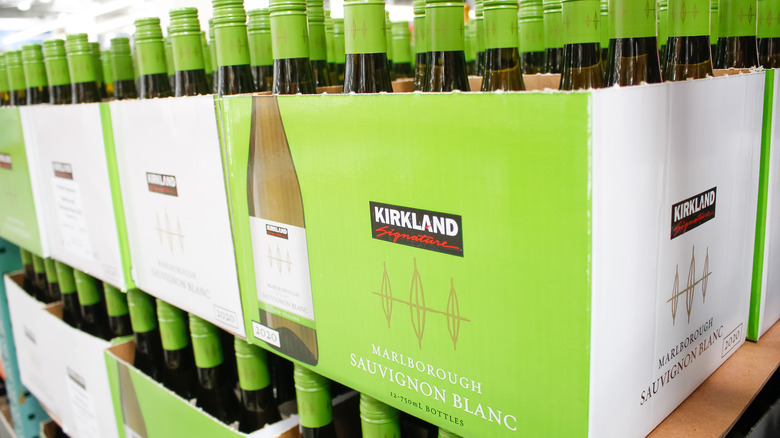 The Image Party/Shutterstock
Often referred to as the "green bottle," Kirkland Signature Marlborough Sauvignon Blanc is one of the most popular wine bottles for Costco shoppers. It's a reliable option that feels like a steal for the price, which is usually around $10. The only downfall of this tasty white wine is that it tends to sell out quickly once shoppers see those green labels hit the sales floor, as some self-proclaimed obsessives buy cases of the stuff to keep in stock at home. 
The Marlborough Sauvignon Blanc helms from South New Zealand, which is known for its light and fruity Sauvignon Blanc blends that are endlessly drinkable, especially in warm weather. Many reviews cite flavor notes of citrus fruits and fresh herbs in this clean wine with a light body. Other reviews compare the flavor to Kim Crawford Sauvignon Blanc, which often sells for double the price at the average liquor store. The general consensus seems to be that if you're debating on whether or not to try this beloved bottle, just shell out the $10 as it's probably worth the risk. 
Worst: Carneros Pinot Noir
Pinot Noir is the antithesis of Sauvignon Blanc, and not just because it's a red wine. Pinot is usually bold, full-bodied, and meant to be enjoyed with rich foods. But one bottle that just doesn't meet the mark is the Kirkland Signature Carneros Pinot Noir from Napa Valley. The wine has all of the ingredients to make it good, especially as the winemakers age the blend in French oak barrels before bottling. However, the flavor just doesn't come through. 
The Carneros Pinot Noir is overly fruity and extremely light in body, according to reviews from taste testers,which is atypical for the variety. Other reviews cite the overwhelming smell and flavor of straight alcohol that doesn't go away as the wine gets a chance to breathe. It's probably a better wine for cooking than drinking with a great meal because it just lacks the robustness of a more palatable bottle of pinot noir.
Best: Rioja Reserva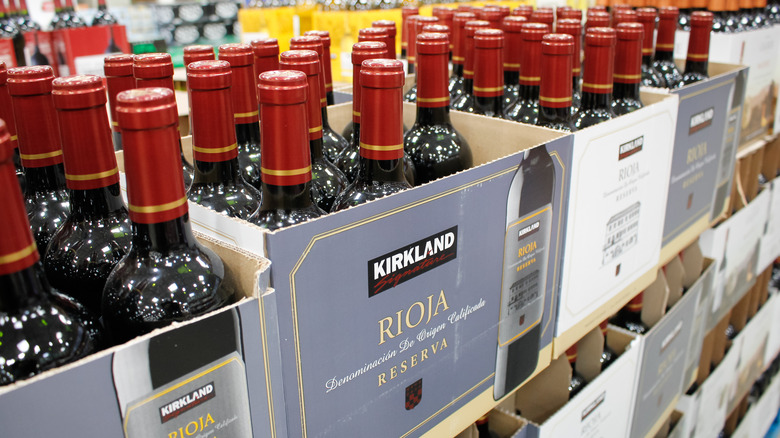 The Image Party/Shutterstock
A much more reliable red wine option from Kirkland Signature is the Rioja Reserva, a Spanish wine made from 100% Tempranillo grapes. This red also spends plenty of time aging in oak barrels — a whopping 36 months — before it's released, which is demonstrated in the wine's full and complex flavor. It's a slightly more savory red but it's rounded out with notes of vanilla, baking spice, and licorice to add balance. 
Kirkland Signature Rioja Reserva typically sells for $8-$12 a bottle, even though it probably would taste as though it costs at least double the amount in a blind taste test. It's unbeatable for the price and flavor, especially for a Spanish red. Even if you aren't familiar with Rioja wines, Kirkland Signature's low-cost bottle is a great way to get formally introduced. "Best $7.29 bottle of wine ever," one Wine Searcher review of the bottle reads. 
Worst: Russian River Valley Pinot Noir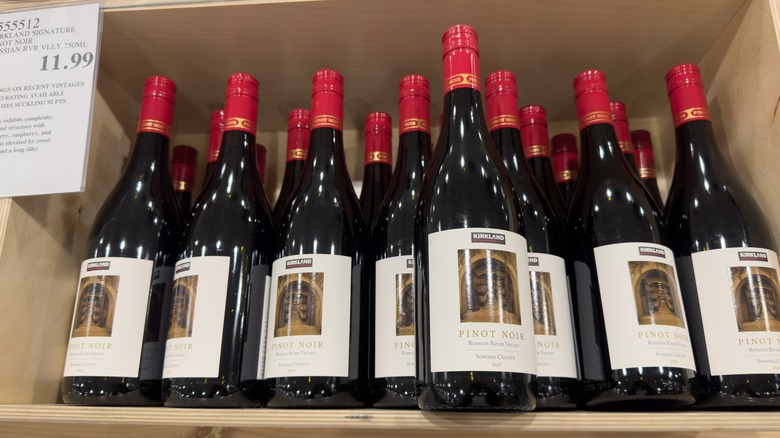 The Image Party/Shutterstock
Kirkland Signature's expressions of Pinot Noir aren't always the most stellar, which is exactly the case with the Russian River Valley Pinot Noir. This is one of those wines with mixed reviews, as most people either love or hate it. We aren't partial to the blend because it's a lot sweeter than other varieties from the same region in Sonoma County, California. 
This red can be so sweet that it's almost syrupy, which can prevent you from being able to appreciate the more nuanced notes while you're sipping on a glass. It's not a horrible bottle of wine, especially for the price of about $12. But it is probably a good bottle to steer clear of if you're not sure. Or, if you're looking for a few bottles of crowd-pleasing red wine to cater to a mixed crowd of people, it's probably better to go with something you know will satisfy every time. 
Best: Côte Du Rhône Villages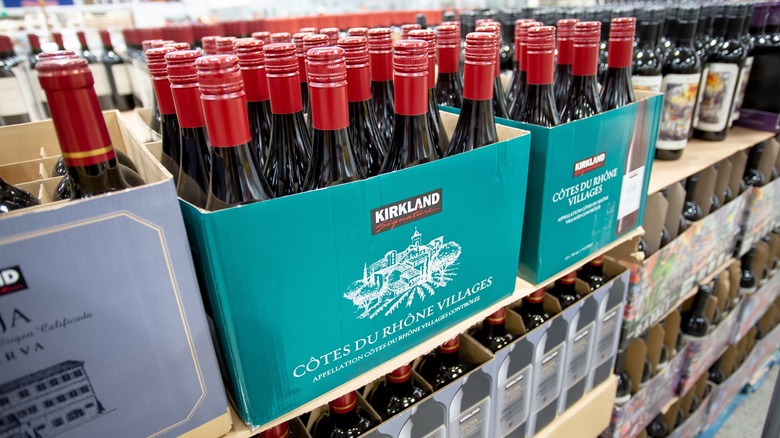 false/Shutterstock
Kirkland Signature Côte Du Rhône Villages is another cult-favorite bottle of wine that is one of the best. "I can tell you that us French expats never miss the Côtes du Rhônes Village release," one dedicated fan wrote about the wine in a review on Reddit. The French red is a blend of Syrah, Grenache, and Mourvedre grapes that comes from the esteemed wine region in the South of France. 
It's a full-body red that's very rich and very dry, yet bursting with juicy flavors of cherries and red berries. Other flavors notes like cinnamon and chocolate round out this tasty bottle that has plenty of depth. The wine has so much to offer for about $10 a bottle that it's almost obligatory for any red wine drinker to pick up a bottle if they stumble upon it at their local Costco location. 
Worst: Friuli Grave Pinot Grigio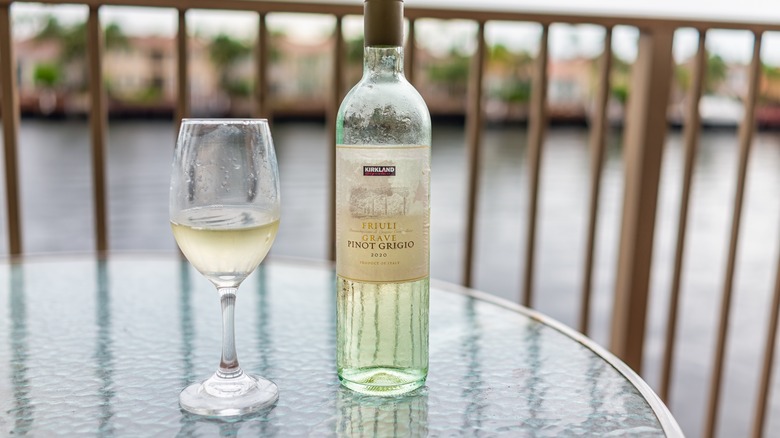 Kristi Blokhin/Shutterstock
Another controversial worst on the list is the Kirkland Signature Friuli Grave Pinot Grigio, which has its core group of loyal defenders. This Italian white wine is a major bargain at $5-$8 a bottle, but it isn't the best Pinot Grigio bottle at that price point by far. As pointed out in reviews, other stores like Aldi and Trader Joe's have their own in-house brands that feature a Pinot Grigio that beats out Costco's expression in flavor. 
The main issue with Kirkland's bottle is its high acidity that masks the delicate floral flavors hidden underneath the surface of the wine. If you're looking for a cheap bottle of white wine to use in cocktails or sangria, the Friuli Grave Pinot Grigio is a foolproof option that will do the job just right. We just can't justify putting this bottle on the best side of the list when there are so many other comparable and better options. 
Best: Asolo Prosecco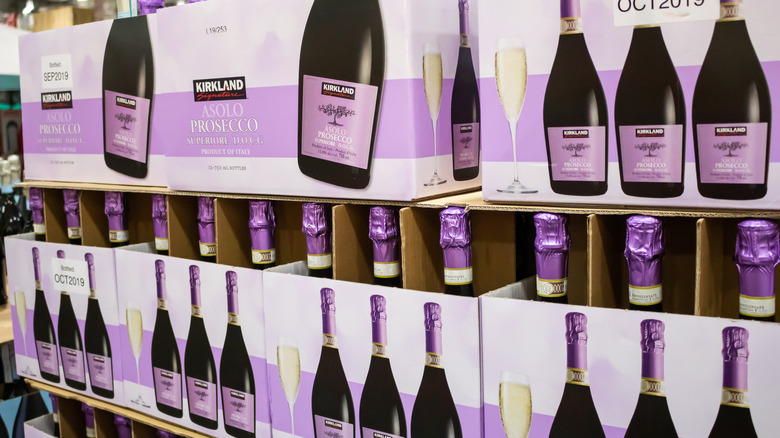 The Image Party/Shutterstock
Prosecco is the bubbly Italian relative to French Champagne, and Kirkland Signature's Asolo Prosecco is a bargain bottle that beyond delivers in the flavor department. The wine is floral and fruity, with a natural sweetness reminiscent of honey or apple slices. The Prosecco has just the right amount of fizz to keep it light without the bubbles overtaking the taste of the drink. It's an extra dry sparkling wine that comes from the Veneto region of northern Italy that serves as the perfect excuse to pop some bubbly regardless of a celebration, especially at just $8 a bottle. 
It's great for drinking on its own or in cocktails like a mimosa or bellini, as it's very fizzy and light. Kirkland Signature Asolo Prosecco is a great option when you don't want to shell out top dollar for a bottle of sparkling wine, but still want to drink something that isn't lacking in character and flavor. Some reviews of the bottle remark that the Kirkland version tastes much better than other bargain brands like LaMarca, which is usually sold at a higher price tag. 
Worst: Brunello Di Montalcino
Another Italian wine that isn't the best pick is the Kirkland Signature Brunello di Montalcino. The red wine is made from 100% Sangiovese grapes and is later aged in oak barrels for three years before it reaches the Costco shelves. The Brunello has a pleasant dryness, with notes of red berries and sour cherries taking charge. There's a slight spiciness to round out the fruit, but it just isn't as robust of a red as you'd expect from the flavor profile. Some reviews even remark that the wine feels like it's been watered down, which just takes away from its quality. 
The Kirkland Brunello is also one of the pricier wines from the line at $20 a bottle, and the flavor just doesn't warrant the price tag. One Reddit Costco shopper theorized that the higher-priced bottles of wine from Kirkland usually aren't the best representation of those regions, especially those known for making great wine, meaning they're usually worth skipping altogether. This is "keeping in mind the myriad of better wine options one has at that price point from less expensive regions," they wrote, adding, "I don't think there will be many bad ones, but only a handful of really great ones." 
Best: Chateauneuf-du-Pape
Another coveted release from the southern Rhone valley of France is the Kirkland Signature Chateauneuf-du-Pape bottle. This bold red blend features a combination of Shiraz, Grenache, Mourvedre, and Cinsault grapes from the renowned wine-making region. It's an earthy blend that's rich and well-balanced, with just the right amount of sweetness and spice playing together. Some stand-out notes include dark fruits like currants and blackberries paired with a hint of pepper.
The Kirkland Signature Chateauneuf-du-Pape is another pricer option at about $20 a bottle, but most Costco customers who have purchased a bottle in the past seem to believe it is worth every penny. It's a bottle for special occasions that is still a bargain compared to nice bottles of French red wines that sell for upwards of $40 at an average liquor store, so it's really not too much of a splurge. Plus, the flavors of this red blend are unlike anything you'll find in the average Merlot or Pinot Noir, so you're paying for the exclusivity and the chance to explore a side of the old world of wine. 
Worst: Champagne Brut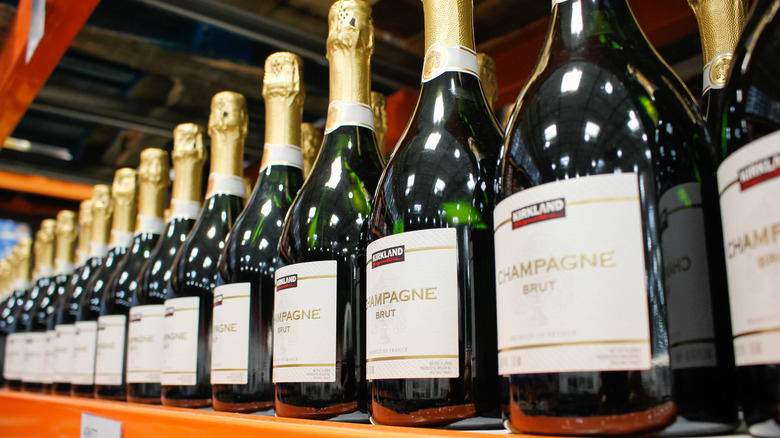 The Image Party/Shutterstock
Kirkland Signature's Prosecco may be a shining star in the line, but the Champagne Brut is one bottle worth skipping. It's a bummer because the idea of discounted Champagne sounds appealing to anyone who enjoys a little bubbly, but that doesn't mean you should have to suffer flavor for the sake of a good deal. The sparkling wine comes from France and features a blend of Pinot Noir, Chardonnay, and Pinot Meunier grapes. The Champagne starts strong with fruity flavors of peaches and oranges, but that quickly goes away to reveal an unpleasant aftertaste that's oddly sour and bitter. 
The sparkling wine bottle is just not as tasty to sip on alone like the Prosecco, but it might be fine to mix into a mimosa or other cocktail. At $20 a bottle, though, there are plenty of better sparkling options that pack a better balance of flavors than this wine. The Kirkland Signature Champagne Brut has had loyal followers in the past, but many reviews from people who were recommended to try the wine state that it fell way beyond their expectations and wasn't worth the money.
Best: Chianti Classico Riserva
A must-try red from Kirkland Signature's wine line is the Chianti Classico Riserva, which sells for a value price of around $9 a bottle when you can find it at your Costco location. This Italian wine is another made from Sangiovese grapes. This option is aged for a minimum of 24 months, and at least three of those are spent in the bottle, to up the intensity of the flavors. The wine is as deep red in color as it is deep in flavors, while still being palatable enough to drink regularly. It's a great option to keep on hand for the average weeknight dinner that you're looking to kick up a notch with a great wine that won't break the bank. 
Kirkland's Chianti is remembered for notes of cherry, vanilla, oak, and leather that perfectly complement its dry and tannic mouthfeel. The Tuscan blend is another great option for pairing with food, whether it be an extravagant steak dinner or takeout pizza. "At this price point, you'd be hard to find a better wine. Big surprise," one Vivino user wrote in a review of Kirkland Signature's Chianti Classico Riserva bottle. 
Worst: Cabernet Sauvignon California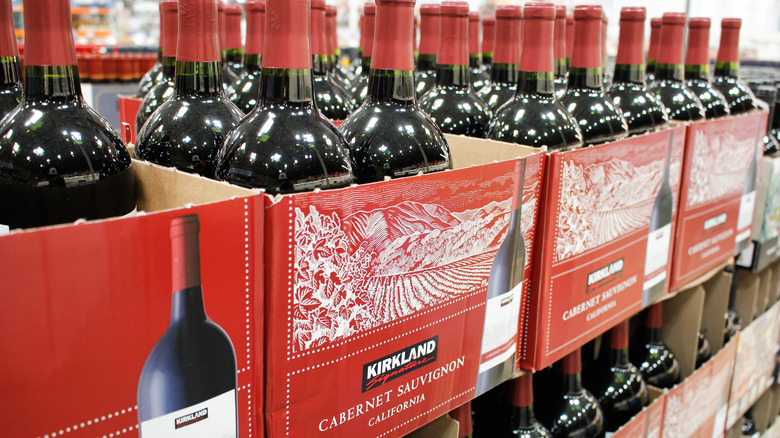 The Image Party/Shutterstock
Kirkland Signature Cabernet Sauvignon is one of the bottles you'll almost always be able to find in the Costco wine aisle. But just because it's a reliable option doesn't mean it's worth buying. The red wine is not the worst of the worst, with most people particularly not liking the version of the wine that is sold in a box. It's not awful, but there are so many better red wines for the price from the line. 
Kirkland's Cabernet Sauvignon has the signature earthy and bold flavor profiles you'd expect from the variety. However, it isn't as rich or complex as other expressions of Californian wine. Costco usually sells this wine for $8 a bottle, which isn't bad. The wine is not a steal for its one-note flavor that gets old after a glass or two, which isn't favorable if you buy an entire box of the stuff. 
Best: Côtes de Provence Rosé
In the summer, wine aficionados know that it's all about rosé all day. It's why when Costco releases its Kirkland Signature Côtes de Provence Rosé in the middle of the year, it tends to sell out pretty quickly according to frequent customers. At $10 a bottle, this rosé is a steal. Unlike other bargain bottles of rosé, it's not overly sweet. 
This bottle of wine is an extremely dry drink with a lot of zest thanks to the right amount of acid. The rosé is a blend of several Provencal grapes including Grenache, Cinsault, Syrah, Vermentino, Carignan, Ugni Blanc, and Mourvedre. Kirkland Signature Côtes de Provence Rosé tastes like summer in a glass. It has the bright flavors of fruits like peaches and lemons without the added sweetness, meaning it's prime for quenching your thirst on even the hottest of days.
Worst: Sonoma County Chardonnay
The final Kirkland Signature bottle of wine worth skipping on your next Costco trip is the Sonoma County Chardonnay. It's another low-cost option at $7 a bottle, but the biggest issue with this wine is that it barely even resembles a typical bottle of Chardonnay. The Costco version of this variation is acidic and sugary rather than buttery and smooth, and it's another bottle with an unfortunate aftertaste. The flavor of straight alcohol is much more present than usual in this variety, especially for a light white wine that typically isn't described as overly boozy. Costco advertises that this is a Chardonnay bursting with fruit flavors, but they are very hard to find even after a few sips. In general, it's hard to distinguish any flavors that feel fresh or natural coming from this blend. 
There are literally hundreds of bottles of Sonoma County Chardonnay worth trying. Unfortunately, Kirkland Signature's expression just isn't one of them. "Not good. Odd fuel flavors. Tastes like cheap 'fake' wine," one Vivino user wrote in a review of the bottle.