TikTok Is Furious At A Starbucks Barista Dumping Tons Of Product Down The Drain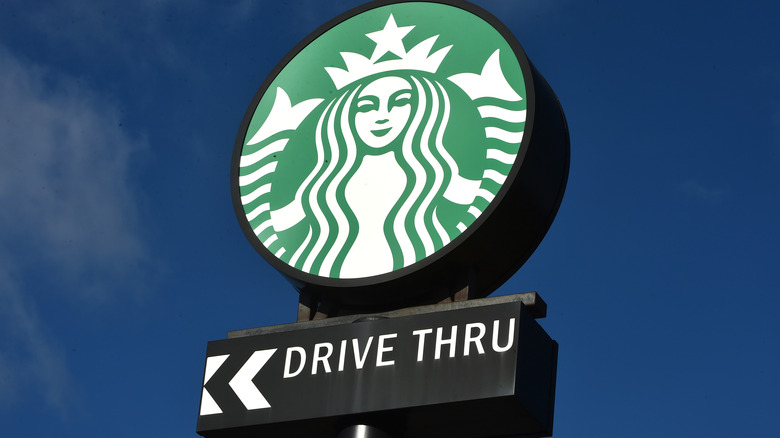 Nathan Stirk/Getty Images
Nobody likes to see food waste, especially at a time when living costs are rising for everyone. Unfortunately, fast food outlets are often some of the worst culprits when it comes to throwing away perfectly consumable food and beverages. Take Chick-fil-A, for example, who, according to Business Insider, was accused of dumping chicken nuggets in the trash, as seen in a viral TikTok video. Although sometimes food cannot be sold past a certain date for safety reasons, many have pointed out that chains could still do better by donating to food banks or letting employees take it home. Some brands do have incentives to tackle this, such as Yum! Brands Harvest Program, which donated 4.3 million pounds of surplus food in 2021, but it isn't standard practice across the industry.
The latest waste-related controversy surrounds Starbucks, a brand that has previously come under fire for its alleged anti-homeless policies, as well as retaliating against its unionized stores. Waste is also a big issue at the coffee chain, with CleanWater claiming that it contributes up to 8,000 cups a minute in plastic waste — that's more than four billion a year. It's no wonder that the internet is raging over the latest Starbucks content on TikTok.
What is Starbucks dumping down the drain?
In the controversial video posted to TikTok, user @angry_barista is seen pouring a large number of Starbucks syrup bottles down the drain, before also emptying the contents of various spice jars into the trash. The video, set to audio from "Turn Down For What", by DJ Snake and Lil Jon, is labeled "getting ready for spring launch," suggesting that these are winter products being thrown out after the promotional season has ended, in advance of new spring beverages arriving on the menu. 
"All those beautiful syrups!!! This hurt to watch," commented one TikTok user. "That's so much waste," added another. Some Starbucks workers took to the comments section to explain that this isn't standard practice across stores and that their surplus of Irish cream, chestnut praline, and other festive flavored syrups had been disposed of differently. "Gave ours to our local food bank. They were excited to share with the community," one person said. But others chimed in to suggest that @angry_barista's store isn't the only Starbucks outlet shunning donation for the sink. "Ex-barista of 5 years — they've been doing this for years its just on camera now," another user clarified.  
Despite this, Starbucks claims to be working towards reducing waste across its stores. "We've long been dedicated to helping protect our planet, establishing environmental standards for coffee suppliers and taking a green approach to store construction," the brand says on its website. "We've worked to eliminate single-use plastic straws, and committed to cutting our waste in half by 2030."