The Store-Bought Ingredient That Makes Starbucks Copycat Bagel Bites A Breeze To Make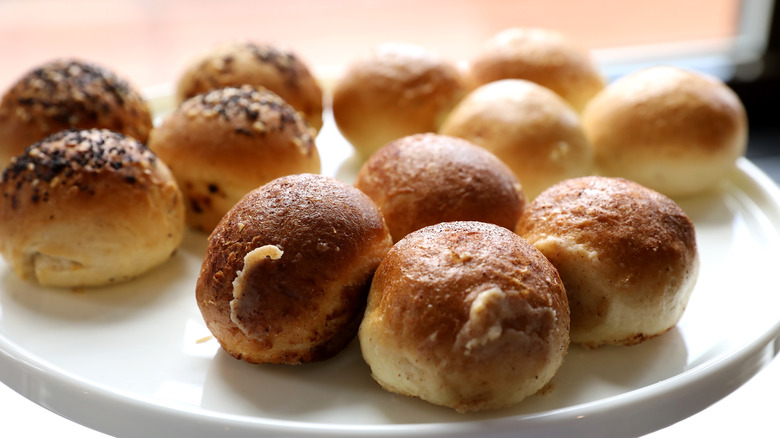 Cindy Ord/Getty Images
Starbucks has become more than just a spot for bold Pike's Place Roast, fancy seasonal lattes, and decadent Frappuccinos. The iconic coffee chain now has quite the beefy breakfast menu, whether you're craving something sweet (like a slice of banana walnut and pecan loaf or a glazed donut) or something savory (like a spinach, feta, and egg white wrap or an Impossible breakfast sandwich). Unfortunately for morning diners, some of the popular food items at Starbucks have been discontinued over the years — like the beloved Bantam Bagels.
The quick snack or breakfast on the go included two petite bagel balls stuffed with cream cheese — think a classic bagel in bite-sized form. Highly recommended for their taste and convenience, they came in three flavors: everything with veggie cream cheese, plain with regular cream cheese, and French toast with maple cream cheese. If you're craving the discontinued bagel bites — which even have a petition for Starbucks to bring them back — you can make a copycat version at home. Even better, they're very easy to whip up using one common store-bought ingredient.
You don't have to make your own dough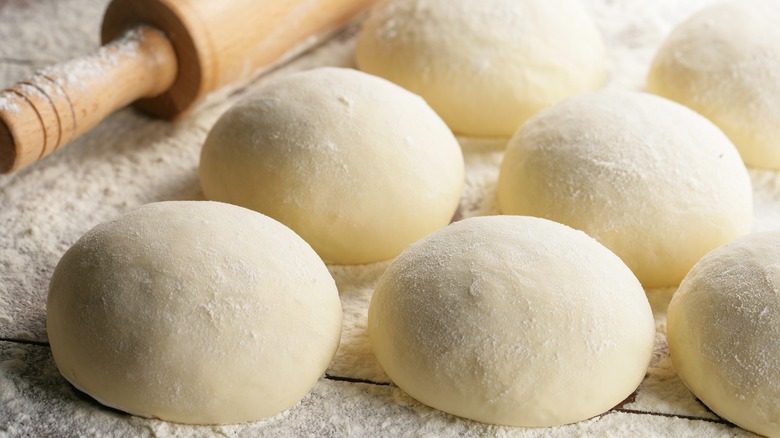 xiaoxiao9119/Shutterstock
One of the trickiest steps in making homemade bagels — whether they're full-size or miniature like the ones from Starbucks — is preparing the dough. Because it's yeasted dough, you have to make sure you mix and knead it just right, then wait a while for it to rise. It's a whole process. Fortunately, to make copycat Starbucks bantam bagels, you can skip that step and use store-bought frozen bread dough instead. In a recently posted video, TikToker @arimonika shared the hack, rolling out Rhodes Yeast Dinner Rolls dough into tiny pieces that she then filled with cream cheese. The result is a very convincing bagel bite.
You don't have to use that specific brand, either — any pre-made bread dough or even pizza dough will work. Food blogger I Am Baker uses a tube of store-bought pizza dough for her bagel bites and says they turn out just like the original Starbucks ones. Note, however, that Pillsbury biscuit dough won't work, according to the Candy Jar Chronicles, who tried it and said it was a fail.