The Flamin' Hot Cheetos Movie: Where And When To Watch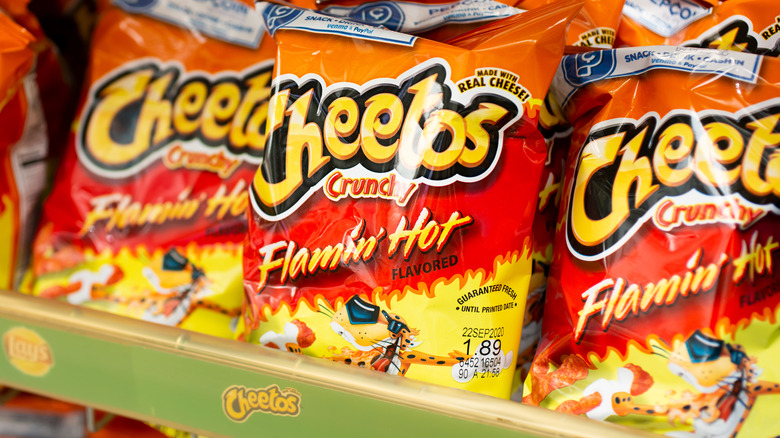 The Image Party/Shutterstock
When it comes to snack foods with unexplainable cult followings, Flamin' Hot Cheetos may be top of mind for many consumers, particularly those with bold tastes. And the reasons are simple: They're undoubtedly spicy, iconically crunchy, and leave fingertips the loveliest shade of firetruck red thanks to their "dust." Polishing off a bag of Flamin' Hot Cheetos is a feat plenty of folks may well consider bragworthy. However, a lot of people may not be aware of the urban legend behind the peppery variety of Frito-Lay's beloved cheese curls.
As one story goes, Richard Montañez, a Mexican-American janitor who worked at the Frito-Lay factory in Rancho Cucamonga, California, was the mind behind the Flamin' Hot seasoning mix. But did this genius ever get the credit he believed he deserved from the company that has introduced some of the most popular brands of all time? Now, Montañez's mysterious tale is being told through the cinematic lens. Soon, the world will know the apparent truth when "Flamin' Hot" airs this year.
Flamin' Hot is set to release in June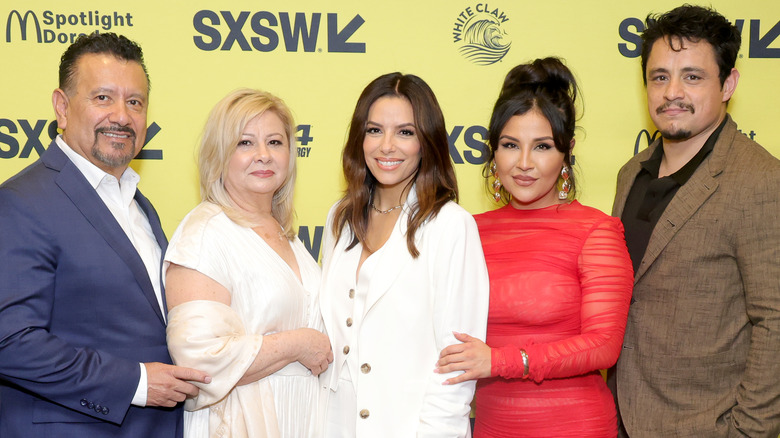 Michael Loccisano/Getty Images
Flamin' Hot Cheetos have become nothing short of a pop culture phenomenon since they hit market shelves more than 30 years ago, but their origin is still up for debate. Even though Richard Montañez claims to be the founder of the variety, having written books on the matter and embarking on speaking tours, Frito-Lay debunked his declaration in a 2021 interview with the Los Angeles Times. Nevertheless, there are people who, to this day, side with Montañez — including an actress-turned-filmmaker who dared to share his legacy.
Heaven knows we need more rags-to-riches biopics, but perhaps "Flamin' Hot" will shed light on the food fable that has been passed down for decades: Who really invented the mega-flavorful, vivid red coating? The film, which was directed by Eva Longoria (yep, you read that right!), premiered at the SXSW Film Festival on March 11. The verdict? Hot!
"Flamin' Hot," which stars Jesse Garcia ("Sons of Anarchy," "From Dusk Till Dawn," and "Narcos: Mexico") as Montañez, will be available to stream on Hulu starting June 9, 2023, per TV Insider. We imagine that some viewers will want to skip the popcorn and stock up on the spicy stuff for this flick!