Chicken Al Pastor Is Hitting Chipotle Menus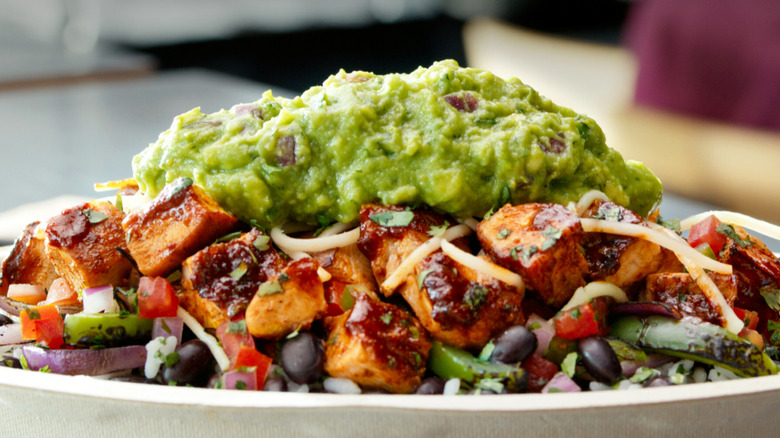 Chipotle
Chipotle is adding a new protein option to its menu, the fast casual chain announced in a press release. Chipotle is debuting a new chicken al pastor on March 16 at all international locations for the first time ever. This means Chipotle fans in Canada, the United Kingdom, Germany, and France will get a taste of the new chicken offering at the same time as fans in the United States.
Chicken al pastor will stand alongside Chipotle's adobo chicken, barbacoa, carnitas, steak, barbacoa, and tofu-based sofritas. In the United States, the new dish will cost 50 cents more than Chipotle's Adobo Chicken. This is slightly cheaper than the garlic-lime pollo asado that Chipotle launched in March 2022 for a limited time. These launches come as part of a menu strategy under CEO Brian Niccol, former Taco Bell chief executive. Chipotle intends to test and introduce new items a few times a year.
Chipotle first tested the Chicken al pastor in 2022 at more than 90 locations in Indianapolis and Denver. It will be available for a limited time, though Chipotle has not disclosed for exactly how long. It is however offering a $0 delivery fee promotion for those that order the Chicken al pastor online or on the app between March 16 and March 26.
What's in Chipotle's chicken al pastor?
Chipotle cited a report from Datassential that showed that 43% of consumers prefer to dine at establishments that offer items that are difficult to make at home or that they choose not to make at home. Chicken al pastor definitely scratches that itch. Additionally, chief marketing officer Chris Brandt noted in a 2022 press release that "Chicken is easily our most popular protein, with many of our most loyal Chipotle customers ordering it the majority of the time."
According to Chipotle, customers have long been craving a spicy version of its chicken. This chicken al pastor is marinated in "Chipotle's signature adobo, morita peppers, and ground achiote with a splash of pineapple," and then "finished with fresh lime and hand-chopped cilantro." While the company aims for rich flavors, at also taps into a dish with a rich history.
The origins of tacos al pastor may surprise you. While it is now a quintessential central Mexican dish, it actually is derived from the vertical spit-cooking of Middle Eastern immigrants. Recipes for the marinate can vary but typically include a combination of dried chilies, spices like oregano and cumin, and achiote paste which gives the meat that characteristic red color. Al pastor is almost always made with pork and finished with chopped onion, cilantro, and fresh pineapple.
Will this new chicken al pastor be a hit or another flop in Chipotle history?