TikTok Swears By These Two Ingredients For Copycat Chick-Fil-A Chicken Minis
Chick-fil-A's breakfast is enjoyed by many every morning on their commute to work. Back in 1986, Chick-fil-A started its foray into breakfast by selling chicken biscuits. Since then, the chain's menu has grown to include over 40 different items including spicy chicken biscuits, breakfast burritos, and more. One of the brightest stars of the breakfast line-up is the chicken minis. They're essentially chicken nuggets sandwiched between a honey-buttered yeast roll. While a trip to the local Chick-fil-A every morning might sound fun, not everyone enjoys waking up early enough to be there before 10:30 a.m. when breakfast stops being served. Some people may just dislike going to Chick-fil-A in general.
Therefore it is a great thing that more and more people are learning to cook their favorite fast food items at home. From KFC to In-N-Out burger and beyond, social media offers countless copycat recipe options to enjoy your favorite meals on a budget, and Chick-fil-A's chicken minis are no exception. 
To make your own minis, one TikTok creator reveals that all you need is a pack of the Just Bare chicken nuggets sold at Costco, honey, butter, and one bag of sister Schubert's parker house rolls, and you'll have your tasty breakfast meal to jump-start your day. Once fans on TikTok got wind of this, they were buzzed.
The breakfast of champions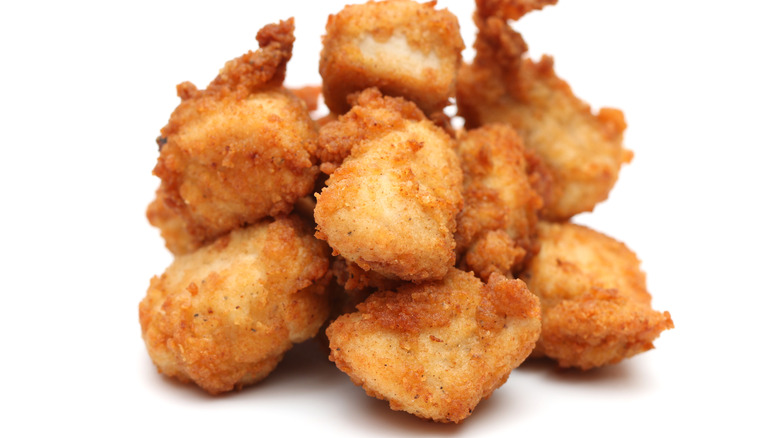 P Maxwell Photography/Shutterstock
For over a decade now, Chick-fil-A has come under fire for its perceived support of anti-LGBTQ+ organizations. As a result, some people feel compelled not to support the chicken chain. However, many will acknowledge the quality taste of the food, so a copycat recipe offers the taste they love while allowing them to stay true to their convictions. "Yummy! And without the hate!" said one user, adding a flurry of rainbow flag emoji.
Other comments highlighted just how people loved the items featured in the TikTok copycat recipe. "Those nuggets taste just like Chick-Fil-a. My kids love them and say they're better than the restaurant," said one mother, while another person proclaimed they were "the best chicken nuggets I've tried."
However, what if you don't have a Costco nearby to buy the Just Bare nuggets brand? Don't fear. It appears another big box department store offers a solution. "I do this, but I use the chicken nuggets from Sam's," was a comment left by one user. No matter which brand you prefer, it's clear that this recipe is well worth a try if you're a fan of chicken minis.