TikTok Is Stunned Over How Popeyes Blackened Chicken Tenders Are Actually Made
Popeyes is known for its sinfully delicious Cajun fried chicken and other crave-worthy Southern eats. From crispy drumsticks to family-style combos and mashed potatoes with gravy, the popular fast-food chain isn't particularly known for being healthy — just mouth-watering. Their famous fried chicken sandwich, for example, boasts 690 calories and 42 grams of saturated fat – not exactly diet-friendly. And as tasty as their food may be, even their sides can be high in calories and fat. But everyone deserves an indulgent meal from time to time, right?
For those who don't eat fried chicken, but still want to enjoy the Cajun kick of a good Popeyes meal, the restaurant's blackened chicken makes for a great alternative. Unfortunately, a Popeyes employee recently took to TikTok to share an unfortunate truth about the chain's blackened chicken that might have you rethinking your order. 
The Popeyes employee revealed to users that the restaurant's blackened chicken is actually fried. The video gives a behind-the-scenes look at the Popeyes kitchen where their chicken is deep-fried to golden perfection. There was only one problem — the blackened chicken was being prepared the exact same way as the fried chicken.
Popeyes blackened chicken is still a healthier alternative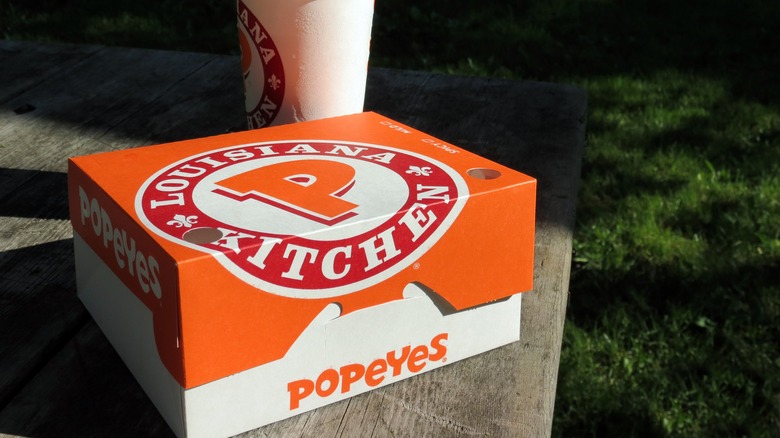 NikDesigns/Shutterstock
A TikTok video showing how Popeyes prepares its blackened chicken sandwich was flooded with comments. One surprised person said, "Wow I thought they were like baked," while another patron actually said they stopped ordering the dish altogether once they learned how the blackened chicken is made. Others came to the chicken's defense noting that "they're still less calories."
While the blackened chicken is indeed fried, Popeye's fans can rest assured that it isn't exactly the same as the chain's breaded chicken. Because it's not battered, the blackened chicken sandwich or tenders are still a good option for someone looking to lower their calorie intake. Breading on fried chicken, alone, can tack on unnecessary calories that you can avoid by ordering blackened chicken, which only has 180 calories per three tenders.
If you want to make it even healthier, try ordering Popeye's blackened chicken with one of their healthier sides, like coleslaw — the perfect order for someone on the keto or paleo diet. But if you're not keen on frying oils, steer clear of the fast food version and try this blackened chicken recipe instead.