Discontinued Menu Items From Steakhouse Chains We Desperately Miss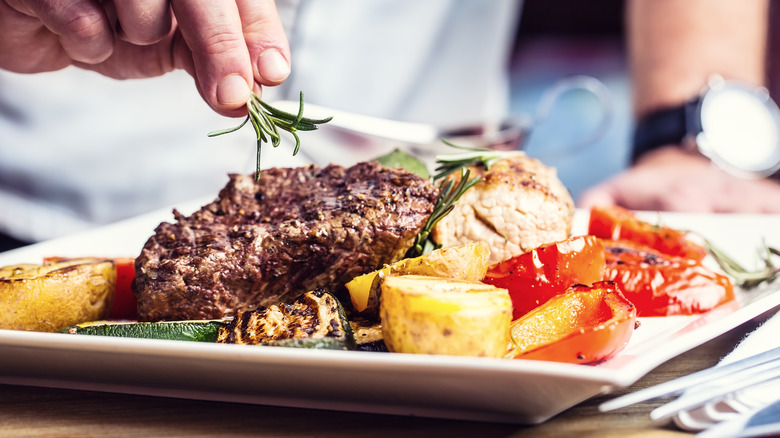 Marianvejcik/Getty Images
Dining at a chain steakhouse is a surefire way to enjoy a delicious, quality meal without worrying about finding something you like or if the quality of the food will be up to your standards. That's what makes this type of restaurant such a popular choice when dining out, whether you're eating in your home city or if you are on the road for business or pleasure. One of the best parts of visiting a chain steakhouse is knowing that you'll be able to order your favorite items at any location, in any city or state. 
This is true in general, but it's not always the case. You probably won't go into a beloved chain steakhouse and find a completely revamped menu, but it's not unusual for restaurants to periodically update their menus. This may involve adding new items for you to discover as well as discontinuing beloved selections that have been around for a while. Sadly, sometimes even longtime customer favorites get cut from the menu never to return. 
When you go into a steakhouse and discover that your go-to item is no longer on the menu, that's a sad day indeed. That's exactly what happened to the tasty (but no longer on the menu) items listed below. They're gone but not forgotten. We're holding out hope that maybe they'll come back one day.
Peppercorn Steak — Fleming's Prime Steakhouse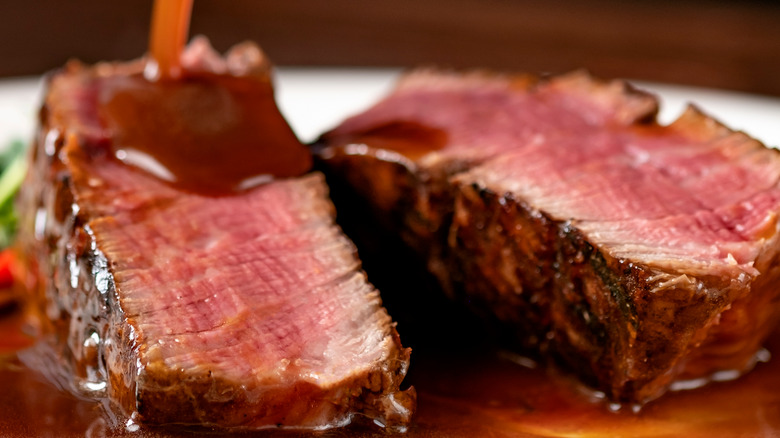 Andrei Iakhniuk/Shutterstock
Steakhouses serve a lot more than just steak, but — as you would expect — red meat is usually the menu focal point at this type of restaurant. Because of that, it's more than a bit surprising when you return to a favorite steakhouse only to discover that the steak dish you enjoyed last time is no longer available. It's more likely that sauces or toppings that you love will be discontinued than specific cuts of steak. That's exactly what happened to fans of the Peppercorn Steak that Fleming's Prime Steakhouse & Wine Bar used to serve.
Fleming's added Peppercorn Steak to its menu back in 2010, but as delicious as it was, this delicious steak did not survive the test of time. We were so sad to see this uniquely seasoned steak disappear from the menu, as it didn't come with an ordinary creamy peppercorn sauce. Instead, this dish featured an unrivaled sweet and spicy steak sauce that also had a hint of citrus and a bit of a smoky taste. Fleming's called the sauce F17, but the chain never revealed all of the ingredients. We've not found anything quite the same, so we continue to harbor hope that maybe it will come back. 
Prime rib — Saltgrass Steakhouse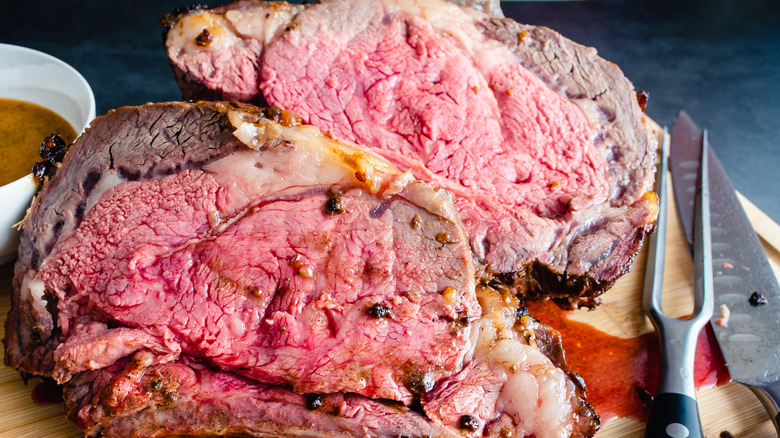 Candice Bell/Getty Images
Fleming's Prime isn't the only steakhouse chain that has removed a staple beef dish from its menu. Saltgrass Steakhouse once served thick slabs of prime rib, but its menus no longer carry this item. Back in 2018, Saltgrass highlighted its cooked-to-perfection prime rib on its Facebook page, but now the chain no longer serves this one-time staple that customers seem to have really loved.
We'd love to see Saltgrass make prime rib available once again, and it seems we're not the only ones. Now that Saltgrass no longer serves this item, customers are taking to Tripadvisor and Yelp to lament the fact that they can no longer order prime rib at this establishment.
Saltgrass Steakhouse's menu does still feature plenty of red meat options in the form of steaks and burgers, but if you're looking for prime rib, you won't find it here anymore. The steak and burgers do taste great, but they just don't hit the spot when a thick, juicy slab of prime rib is what you're craving.
Quesadillas — Outback Steakhouse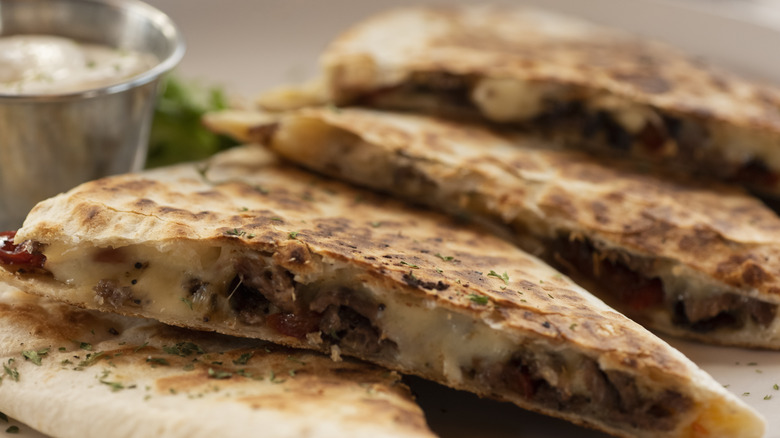 Gary Quay/Getty Images
Outback Steakhouse might not be the first place you think of going when you're craving a quesadilla, but its menu used to include both beef quesadillas and chicken quesadillas. The chain offered a Steakhouse Quesadilla made with beef and an Alice Springs Quesadilla featuring chicken. Outback does still have Alice Springs Chicken on its menu, but only as an entree. 
Tortillas are not offered as a side at Outback, but you could make your own quesadillas by going on an Outback secret menu adventure. Simply order Alice Springs Chicken to go, then make it into quesadillas at home with your own tortillas. Feel free to do the same with a takeout order of your favorite steak from the menu. 
If you never tried a quesadilla at Outback, that may be a good thing. Don't get us wrong — the quesadillas were fabulous. But if you never tasted them in the first place, you won't pine for a once-favorite appetizer that is no longer available in the restaurant. At least Outback did its customers a solid by letting them know via Twitter when the company decided to remove quesadillas from its menu. 
Sierra Chicken Pasta — Texas Roadhouse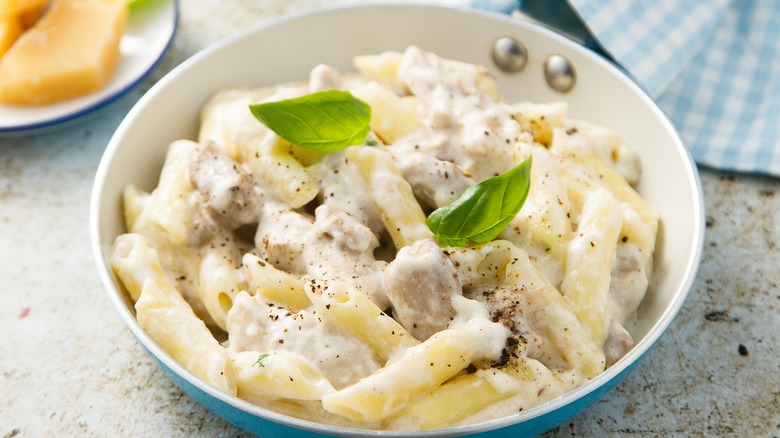 MariaKovaleva/Shutterstock
Want pasta for dinner? At one time you could have gotten a wonderful pasta dinner at Texas Roadhouse, but we're sad to say that is no longer the case. Texas Roadhouse used to serve a tantalizing pasta dish called Sierra Chicken Pasta. This rich and creamy meal included grilled chicken, penne pasta, and a decadently delicious cream sauce flavored with peppers, onions, and asiago cheese.
Sierra Chicken Pasta was quite delicious but, alas, is available no more. Texas Roadhouse does still have grilled chicken entrees on its menu, but it no longer carries any type of pasta — not as an entree and not as a side. If it's pasta you're craving, you'll need to dine elsewhere, unless this casual dining chain decides to bring back this once-popular dish. On behalf of all the pasta lovers who dine out with their steak-loving friends, we'd like to encourage Texas Roadhouse to open up its menu to pasta again. 
Seafood Fondeaux — Saltgrass Steakhouse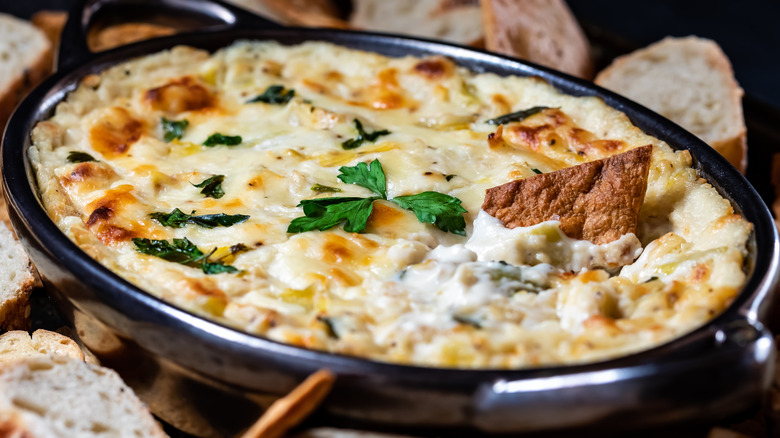 Carey Jaman/Shutterstock
Speaking of rich, creamy, and discontinued, we're sad to say that Saltgrass Steakhouse no longer carries Seafood Fondeux on its menu. Saltgrass featured this decadently rich and flavor-packed dip on its Facebook page back in 2018. The Seafood Fondeaux was also highlighted via a TV station cooking segment that same year. Such recognition speaks to its popularity, but sometimes popularity isn't enough. We're not sure why, but this delicious appetizer disappeared from the Saltgrass Steakhouse menu not long after getting so much positive recognition. 
Saltgrass still carries seafood entrees and shrimp appetizers, but the menu no longer features any kind of fondue or dip. We think that's a shame. What better way to spoil your steak dinner than to eat way too much dip before the entree is served? Maybe this beloved dish that customers have described as amazing will make its way back to Saltgrass Steakhouse's menu at some point in the future. We certainly hope that it does. We'd sure love to enjoy this delicious dip once again.
Walkabout Soup — Outback Steakhouse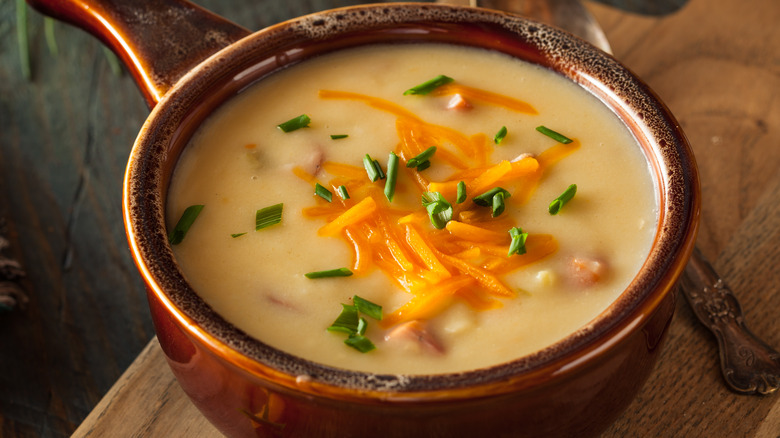 Bhofack2/Getty Images
Outback Steakhouse has terrific soup. As a matter of fact, soup is such an integral part of Outback's menu that the entree section on the menu encourages guests to embellish their order by adding a cup of soup. Outback has several tasty soup options but, alas, the once popular Walkabout Soup is no longer a regular menu item. That's a shame, as nothing fits the restaurant's Aussie theme better than a soup named for the very Australian concept of going on a walkabout. 
You can still get French onion soup, baked potato soup, or Tasmanian chili at Outback, and they all taste great. But we're sad that Walkabout Soup is no longer an option. Are you wondering what you are missing now that this soup's been discontinued? It was a thick, rich, and creamy cheese and onion soup with a chicken stock base. It was super-filling, packed with flavor, and different from any other soup you're likely to try. While patrons can no longer order the soup anytime they like, it did make an all too brief appearance in March 2023 to highlight the brand's 35th anniversary. 
Grilled vegetable skewers — Logan's Roadhouse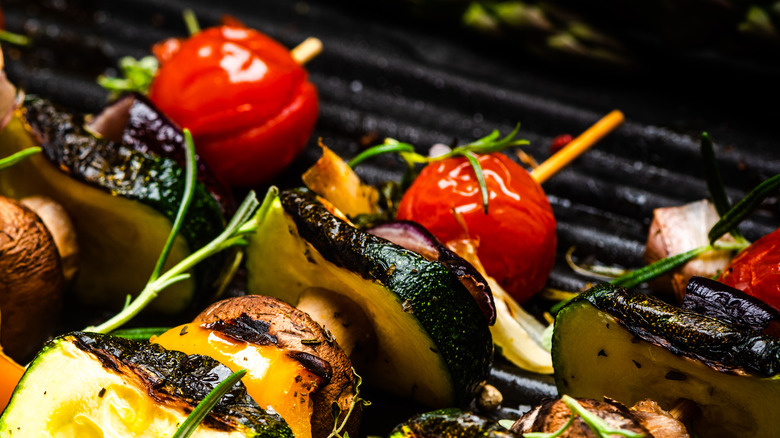 marcin jucha/Shutterstock
Logan's Roadhouse offers a variety of side dishes, but grilled vegetable skewers are not among the options customers can choose from. Logan's served this popular side for several years, but we're sad to say that it's longer on the steakhouse chain's menu. According to a number of Facebook comments, quite a few Logan's Roadhouse customers wish that the restaurant would bring back this beloved side dish. That's certainly understandable, as grilled veggies go perfectly with steak, chicken, and many other dishes on the Logan's Roadhouse menu. 
Not only do grilled vegetable skewers taste great, but they're also a low-calorie and low-carb option. Some commenters have pointed out that this restaurant's grilled vegetable skewers were ideal for diet-conscious diners, but they're not the only ones who miss this side dish. Others simply lament that they can no longer get this unique and deliciously-marinated side dish. Logan's Roadhouse does offer green beans and corn as side dishes for veggie-loving diners, but those selections aren't as exciting as mixed veggies on skewers. To the chagrin of dieters, the other sides on the Logan's Roadhouse menu are mostly calorie and carb-laden potato or rice dishes. 
Warm Apple Cinnabun Sundae — Logan's Roadhouse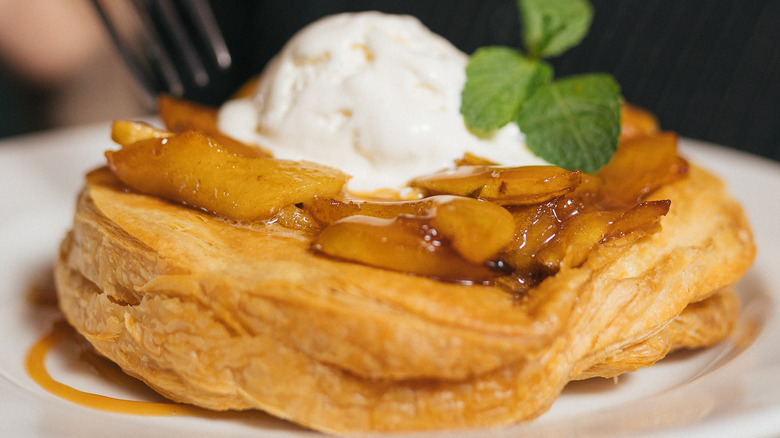 alkostromitin/Shutterstock
It's not just entrees, apps, and sides that get discontinued at steakhouse chains. Desserts sometimes also get the axe. One notable example is the Warm Apple Cinnabun Sundae that Logan's Roadhouse introduced back in 2021. Sadly, this warm and wonderful dessert didn't end up sticking around on the steakhouse chain's dessert menu for the long haul. This now-discontinued treat featured a warm cinnamon roll and cooked apple chunks with an uber-decadent topping of vanilla ice cream and caramel sauce.
The Warm Apple Cinnabun Sundae was the perfect sweet treat to enjoy at the end of a delicious steakhouse meal. It was yummy while it lasted. We don't know why this genius dessert didn't become a permanent menu addition, but we're truly sad that it's no longer available. Logan's Roadhouse does still offer cinnamon apples as a premium side dish, so you could get somewhat close to this dish by combining that side with a scoop of ice cream. You could always feed your craving by ordering cinnamon apples and ice cream to go, then stopping by a bakery on the way home for a hot and fresh cinnamon roll. 
Steak & Bourbon Ice Cream — Longhorn Steakhouse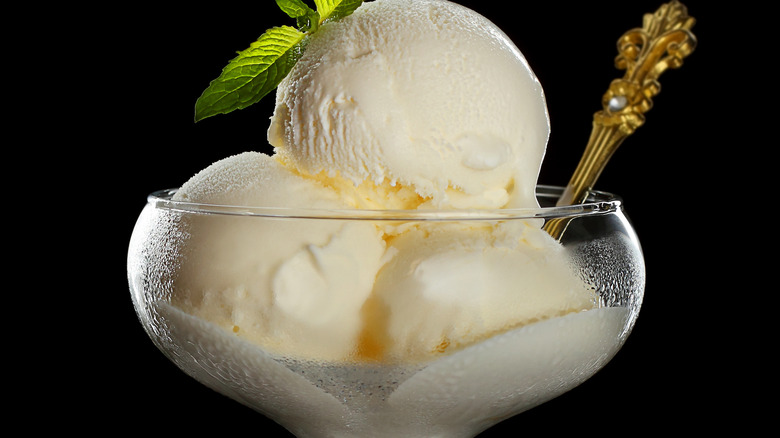 OksanaGoleva/Shutterstock
Steak and potatoes are a natural combination, but what about steak and ice cream? Not so much, you might think — but where's your sense of adventure? Not too long ago, Longhorn Steakhouse decided to combine the two in a truly unique way. How? Well, would you believe that Longhorn actually added Steak & Bourbon Ice Cream to its menu back in 2019? It absolutely did just that. 
To be clear, we're not talking about steak with a side of bourbon-flavored ice cream (which would be strange enough), but actual ice cream with the taste of both bourbon and steak (in the form of beef jerky). Not only did Longhorn serve it in the restaurant, but it also offered it for sale by the pint so customers could take some home for later.
We're betting that only true steak aficionados were truly sad when it was discontinued. We sure wish it was still available — if only to have an opportunity to try it for ourselves. It doesn't sound all that tasty but who knows? It might actually have been delicious. Alas, the restaurant says it has served the very last scoop of this very unusual dessert, so we'll never know. 
Jumbo Lump Crab Cakes — Saltgrass Steakhouse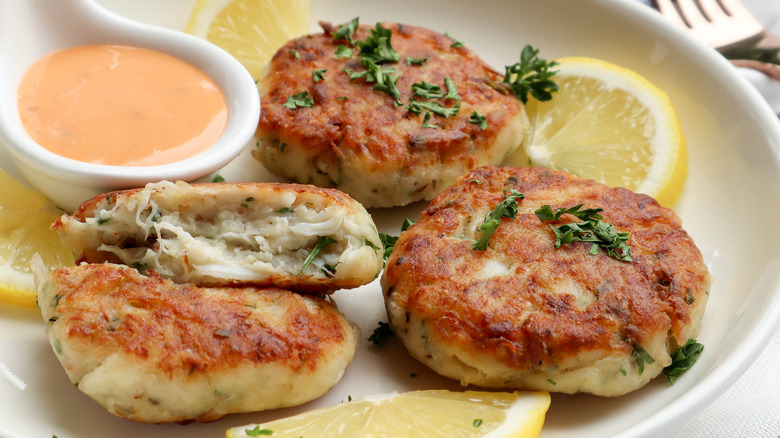 Saowaluck Voraprukpisut/Getty Images
Steak might be an odd flavor to combine with ice cream and bourbon, but crab cakes are a perfectly logical choice for the menu of a steakhouse. After all, surf and turf is a popular combination. Saltgrass Steakhouse used to serve Jumbo Lump Crab Cakes, but they are no longer on the menu at the popular restaurant. Customers seem to have loved this dish, with one praising it highly on Tripadvisor. Even so, it's not currently on the restaurant's menu. We wish it was. 
Fortunately, you will still be able to enjoy lump crabmeat at Saltgrass, just not in the form of crab cakes. Instead, you can enjoy the chain's flavorful Oscar topping. It features lump crab and asparagus in a lemon butter sauce seasoned with capers, green onions, and pepper flakes. You can order Salmon Oscar directly from the menu or add Oscar topping to any steak. Sounds great, right? It certainly does, but it'd be even better if you could also order an appetizer portion of delicious Jumbo Lump Crab Cakes. 
Wedge salad — Outback Steakhouse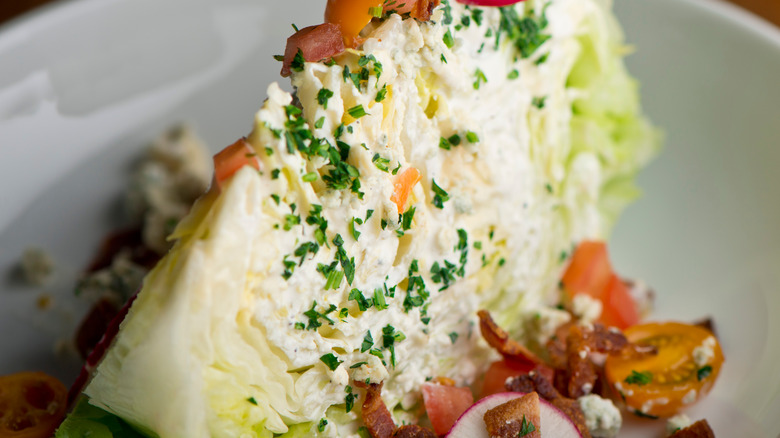 Marie Sonmez Photography/Shutterstock
If you've got your heart set on a wedge salad, Outback Steakhouse isn't the place to go. It was in the past, but that's not the case any longer. The beloved steakhouse is still a great place to go for a salad, as long as you aren't particularly partial to lettuce wedges. Have you been hoping that Outback might bring back lettuce wedges? You're probably not going to get your wish. In response to a 2020 customer tweet, Outback publicly confirmed that its wedge salad has been permanently discontinued.
Outback continues to offer a nice selection of side and entree salads, all of which taste great, but they all start with pieces of lettuce rather than a full wedge. Having options is great, but we're creatures of habit when it comes to salads. We were happy to learn that like the Walkabout Soup, this salad did make a return for a single week in March 2023, however, we miss its daily menu appearance so much that we just might need a few extra loaves of complimentary bread to help us get over the loss.
Maverick Ribeye Sandwich — Longhorn Steakhouse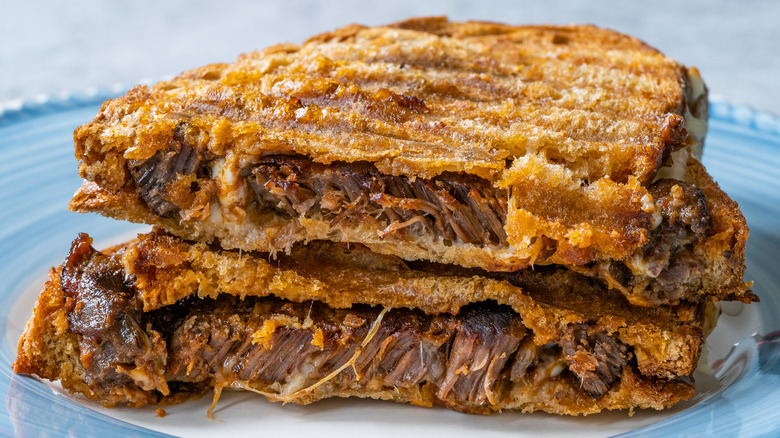 Alp Aksoy/Shutterstock
For years, Longhorn Steakhouse offered a Maverick Ribeye Sandwich that customers adored, but it is no longer on the menu. Customers are not happy about the change — one tweeted that he walked out of the restaurant after discovering that this sandwich had been discontinued, and others have voiced their displeasure about its discontinuation via Facebook.
What's so special about the Maverick Ribeye Sandwich that has people so upset that it is no longer available? This is not just any steak sandwich. This hearty sandwich featured a juicy ribeye (of course) paired with grilled onions and gooey cheese grilled between two slices of fresh bread. It was sort of like a patty melt, but with a ribeye instead of a hamburger.
The Maverick Ribeye Sandwich was a unique and great-tasting lunchtime treat so good that we're not at all surprised that customers are fighting to bring it back. We'd like to add our voices to the chorus and urge Longhorn to reinstate this super sammie. 
Fish 'n chips — Texas Roadhouse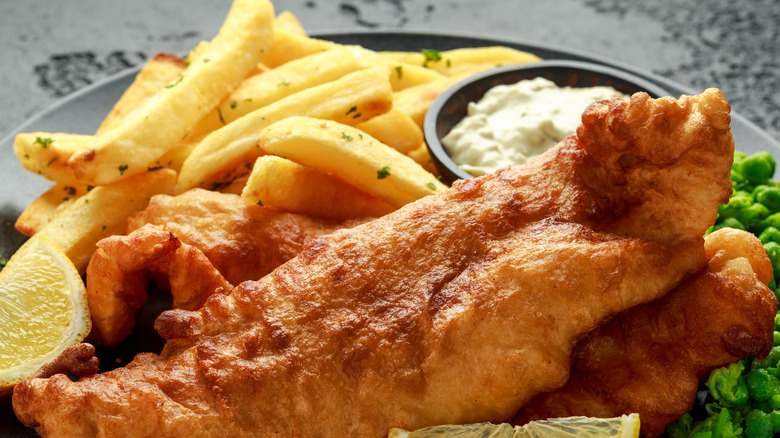 DronG/Shutterstock
Most steak restaurants offer some seafood options, and Texas Roadhouse is no exception. Texas Roadhouse has a limited selection of seafood, which is fine because it is first and foremost a steakhouse. The chain currently offers grilled salmon and grilled shrimp as Dockside Favorites on its menu, both of which are tasty and full of flavor.  
Interestingly enough, those grilled selections weren't always the only surf options at Texas Roadhouse. Did you know that Texas Roadhouse actually used to serve fish 'n chips? That's right. Crunchy, delicious, deep-fried fish fillets paired with French fries. We sure wish we could still find that hearty entree among the seafood selections on the menu. After all, when you've got a hankering for fried seafood, nothing hits the spot quite like a plate piled high with fish 'n chips. Grilled seafood is grand, but fried seafood is fabulous. It just depends on what you're craving. Perhaps the grilled options remain on the menu because people who order the seafood at Texas Roadhouse are generally looking for lighter dishes.