How Steakhouses Really Make Their Money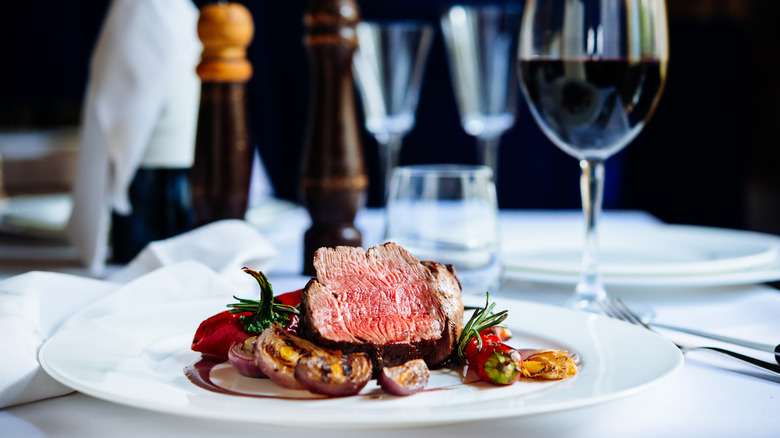 Gregory_lee/Getty Images
Steakhouses are known for their pricey menus, but that doesn't mean they're raking in profits. In an industry with notoriously high overheads and slim profit margins, steakhouses have the unique challenge of making financial returns on menus that are centered around mouth-watering meats whose quality cannot be faked under layers of ingredients and garnishes. There are many ways to know that you're at a bad steakhouse, but cut into a ribeye or porterhouse and you'll know right away if it has the buttery juiciness that's worth your money.
Because of the difficulties posed by these pricey cuts of meat, steakhouses have their own set of business practices that set them apart from other restaurants. They charge a pretty penny for their signature dishes, but they have to find other ways to boost profits where they can. It's an uphill battle, but the industry is booming. According to Statista, eight of the 10 leading fine-dining restaurant chains in the U.S. in 2021 were steakhouses. Traditionally the location of celebrations and business deals, steakhouses have broadened their customer base to become a go-to choice for evenings out for families, friends, and colleagues in a celebratory mood. Keep reading to find out how the absolute best steakhouses make their money despite the unique challenges they face.
Specials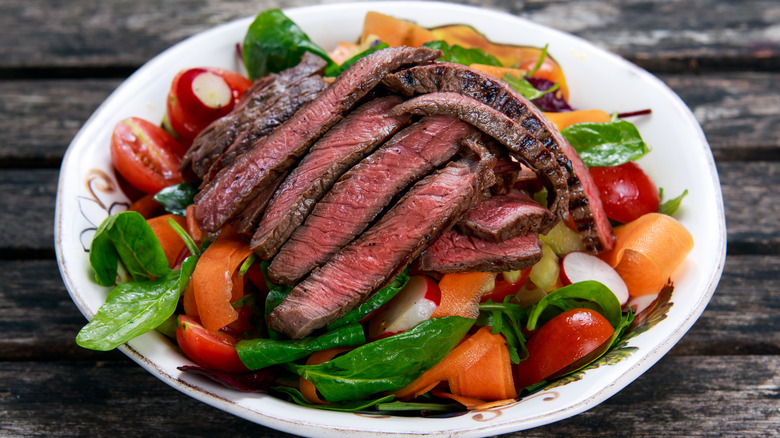 Drong/Getty Images
Pay a visit to your favorite steakhouse on any given evening and you're likely to hear your server list the day's specials. The word "special" and your server's tantalizing description might make these dishes sound like a unique opportunity that can't be missed, but restaurants regularly offer specials to boost their revenue and keep regular customers from getting bored of the standard menu.
Specials help steakhouses turn a healthy profit in multiple ways. For one thing, you might notice that your server doesn't tell you the price of the dish after they spend a lengthy period of time describing it in lavish detail, and that's no mistake. By drawing you in with an irresistible description, they make it easy for you to impulsively order an expensive dish without checking the price.
Another way that specials benefit restaurants is by clearing out leftovers. That delicious wagyu sirloin salad with pear slices and creamy mustard dressing? It's just a cleverly repurposed recipe to use up the ingredients that the steakhouse didn't manage to sell in the previous few days. Instead of letting it go to waste, they serve it to diners as a repackaged daily special and make a note to their buyers to purchase less inventory in the future.
Alcohol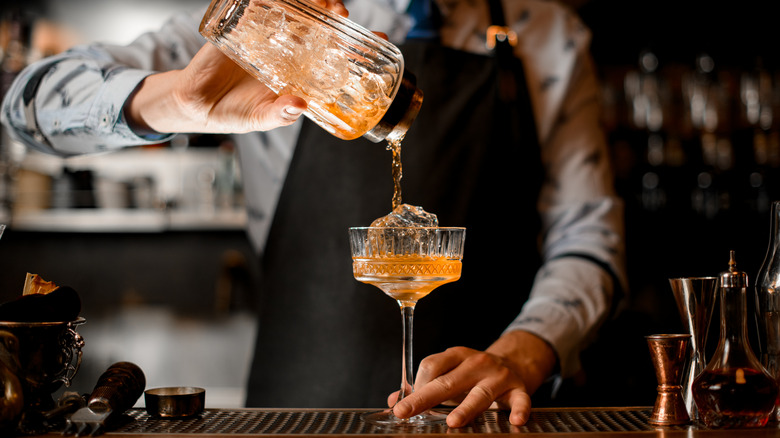 Maksym Fesenko/Shutterstock
It's no secret that restaurants push alcohol on their customers as soon as they walk through the door. They'll direct you to the bar while you wait for your table, offer exclusive wine pairings, and make sure your glass never goes empty. SevenFifty estimates that, while food accounts for 60% to 70% of a restaurant's revenue, beverages account for up to 80% of the gross profits. This astonishing profit margin is the result of several factors. Where food requires an army of cooks and kitchen staff, cocktails only necessitate a few bartenders to churn out enough drinks to serve a full restaurant. 
The profits from alcohol are crucial for steakhouses, especially ones like Texas Roadhouse that set themselves apart from the competition by charging as little as $9.99 for a 6-ounce sirloin. Their margins on meat are as slim as a sirloin tip side steak, making alcohol and other high-margin items the bread and butter of their business. 
For high-end steakhouses, high-quality alcohol offerings are a status symbol. Many have their own sommeliers, and Pappas Bros. Steakhouse in Houston boasts a collection of 40,000 bottles totaling approximately $6 million. Even upscale steakhouses that aren't stocking tens of thousands of bottles of wine link their brands to fine beverages. Ruth's Chris Steak House, for example, offers its annual Tastemaker dinner series that features five-course meals expertly paired with wine and cocktails. By linking their expensive dishes to equally expensive alcohol, steakhouses boost their margins and customer satisfaction.
Desserts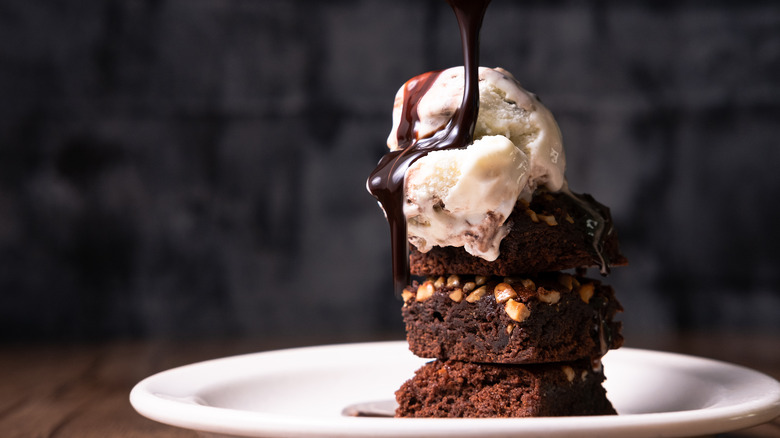 Kevin Ramirez/Getty Images
Desserts are a notoriously unprofitable menu item for restaurants. Customers expect an array of options, but the cost of an in-house pastry chef compared to how much diners are willing to pay for a non-essential treat at the end of their meal can be hard to justify. Added to this unfavorable calculation is the extra time people take at their tables to eat their dessert, time that could be given to new customers who would start to order pricey drinks and entrees in the time it takes for a table of four to pick away at a single fudge brownie. However, steakhouses are a different ballgame, and for them, desserts are one of the many ways they make up for high overheads.
Morton's The Steakhouse, which has long been the favored option of old-school businessmen, revamped its business model in the mid-2010s to appeal to a broader swath of the steak-loving population. Part of its scheme was to add smaller cuts of meat to the menu, giving diners more room for higher profit add-ons like sides and desserts. "If you get a dessert or salad, I'm a very happy person," Morton's chief operating officer Tim Whitlock told Nation's Restaurant News in 2016. The strategy paid off. That year, Morton's surpassed Ruth's Chris Steak House to win the Consumer Picks survey of fine-dining chains. Dessert may not be a high-yield menu item for standard restaurants, but compared with pricey cuts of meat, it can offer steakhouses a comfortable profit margin.
Sides and non-meat options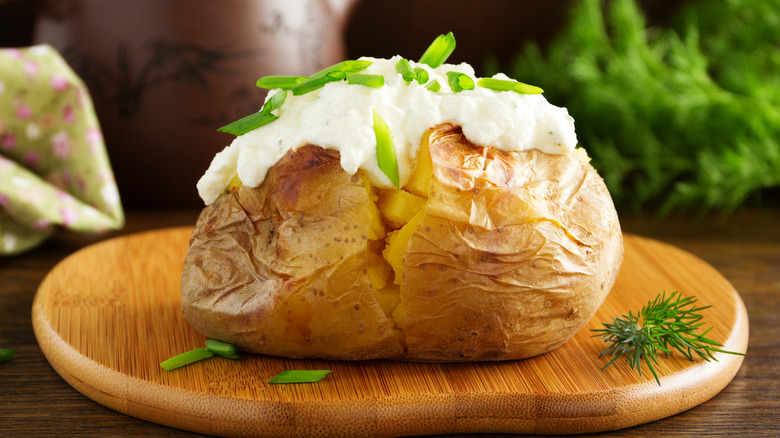 Lesyy/Getty Images
Prime cuts of meat are expensive for everyone, including the restaurants that sell them to you. To compensate for the low-profit beef at the heart of their menus, steakhouses have turned high-profit side dishes and non-meat options into an art form and an arms race. From Outback Steakhouse's Bloomin' Onion to Ruth's Chris' Lobster Mac & Cheese, steakhouses have grown increasingly creative with their non-beef options to draw wider profit margins and appeal to eaters who might not be satisfied with a hunk of choice meat. And although there is one steakhouse that 30% of people agree has the best side dishes, most establishments have successfully turned their non-steak items into the most irresistible and colorful part of their menus.
Potatoes are one of the most popular side dishes for steakhouses. Not only does the creamy starch perfectly complement red meat, but it's also a low-cost, easy-to-prepare, and highly versatile ingredient. According to Idaho Potato, a 50-pound case of potatoes costs a mere $15, or about $0.25 per potato. The price you pay for a baked potato, however, can vary widely from one restaurant to the next — even in the same chain. A baked potato at the famously affordable Texas Roadhouse can range from $2.49 - $3.49 without toppings), while on the other end of the spectrum, Shula's charges anywhere from $9 to $13 for a loaded spud.
Upselling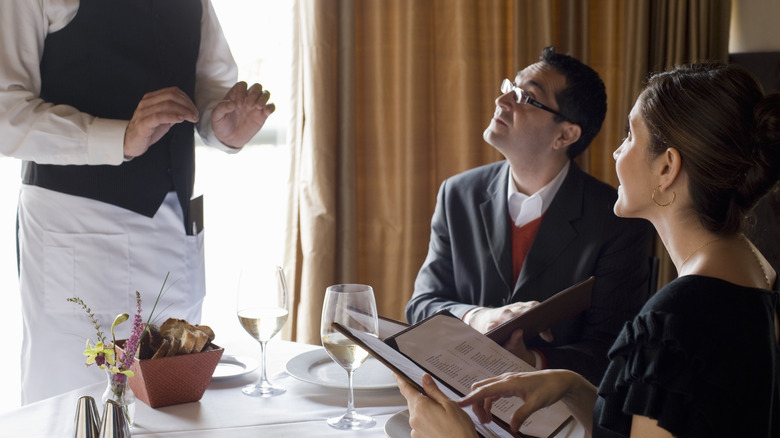 Siri Stafford/Getty Images
Upselling is one of the most iron-clad tactics in the restaurant industry. If you've ever had a server ask if you'd like to add a side to your order or have a second glass of wine, you've been on the receiving end of it. Upselling is when the restaurant steers diners toward ordering more items or upgrading their pre-existing choices. At a steakhouse, your server might ask if you want the 8-ounce sirloin instead of the 6-ounce, or suggest you pair the ribeye with a more expensive wine than the one you were eyeing. 
A good steakhouse will ensure that its upselling methods come across as attentive service that enhances the quality of your experience rather than pushy marketing that makes you feel pressured into spending more than you're comfortable with. However, some steakhouse employees have revealed the challenges of finding a successful balance.
One Texas Roadhouse server took to Reddit to appeal for advice on how to be a better upseller, revealing that his management team analyzed the upselling statistics of every server at the end of each evening. "I'm not awful," he explained, "But management clearly bases my value on how much I up-sell, so they're constantly trying to get me to improve." As the thread illustrates, upselling is make-or-break for steakhouses that eke out their margins from add-ons as minimal as some extra bacon and cheese on a baked potato or additional sauteed onions on a steak.
The all-you-can-eat salad bar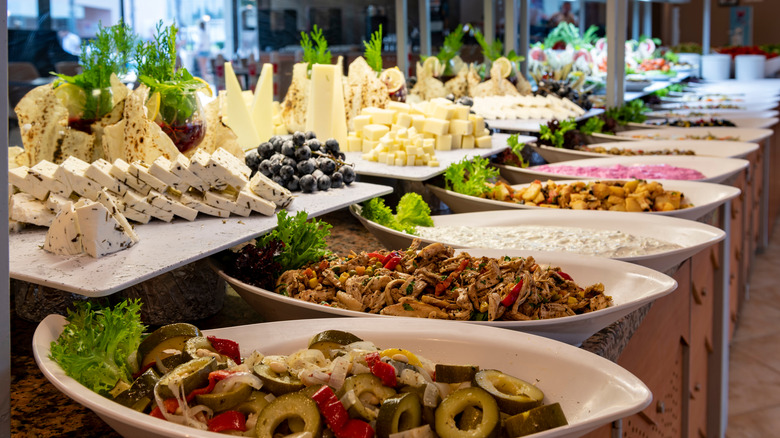 Ender BAYINDIR/Shutterstock
Not all steakhouses have all-you-can-eat salad bars, but the ones that do can make a hefty profit from them. While the meat at a steakhouse is almost always made to order, buffet items are often made ahead of time with cheap ingredients like vegetables and grains that are purchased in bulk. Everyone likes the idea of "free" food, and customers are eager to get the most out of the all-you-can-eat buffet. They'll grab a plate, stock up on heavy carbohydrates and high-volume sides, and realize they're full before they even order their meat. As a result, diners are likely to order fewer of those prime cuts of steak that give restaurants their lowest profit margins.
When it comes to all-you-can-eat steakhouses like Fogo De Chão and Texas De Brazil, the salad bars are an even more crucial element for a healthy profit margin. Walk into your nearest branch of one of these restaurants and you'll see that the salad bar is prominently located, alluringly lit, and overflowing with colorful and abundant options. Look more closely, and you might notice that the bulk of your options skew toward affordable foods like starches and vegetables. When people fill their plates at the salad bar, they'll rely much less on the all-you-can-eat meat skewers floating around the dining room to satiate their hunger.
Menu wording and design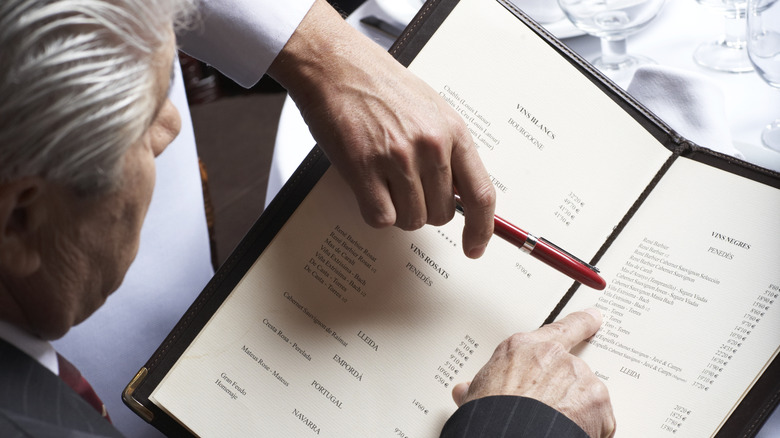 Michael Blann/Getty Images
One of the keys to making people spend more at a steakhouse is the menu. In the industry, the psychological tactics that go into the wording and design are called menu engineering. You might notice that come menus highlight certain items by putting fancy borders around them or using a bolder font. These are usually items that sell well and yield high profits for the restaurant. Many restaurants also choose to eschew dollar signs to avoid reminding the customer of the inverse relationship between the meal and their bank accounts.
One particularly sneaky tactic of menu engineering is to place the most expensive item next to the highest-profit but less expensive options. The contrast in prices makes diners think that the high-profit items offer better value for their money and prompt them to order exactly what the restaurant wants them to.
Making a menu aesthetically pleasing is a crucial part of enticing customers and inspiring them to spend big. Minimalist illustrations, plenty of white space, and carefully chosen fonts all affect the way diners experience a menu and the subliminal messages they receive from it. Big block letters on a laminated page might signal a casual steakhouse, while small, elaborate font on thick paper might convince you that you're in for an upscale evening out. Menus won't divert attention away from the quality of the food, but they can set customers' expectations of the meal and affect what they're willing to spend.
The interior design
Steakhouses aren't trying to sell you their tablecloths or chairs, but they are extracting money from you through their interior decor. Like menu engineering, the design of a restaurant is one of the most crucial factors in how a customer evaluates their experience. A welcoming ambiance helps dictate how long they want to stay at the restaurant, which informs how much money they'll spend. An upscale steakhouse feels like a high-quality dining experience even before you reach your table. Music, smell, noise levels, the comfort of the chairs, and lighting all factor into how a steakhouse is perceived by diners, how long they'll want to stay, and how much money they're willing to spend there. 
Interior design also affects who chooses to frequent the restaurant. In 2018, the London-based Argentinian steakhouse Gaucho was pulled back from a slump with a rebrand that included a fresh revamp of its design. To make Gaucho more welcoming to a broader cross-section of the public, Martin Williams, the CEO of Gaucho's parent company, got rid of the monochromatic color scheme and mirrors and brought in plenty of light and vibrant colors. "The changes we made have made it attractive cross-gender, cross-generation," he told City A.M., explaining that the success of the steakhouse was contingent on removing the intimidation factor that had been present in the original design.
They mark up their prime cuts (but not by much)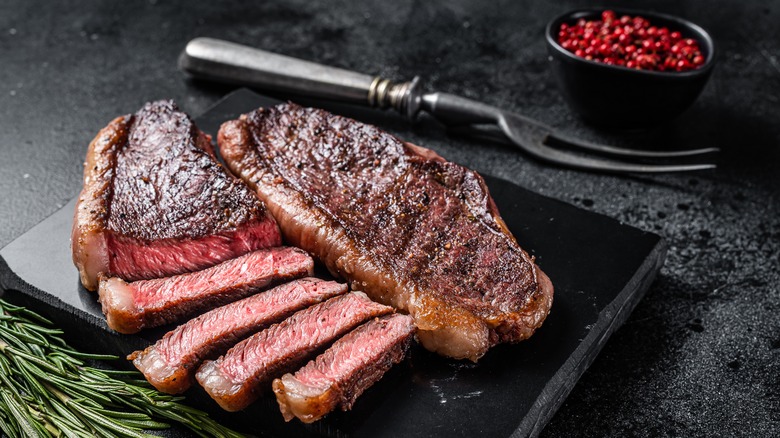 Mironov Vladimir/Shutterstock
While steakhouses have many creative ways to raise their profit margins aside from the beef, they have to mark up their steaks to make ends meet. In 2010, CBS Minnesota investigated why restaurant steaks are so expensive, consulting two steakhouses. Tim Niver, owner of The Strip Club Meats and Fish in St. Paul explained that 30% of the $32 price tag on his best cut of meat goes toward the cost of the steak. The rest goes toward labor, the restaurant's overhead, and its profit margin. Josh Hill, the executive chef at the upscale Manny's Steakhouse revealed that his diners pay $50 for the finest cut of beef on the menu. "You're paying for the highest quality meat," he said, adding, "[Manny's] is a world-class steakhouse, and the price reflects that."
Even with these markups, steakhouses would go out of business if they only served meat. Without high-margin menu items like sides and beverages, they would have to charge significantly higher prices for their steak, which would probably turn away potential customers. In other words, when it comes to foods you overpay for at restaurants, that juicy ribeye should be the least of your concerns.
They save money on kitchen staff
Ground Picture/Shutterstock
Chron estimates that restaurants spend between 25% and 40% of sales revenue on labor costs, depending on the type of restaurant and the level of service offered. Though fast food establishments fall on the lowest end of the spectrum, steakhouses are not much higher. While most upscale restaurants require extensive personnel and premium expertise to produce a range of complex dishes, steakhouses are fairly straightforward. They need a skilled person to operate the grill and turn out perfectly-cooked meats to suit a variety of preferences, but they aren't as likely to employ a fleet of highly-trained, specialty cooks for the other dishes. 
Because of this, steakhouses make up for the high price of beef with leaner labor costs. Even at the most upscale steakhouses, the kitchen staff may be much less of an expense than they are at other types of fine dining restaurants where the chefs hand-make everything from the dinner rolls at the beginning of the meal to the ice cream for dessert. With smaller or less highly-trained workforces, steakhouses are able to minimize one of the industry's biggest expenses.
They attract excellent servers, which leads to high customer satisfaction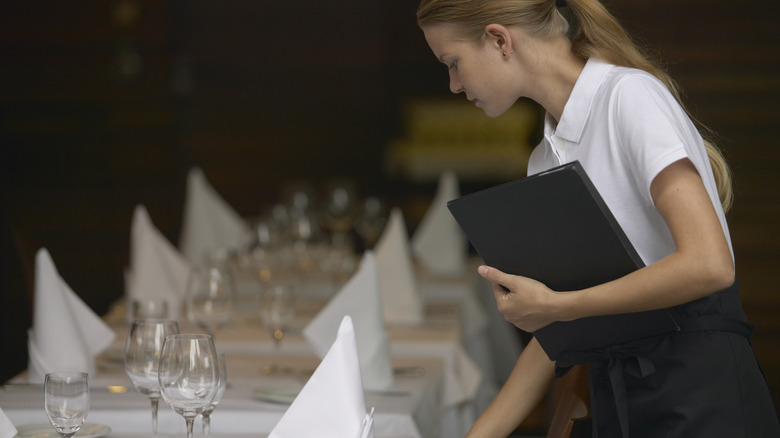 Jochen Sand/Getty Images
Despite their low profit margins, steakhouses are known for their sky-high revenues. Customers spend, on average, much more at steakhouses than they do at other types of restaurants apart from the priciest fine dining establishments, largely due to the expensive steak entrees. Add the perfect wine pairing to the bill and some skillful upselling from the waiter, and you're looking at a costly check, regardless of whether you're eating at a casual steakhouse or Prime in Las Vegas where a steak can set you back $165.
As a consequence of these high check averages, tips are also high. Waiters know that steakhouses are some of the restaurants that generate the best tips, and they're willing to put in the leg work and charisma to earn their 20% on those pricey tabs. For the restaurant, it's a win-win: excellent service leads to loyal customers who will help keep business booming and profit margins high.
Offering takeout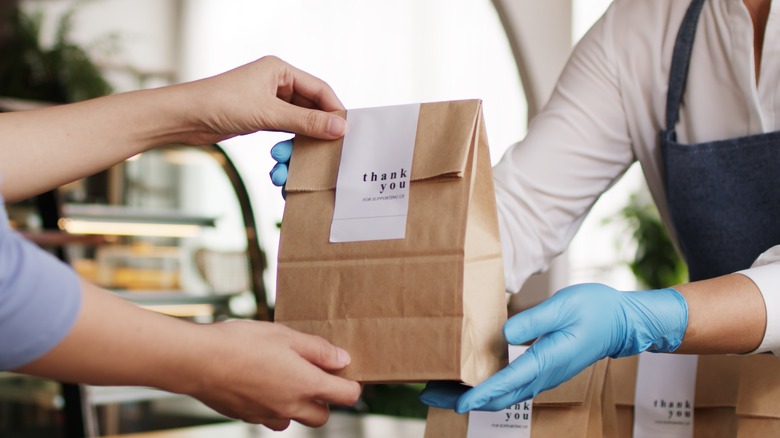 Chaay_Tee/Shutterstock
If restaurants don't offer takeout, their revenue is limited to the number of people they can fit at their tables. Offering takeout lets them serve many more customers than their dine-in capacity allows without the added cost of additional waitstaff. As long as the kitchen can manage the extra volume, the number of sales can skyrocket. Steakhouses have benefited from adding takeout to their business models in recent years. Regardless of how big their dining rooms are, additional revenue from takeout orders is always welcome.
During the COVID-19 pandemic in 2020, for example, Outback Steakhouse bolstered its sales by taking off-premise orders. Even as in-person customers returned, however, takeout orders still accounted for approximately 50% of sales, demonstrating the long-term profitability potential of this type of service (via Restaurant Dive).
Similarly, Restaurant Business reported in 2021 that LongHorn Steakhouse saw dine-in sales jump from 3.8% growth to 23.2% growth over one week, while its takeout percentage didn't budge from 21%. Though steakhouses have historically been a place for people to celebrate and splurge for special occasions, takeout orders are a major source of profit that can shore up their margins and build a new foundation of loyal customers without the costs associated with in-person dining.
Deals, happy hours, and combos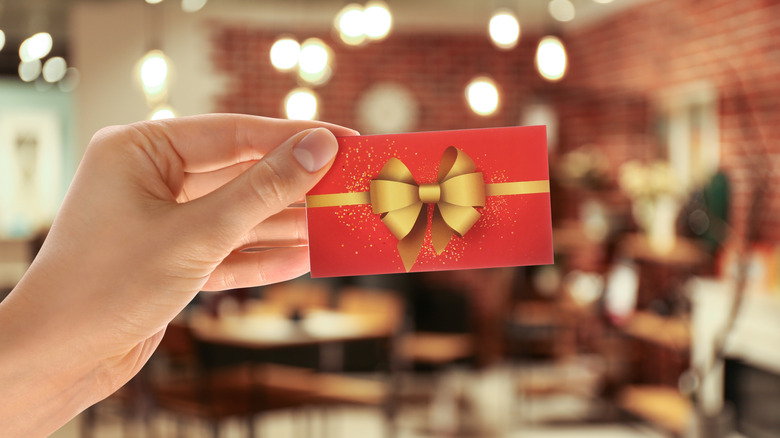 New Africa/Shutterstock
Those deals that you see advertised on menu cards and social media might seem generous, but they're actually a time-honored ploy to boost the bottom line. Deals such as happy hours, lunch specials, and prix fixe menus lure in potential customers who need an extra push to get through the door and strengthen the loyalty of repeat customers. Ruth's Chris Steak House offers a fixed-price, three-course meal for two every Monday through Thursday, helping to fill the restaurant on sluggish weekdays and giving customers an excuse to go on a date night mid-week. Happy hours also help steakhouses fill seats in the slow hours before the nighttime rush. For example, Del Frisco's offers discounts on a shortened menu alongside $5 beers and $8 cocktails.
Even budget-minded steakhouses find value in offering deals. In 2020, Outback Steakhouse lured diners back into its restaurants by introducing the "Steak 'N Mate Combos," allowing customers to choose from a generous array of pairings for a fixed price.
Deals and promotions ensure that steakhouses avoid slow periods and bring in a new set of customers. People who can afford the happy hour at Del Frisco's can't necessarily afford a steak within the restaurant's standard $40-55 price range, but they can sit around the bar and spend modest amounts on bar food. According to a 2018 Nielsen study, these amounts add up: 60.5% of average weekly restaurant sales were attributed to happy hours (via NCR).