Alton Brown's Secret Ingredient For Fluffy Scrambled Eggs - Exclusive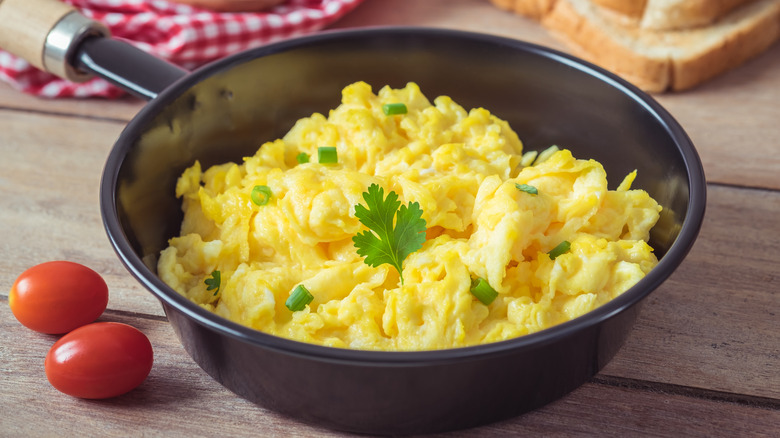 Amarita/Getty Images
Here at Mashed, we love a good egg hack — especially when cooking the protein is a part of our daily morning routines. While Martha Stewart's secret ingredient for eggs is clarified butter, Alton Brown has another unexpected food in mind. In an exclusive in-person interview with our sister site Health Digest, Alton Brown revealed the one ingredient that takes his morning breakfast from good to great (and no, we aren't talking about the overnight oats that we made with Brown in an intimate cooking class).
The "Cutthroat Kitchen" host named aquafaba — the water that chickpeas and other legumes are boiled in — as his confidential secret to the most delicious and fluffiest scrambled eggs. "Every can of cooked chickpeas is packed full of this stuff, so you might as well use it," Brown said after his intriguing culinary demonstration. "There are a lot of recipes for meringues and macaron cookies made with aquafaba because it is a protein-laden liquid that acts in some cases a lot like egg whites, without having any egg," he continued.
Aquafaba can replicate egg whites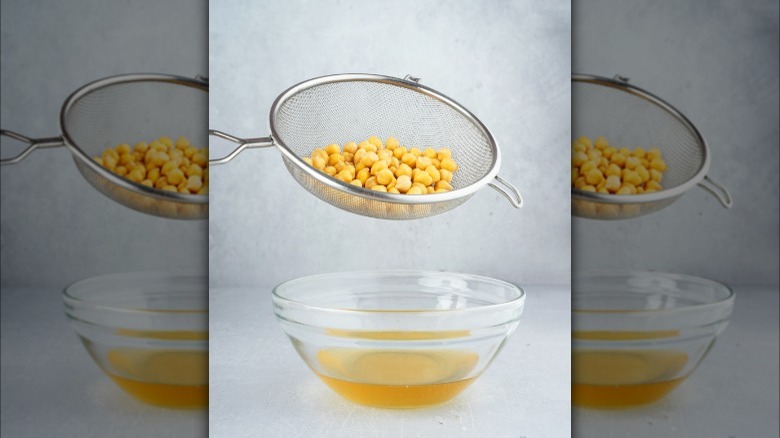 Garnar/Shutterstock
According to Alton Brown, aquafaba "froths like egg whites" and is the key to upgrading your scrambled eggs. "If you beat it, then add it to the eggs. Then beat them a little more. It fluffs them up," the "Good Eats" host continued. Brown added that another benefit of the liquid is that it can encourage having more chickpeas in your diet, which are known to be an optimal source of vitamins, minerals, and fiber. This method of thinking fits right in with his recent partnership with brain supplement brand Neuriva.
Like the television personality mentioned, aquafaba can be a great substitute for recipes from marshmallows to lemon meringue pie. In addition to throwing in aquafaba, Brown enjoys his eggs thoroughly beaten and placed "over relatively low heat so the curds build up over time." In this case, you would most likely stir the eggs in a bowl before pouring the mixture into a pan, whereas with high heat, you tend to crack the eggs over the pan and stir constantly. Just throw on some salt and freshly ground pepper (never the table stuff!), and you are ready for the day with a mouthwatering breakfast. 
Static Media owns and operates Mashed and Health Digest.
Learn more about Neuriva supplements here. Keep up with Alton Brown's latest culinary projects on his Instagram page.