Bud Light And Tajín Form An Alliance To Create A Canned Chelada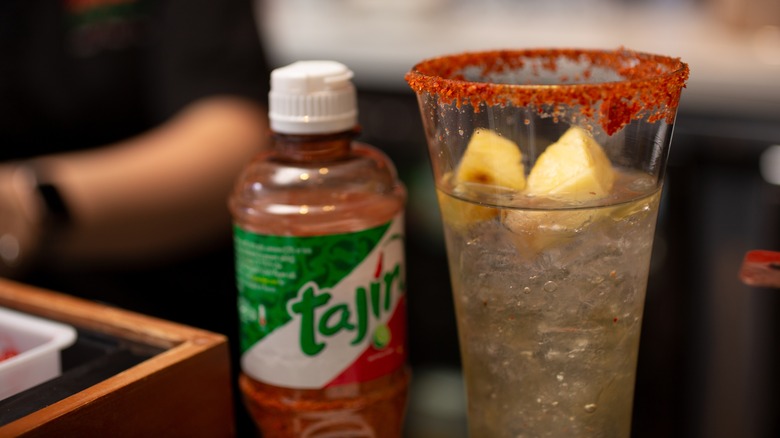 The Image Party/Shutterstock
There's no doubt that spicy food and alcohol are two of our favorite things independently. But put together, they're even better. If you've ever ordered a Bloody Mary with Tabasco at a boozy brunch or tried your hand at making a spicy jalapeño margarita recipe — you've probably experienced the pleasure sensation from this unique flavor combination. The reason spicy food and alcohol work well together is that alcohol is able to dissolve the capsaicin in our mouths, cooling our palate as a result. Even better when you add a dash of lime.
One of the best things to pair a hot sauce or seasoning with is undoubtedly beer, as anyone who has ever reached for an IPA to wash down some spicy buffalo wings will know. It's this combination in particular that well-loved brands Bud Light and Tajín are putting to the test — by teaming up to launch a brand new product, the Bud Light Chelada Tajín Chile Limón.
Bud Light and Tajín team up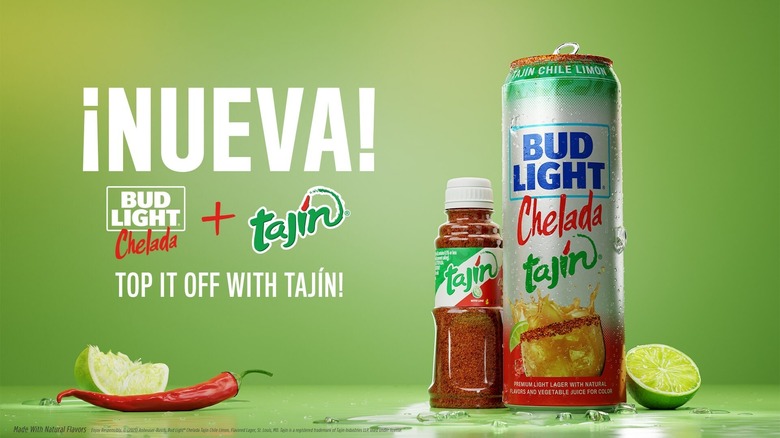 Tajín USA
The new drink combines Tajín seasoning with the classic, crisp taste of Bud Light. "Bud Light has a deep understanding of our fan base and their preferences — whether that be their passions, habits or the flavors they love," Steve Wolf, Vice President of Marketing for Bud Light Extensions, said in the press release. "We're thrilled to be joining forces with the beloved Tajín brand and kick things up a notch with our new Bud Light Chelada Tajín Chile Limón which is certain to give chelada fans that mildly spicy combination they are looking for."
A chelada is a type of Mexican beer cocktail that combines the beverage with lime juice and some sort of seasoning, in this case Bud Light and Tajín. If reading that made you thirsty, the hot new beverage arrives in stores on March 27, 2023 so you won't have to wait long before you can try it for yourself. Bud Light Chelada Tajín Chile Limón will be available in 25-oz cans, making it the perfect size whether you're watching football on the couch with a beer or hanging at the bar with friends.