Dungeons & Dragons Is Getting The Coffee Club Treatment
Embarking on a game of Dungeons & Dragons takes some serious energy. A single game can last anywhere from three hours to an entire day, so it makes sense that D&D has finally created their own coffee blends. Those dragons aren't going to slay themselves! Now, fans of the cherished game can choose from four signature flavors to aid them on their adventures. Affectionately named Dungeons & Dragons Coffee Club, this new venture is just another way for the franchise's super fans to show their pride for the game. The four coffee blends are based on different notorious monsters in the game. Dungeons & Dragon's website lists all of the coffee's flavor profiles and how they correlate to the character.
The Owlbear blend is a single-origin Arabica blend that's heavy on the chocolate flavor with notes of brown sugar and plum. It's a softer roast ready to help friends or defeat foes. Dragonfire Roast is a bold medium Brazilian Arabica roast, that yields a strong, dark cup with bittersweet coffee notes that can stand up against any enemy. Beholder's Brew is a traditional Italian roast, blending both Brazilian and Peruvian Arabica, with a smooth chocolate flavor. This strong brew brings mental alertness to even the most difficult battles. Last, but not least, is Displacer Beast Decaf, an Arabica blend of bold chocolate flavors that's decaffeinated by the Swiss-water method. This way, you're free to battle without running the risk of ruining a night's sleep. Here's how to energize your sessions.
Caffeine-fueled battles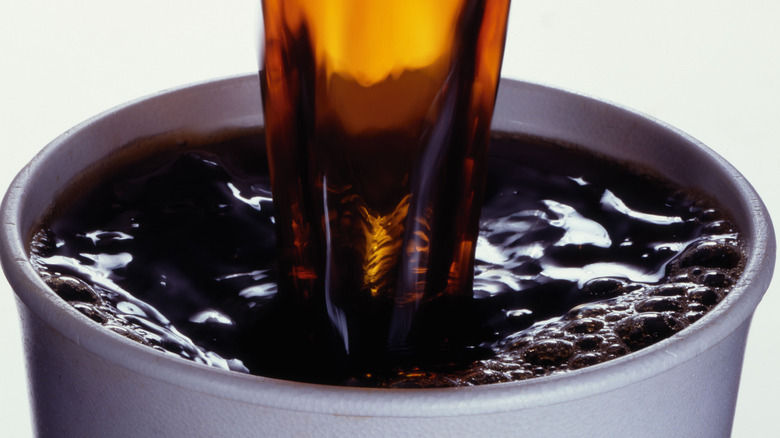 Burke/triolo Productions/Getty Images
The mystical Dungeons & Dragons coffee is offered as a subscription plan, so players can enjoy the convenience of having their unique coffee delivered right to their door each month. You can't interrupt a game to run out and get coffee! Plus, if a customer signs up for a year upfront, they'll receive two months free. D&D is all about loyalty, and this coffee subscription capitalizes on that gaming mentality, with purchases helping players achieve different tier levels equipped with special gifts.
Hit shows like "Stranger Things" and "The Big Bang Theory" have undoubtedly contributed to the recent resurgence of the fantasy game. Complex UK shared that nearly 50 million people have played Dungeons & Dragons since its release in 1974, and the most popular age group playing today is 20 to 24-year-olds. The Dungeons & Dragons Coffee Club will only add another dimension to players' experience, as they can now enjoy some fuel named after their favorite creatures in the game. The coffee will rollout in the UK first, and North America will follow (via Anb Media). And with every cup, this community of storytelling and fantasy-loving fans can enjoy the game even deeper.