Chick-Fil-A Is Bringing Back Its Watermelon Drink With A Few New Twists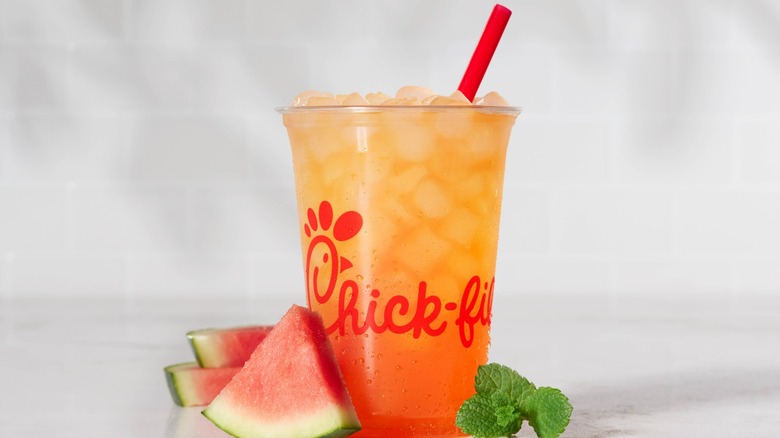 Chick-fil-A
No doubt about it, Chick-fil-A is home to some of the best refreshments around. In addition to classics like Chick-fil-A lemonade and iced tea, the chain also allows customers to ask for drinks to be frosted (meaning mixed with ice cream for a milkshake effect). And soon Chick-fil-A's drink menu is expanding to include three new drinks and one returning fan-favorite. 
If you guessed 2017's Watermelon Mint Lemonade, you'd be correct. The drink is coming back to Chick-fil-A with a few friends starting April 3. The new drinks will be departing at the end of spring — though whether that means at the end of April, May, or even June, we have no idea.
But we're getting ahead of ourselves; let's get you brought up to speed on everything there is to know about the return of Chick-fil-A's Watermelon Mint Lemonade and its three new spinoff drinks.
Chick-fil-A's Watermelon Mint Lemonade now comes frosted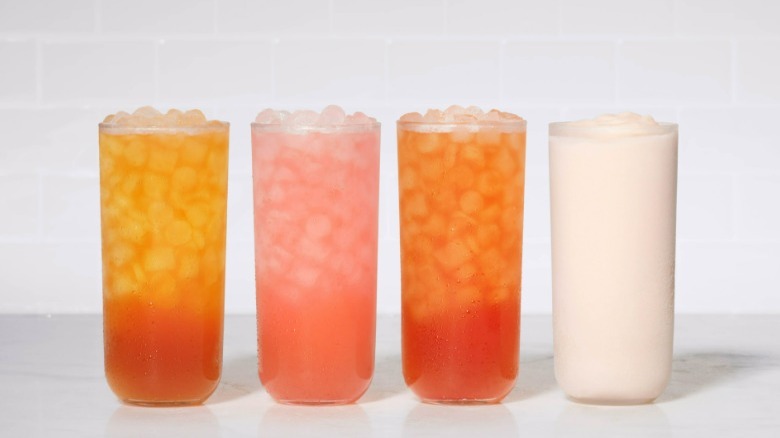 Chick-fil-A
Considering how fans have been begging for the Watermelon Mint Lemonade to return, it only makes sense that Chick-fil-A would bring it back with three new variations. According to a press release, customers will be able to order the Watermelon Mint flavor as a Sunjoy, iced tea, lemonade, or frosted lemonade beverage starting April 3.
As in 2017, the Watermelon Mint Lemonade simply adds watermelon and mint flavors to Chick-fil-A's signature lemonade. The frosted version adds a generous amount of Chick-fil-A's ice cream, resulting in a watermelony, lemony, minty milkshake. The Watermelon Mint iced tea, as you might expect, starts with a regular iced tea and adds the watermelon mint flavor. Last but not least, customers can order a Sunjoy (formerly known as a tea lemonade, up until the lemonade's name change) with watermelon and mint flavoring.
Regardless of which drink you choose, you might as well press pause on your homemade watermelon mint lemonade recipe for now and take advantage of the Chick-fil-A seasonal drinks while you can.