Chick-Fil-A Fans Are Freaking Out About This Lemonade Name Change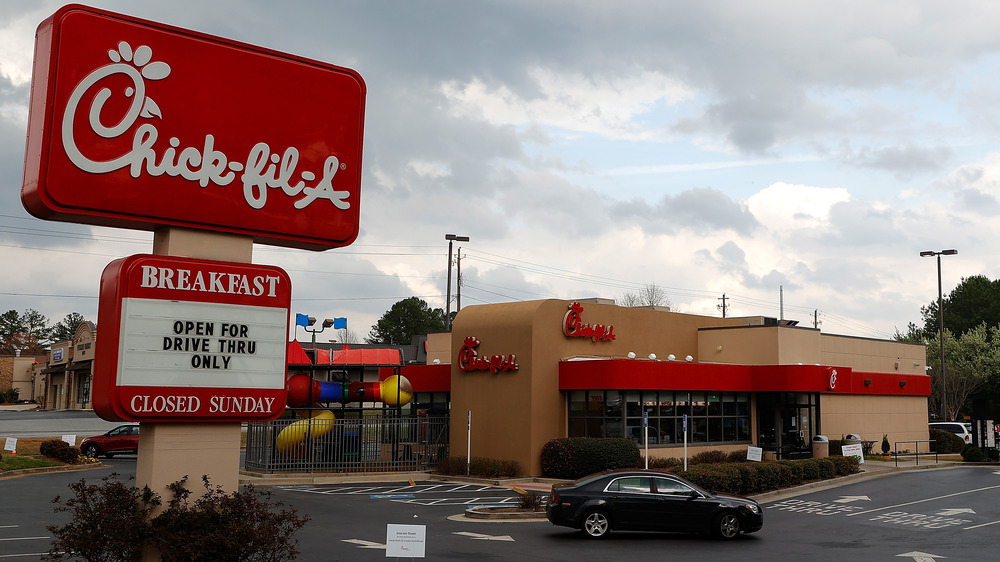 Kevin C. Cox/Getty Images
Many fans of Chick-fil-A love the popular chain not just for its great customer service and crispy chicken, but for its tasty and refreshing seasonal drinks. One of their most popular beverages, a combination of their lemonade and sweet tea, has just gotten a name makeover. The chain has just announced the drink will now officially be called a Sunjoy.
While many people unofficially referred to it as an Arnold Palmer, the classic drink that is made with iced tea and lemonade may also refer to a beverage that contains unsweetened iced tea. Chick-fil-A's trademarked Sunjoy only appears to refer to the chain's blend of sweetened tea and lemonade. Prior to the name change, the drinks were simply called Tea Lemonades (via The Chicken Wire). However, there was still some confusion around what customers should call the drink when they placed their order, with individuals something referring to it as a "half and half," or ordering a regular "Arnold Palmer" but wanting their drink to be made with unsweetened tea, which at Chick-fil-A is sometimes referred to as a "Skinny Arnold," according to Reddit user u/narooskone.
Chick-fil-A can now sell the beverage under the official brand name
Hopefully, the beverage's new name will eliminate any ordering confusion once and for all. The news of the name change has been turning heads online, and many Chick-fil-A fans and workers seem to regard it as a good thing. "They are branding it as an official menu item so that we can portion it correctly, serve it consistently, and be able to make it in bulk," Reddit user u/ChrisRen796 suggested on Reddit. "It's to create brand recognition. Like 'icedream,'" another Reddit user agreed. 
A Chick-fil-A employee further elaborated on the logic behind the name change, explaining "employees are not supposed to use the name Arnold Palmer when referring to the beverage. It's an off-menu drink that's easy to key in to a register but not advertised. By advertising it with a CFA-branded name, they can put it on the menu and make more money by getting more people to order it."
There's one thing for sure: no matter what it's called, many Chick-fil-A fans love the sweet, refreshing blend of tea and lemonade, so it seems sure to remain a popular item no matter what name is listed on the menu.