Southwest Chicken Empanadas Recipe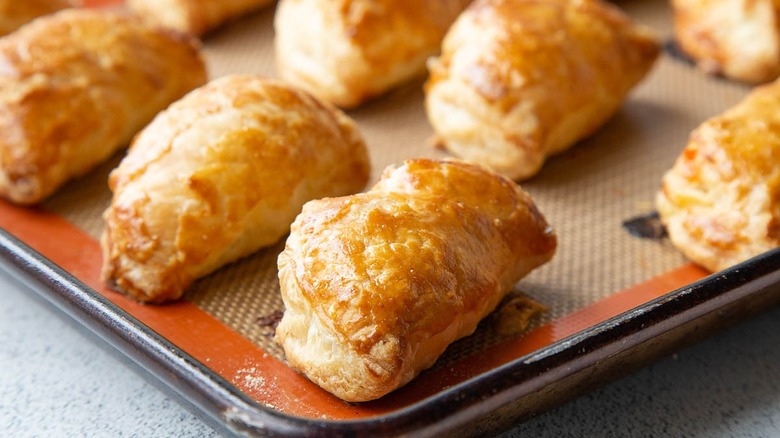 Kate Shungu/Mashed
If you're a fan of flaky snacks with hidden treats, this southwest chicken empanadas recipe should be high on your list. These handheld bites pack plenty of flavor with the perfect crunch, making them an all-around winner whether you're looking for an appetizer for your next dinner party or an easy weeknight dinner. Mashed recipe developer Kate Shungu from the food blog Gift of Hospitality shares this mouthwatering dish with us. 
If you're about to dismiss it because you have no intention of making puff pastry from scratch, you'll be glad to know that her recipe calls for the frozen stuff. In this instance, it will save you tons of time and still offer all the flaky buttery crunch factor you're seeking. Shungu comments, "I love how easy it is to create an impressive appetizer using puff pastry." She describes the final result by saying, "It puffs up big in the oven and creates lots of flaky layers to hold the southwest chicken filling." She even outlines a super easy sour cream dip to serve alongside. Read on for the scoop. 
Gather the ingredients for these southwest chicken empanadas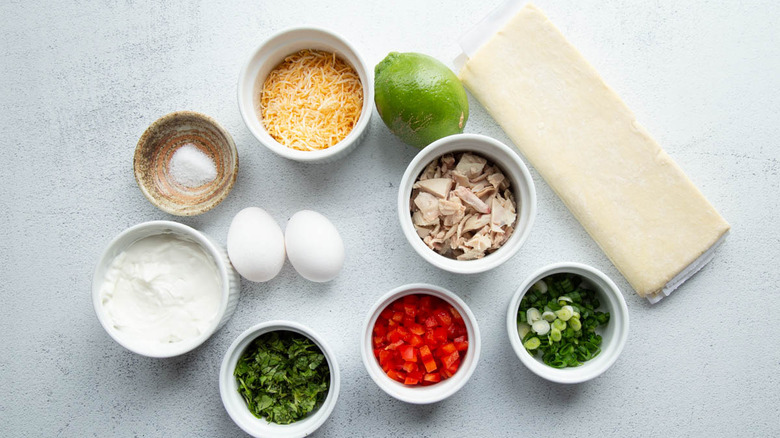 Kate Shungu/Mashed
For the southwest chicken filling you'll need to dice a piece of cooked chicken, shred some Colby Jack cheese, chop a bell pepper and cilantro, thinly slice a couple of green onions, and juice a lime. Keep some salt handy to season the mixture. 
Next, you'll need to defrost two puff pastry sheets, though Shungu advises, "Make sure that the puff pastry stays cold," and recommends to "keep it in the refrigerator until you're ready to use it." She explains that this will "create maximum flakiness in the oven." 
To seal the pastry and ensure a nice golden crust, use a beaten egg mixture. Finally, the dip consists of sour cream mixed with chopped cilantro and lime juice.
Start by making the filling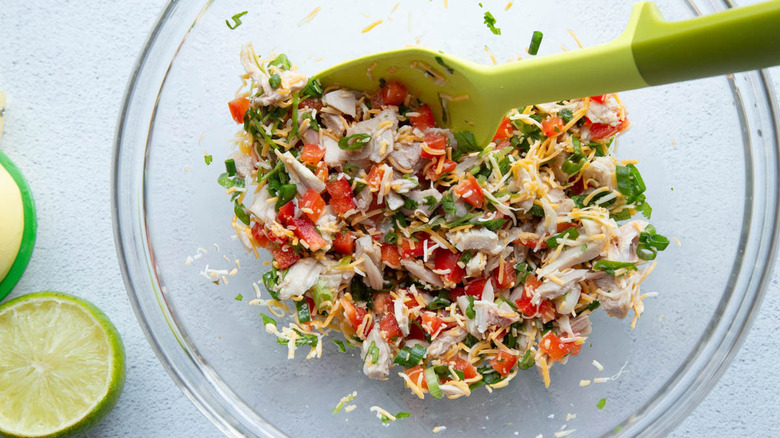 Kate Shungu/Mashed
Start by turning on your oven to preheat to 425 F. Then, line a large baking sheet with parchment paper or lay down a silicone baking mat. 
Set out a medium-sized mixing bowl and toss in the chicken, cheese, bell pepper, and green onions. Add in half of the chopped cilantro and 1 tablespoon of lime juice. Season the mixture with salt and stir everything together until it's properly combined.
Prepare the pastry rounds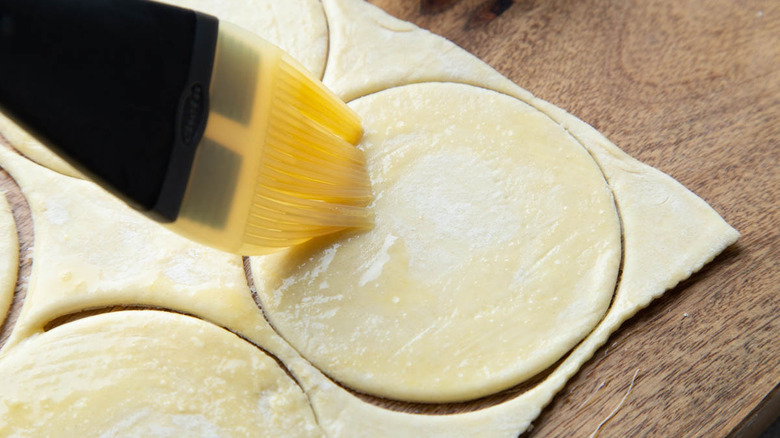 Kate Shungu/Mashed
Starting with one puff pastry sheet, place it on a flat surface and roll it out into an 11x11-inch square with a rolling pin. Then, use a 3 ½-inch biscuit cutter (or a glass if you don't have one) and cut eight or nine pieces into the dough. Do the same thing with the second piece of puff pastry — you should have about 16 to 18 dough rounds.
Dip a pastry brush into the beaten egg mixture and brush the perimeter of the pastry rounds. 
Fill the empanadas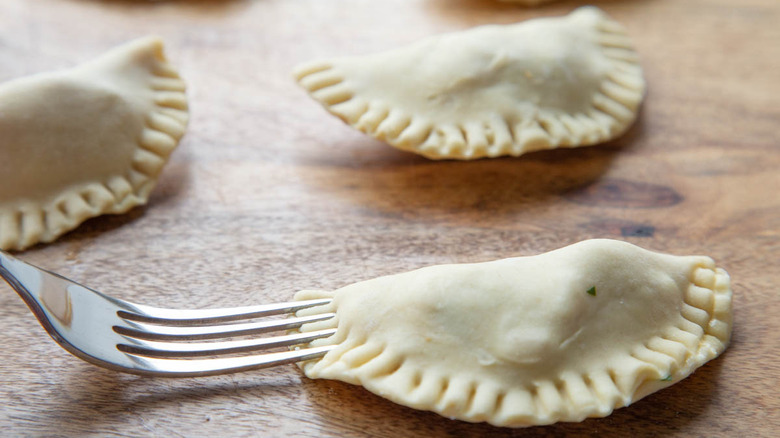 Kate Shungu/Mashed
One by one, scoop about 1 tablespoon of chicken filling into the center of the pastry rounds. Fold the dough over itself to make a half moon shape. Then, use a fork to crimp the edges to keep the empanadas nicely sealed while they bake.
‌Place the empanadas on the lined baking sheet and brush the tops with the rest of the beaten egg mixture for a golden finish.
Prepare the dip while the empanadas bake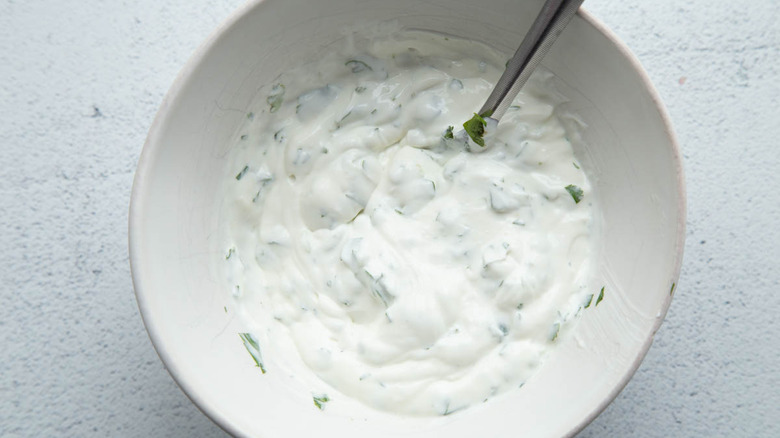 Kate Shungu/Mashed
Once the oven is preheated, place the baking sheet on a rack and bake the empanadas for 20 to 24 minutes until they are a nice golden brown color.
‌As they are in the oven, mix the sour cream with the rest of the cilantro and lime juice in a small bowl.
Serve the warm empanadas with dip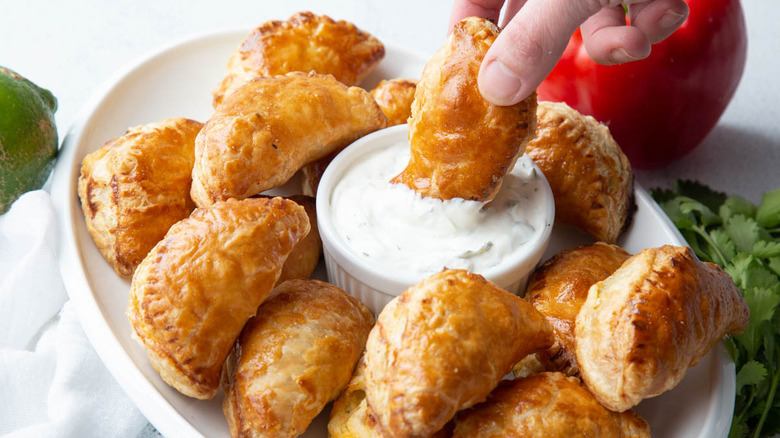 Kate Shungu/Mashed
Once the empanadas are ready, transfer them to a serving dish with the sour cream dip and enjoy them warm. Shungu shares, "I like these as an appetizer or light dinner (I would add a leafy green salad.)"
While we're sure these will go down fast, she adds that "Leftovers can be refrigerated and then reheated in a 350 F oven for 5 to 7 minutes, or until warmed through."
Southwest Chicken Empanadas Recipe
Bring a taste of the Southwest into your home kitchen with this easy recipe for flaky chicken empanadas and a sour cream, cilantro, and lime juice dip.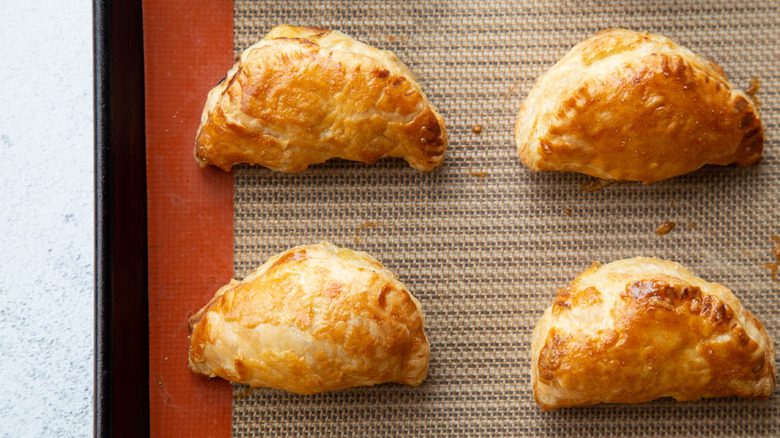 Ingredients
1 cup chicken, cooked and diced
⅔ cup Colby Jack cheese, shredded
⅓ cup bell pepper, chopped
2 green onions, thinly sliced
¼ cup cilantro, chopped, divided
2 tablespoons lime juice, divided
½ teaspoon salt
2 sheets frozen puff pastry, defrosted
2 eggs, beaten
1 cup sour cream
Directions
Preheat the oven to 425 F.
Line a baking sheet with parchment paper or a silicone baking mat.
In a medium bowl, stir together the chicken, cheese, bell pepper, green onions, ½ of the cilantro, ½ of the lime juice, and salt.
Unroll one sheet of puff pastry and lay it on a flat work surface.
Use a rolling pin to create an 11x11-inch square.
With a 3 ½-inch biscuit cutter, make 8 to 9 rounds in the dough.
Repeat with the second puff pastry sheet for a total of 16 to 18 rounds.
Brush the edges of the puff pastry rounds with the beaten egg.
Top each round with 1 tablespoon of chicken filling.
Fold the pastry over itself to create a semi-circle, crimping the edges with a fork.
Transfer the empanadas to the baking sheet and brush them with the remaining egg mixture.
Bake for 20 to 24 minutes, or until golden brown.
While the empanadas are baking, place the sour cream, remaining cilantro, and remaining lime juice in a small bowl and stir to combine.
Serve the warm empanadas with the dipping sauce.
Nutrition
| | |
| --- | --- |
| Calories per Serving | 92 |
| Total Fat | 7.4 g |
| Saturated Fat | 3.5 g |
| Trans Fat | 0.0 g |
| Cholesterol | 38.5 mg |
| | |
| --- | --- |
| Total Carbohydrates | 2.5 g |
| Dietary Fiber | 0.2 g |
| Total Sugars | 0.7 g |
| Sodium | 100.8 mg |
| Protein | 4.0 g |