Chocolate Zucchini Loaf Cake Recipe
Catherine Brookes/Mashed
Surplus zucchini can be a summertime scourge. Even if you're a fan of the stuff, should your backyard bounty be overabundant, or you're "gifted" with a bag from someone else's garden, you may soon find yourself growing tired of this vegetable. Luckily, there are certain recipes that will allow you to turn zucchini into something a bit less zucchini-like. In fact, you can even use it to make a great-tasting chocolate cake.
Hard to believe? Recipe developer Catherine Brookes assures us, "You can't really detect any zucchini taste in the cake, mainly just chocolate." She says the vegetable mainly serves to "keep the cake super moist," plus it provides bulk and, as a bonus, even adds nutritional value. In our book, that makes this dessert practically health food despite the fact that it's just as delicious as any other not-so-nutritious chocolate cake. And, with a pretty short list of ingredients and minimal prep work, just about anyone can bake and enjoy this zucchini-loaded chocolate treat.
Assemble the ingredients for the chocolate zucchini loaf cake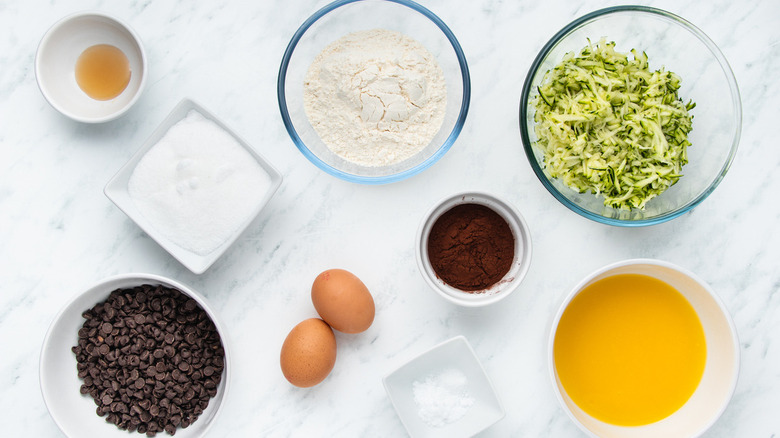 Catherine Brookes/Mashed
This loaf cake starts off with some fairly standard ingredients: flour, baking soda, salt, eggs, butter, and vanilla extract. It also includes grated zucchini, of course, and gets a double dose of chocolate flavor from cocoa powder and chocolate chips.
If you would like to use milk chocolate chips in place of semi-sweet ones, you may do so, or you can also supplement the chips with chopped nuts. Brookes does say "I would recommend keeping in a portion of chocolate chips as they help to add to the flavor and melty texture of the cake," but allows that you could replace up to half of the chocolate chips with nuts.
Mix the dry ingredients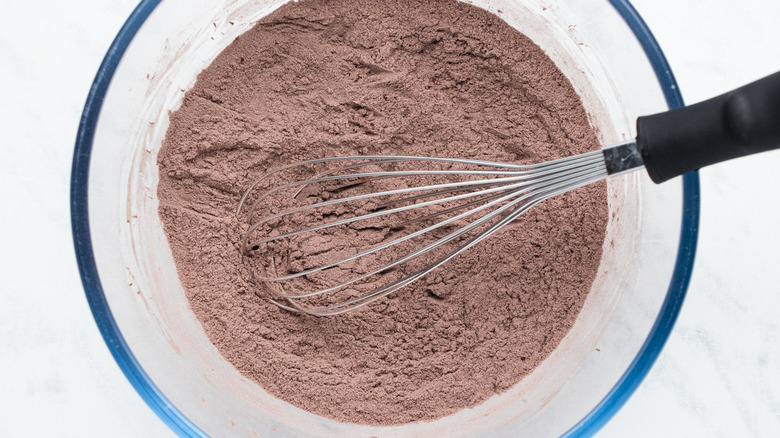 Catherine Brookes/Mashed
Start by preheating the oven to 350 F and lining a loaf pan with parchment paper or a liner. Brookes also tells us, " I tend to use loaf pan liners for ease of use" — these are just like cupcake liners, only, you know, loaf pan-sized. If you can find them where you shop, they do help to keep your cake intact when you remove it from the pan.
Then, focus on the dry ingredients first. Whisk the flour together with the cocoa powder, baking soda, and salt, then set this bowl aside for just a moment.
Make the batter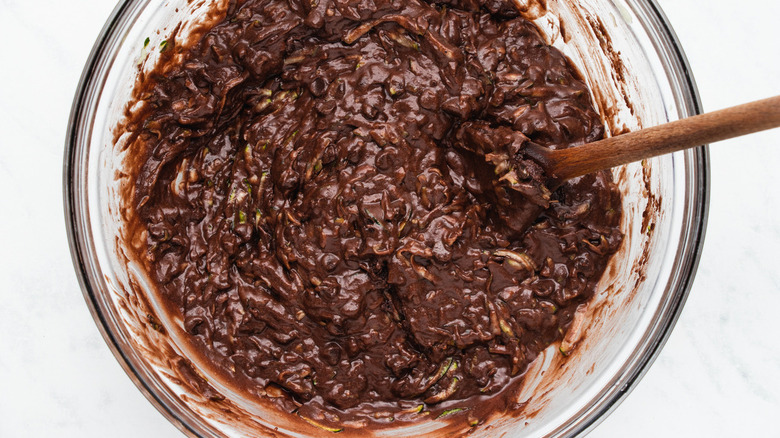 Catherine Brookes/Mashed
Beat the eggs with the butter, sugar, and vanilla in a separate bowl. Fold in the flour mixture, then add the zucchini and chocolate chips and stir just enough to combine the mixture.
Bake the cake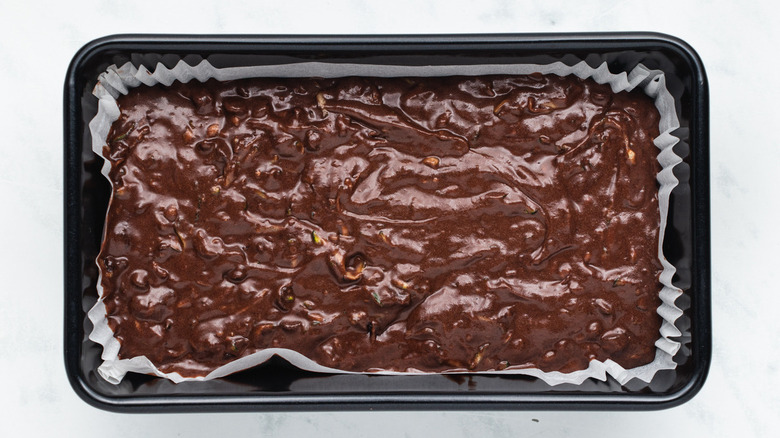 Catherine Brookes/Mashed
Bake the cake for 55 minutes, then check and see whether a skewer poked into the middle comes out clean. If it doesn't, continue baking the cake for up to 10 minutes more. When the cake comes out of the oven, let it sit and cool for 15 minutes before attempting to remove it from the pan. After it's out of the pan, make sure it cools all the way down before slicing it. 
You can eat the cake just as it is, or sprinkle it with powdered sugar to fancy it up a bit. The cake should stay fresh at room temperature for 4 days, but if you have a lot of zucchini to use up, you'll be glad to know you can make multiple cakes and then freeze them for later use.
Chocolate Zucchini Loaf Cake Recipe
This chocolate zucchini loaf cake tastes like dessert but is packed with nutrients from the zucchini.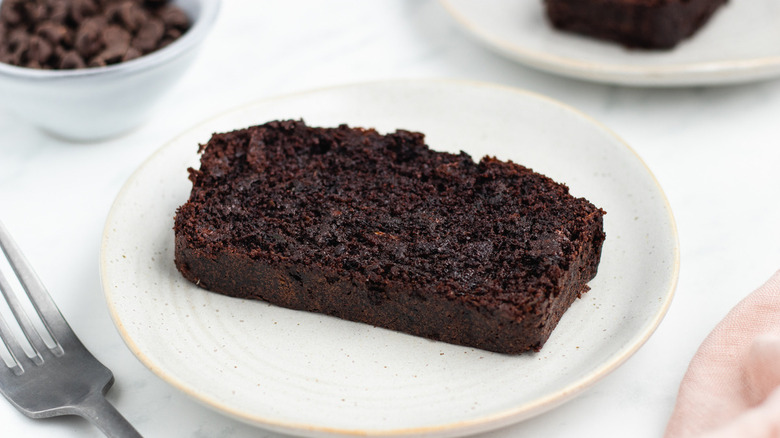 Total time: 1 hour, 20 minutes
Ingredients
1 ⅓ cups all-purpose flour
⅓ cup cocoa powder
1 ¼ teaspoon baking soda
¼ teaspoon salt
2 large eggs
½ cup unsalted butter, melted
1 cup granulated sugar
1 teaspoon vanilla extract
2 cups grated zucchini
1 cup semi-sweet chocolate chips
Directions
Preheat the oven to 350 F and grease or line a 9x5-inch loaf pan.
Whisk together the flour, cocoa powder, baking soda, and salt.
Beat the eggs with the butter, sugar, and vanilla.
Fold the dry ingredients into the egg mixture until just combined.
Fold in the zucchini and chocolate chips.
Pour the batter into the prepared pan and bake for 55 minutes to 1 hour and 5 minutes, or until a skewer poked into the center of the cake comes out clean.
Let the cake cool in the pan for 15 minutes, then move it to a wire rack to finish cooling.
Nutrition
| | |
| --- | --- |
| Calories per Serving | 329 |
| Total Fat | 16.0 g |
| Saturated Fat | 9.5 g |
| Trans Fat | 0.4 g |
| Cholesterol | 61.6 mg |
| | |
| --- | --- |
| Total Carbohydrates | 46.3 g |
| Dietary Fiber | 2.8 g |
| Total Sugars | 30.2 g |
| Sodium | 236.0 mg |
| Protein | 4.7 g |